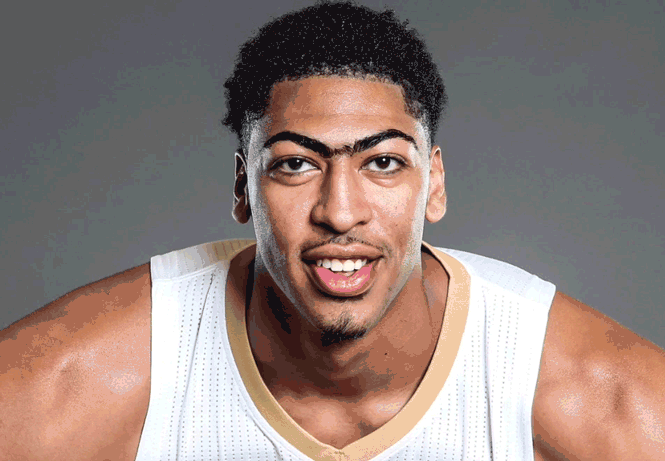 As you are reading this, men around the world are patiently waiting for their more classic facial hair looks (beards, mustaches, etc.) to come into being. These men, and some ladies, have bought their ticket to ride the raucous, risky, and really ridiculous rollercoaster of emotions and doubt that is growing out your beard.
Not Anthony Davis though. Davis walks a different path: a path where down is up and left is right and birds walk and pigs fly. Davis has been chosen by a higher power to take the journey of the Uni-Brow.
The life of "The Brow" can be a difficult one. Despite being 7-feet tall and stupid rich, The Brow can have a difficult time getting dates. You see, women just do not understand The Brow. In fact, many men do not understand The Brow. The Brow not only makes social interactions even more awkward, but it also affects the individual's ability to stay healthy. As the eyebrows (which evolved to be separate for a reason) come together, a complex series of chemical interactions take place within the body of The Brow leading to more brittle bones, a strange desire to land on objects around the basketball hoop, and an inability to heal quickly and properly.
However, despite all of the negatives, The Brow is still one of the most dominant basketball players of his generation. We may never fully understand The Brow, but we can all understand this juicy slash: 2/48/17/0/4/3. The Brow led his Pelicans to a big win over the Knicks in overtime, showing that we are all capable of overcoming our flaws and rising to the occasion.
Here is what else I saw last night:
Want the best tools and projections to help dominate your league? Check out the Stocktonator, the byproduct of Rudy and machine making love. Click HERE for a FREE 3-day trial.
DeMarcus Cousins: 0/15/16/5/7/3 – With The Brow taking 30 shots, there just were not that many left to go around. But Boogie always finds a way.
Jrue Holiday: 3/31/5/4/4/1 – Uncle Jrue was on fire, connecting on 12-of-19, including 3-of-7 from deep. His jrives to the lane and jrew a bunch of double teams so he could jrop dimes to his open big men.
Kristaps Porzingis: 4/25/6/3/5/2 – Fantasy owners love overtime games. Porzingod tried to keep pace with Boogie defensively, but the difference in the game was The Unicorn only getting to the free throw line 1 time! Porzingis needs to get more aggressive if he wants to be a first round fantasy player. And isn't that what all guys want?
Jarrett Jack: 2/22/4/8/3/0 – Old man river just keeps on rolling along.
Enes Kanter: 0/18/10/1/0/2 – One of the best values from the draft.
Tim Hardaway Jr.: 2/25/5/3/3/0 – THJ is back and he may have just rendered Michael Beasley useless. Beasley finished with 0/0/2/2/0/0 in just 9 minutes. I would hang onto him if I had the room, especially if I was a Porzingis owner.
Goran Dragic: 4/25/3/2/1/0 – The Heat just keep winning and they are not a team I would want to run into come playoff time. The Dragon is a big part of their success, as he is the closest thing they have to a superstar on the team (sorry Son, but J-Rich is just not there quite yet).
Josh Richardson: 2/16/6/0/1/1 – Remember the beginning of the season when Son's Son's shot just wasn't falling and Son kept telling us to hang in there because this kid is special but I dropped him anyway? Yeah, me either.
Hassan Whiteside: 0/15/10/0/2/4 – Hassan got just 25 minutes and I am afraid that this is just probably going to be the norm because of his injuries. Later in the season I am going to do a side by side stat comparison of Hassan and Enes Kanter to see if we can guess who is who.
Giannis Antetokounmpo: 0/22/6/1/1/0 – This was a just a strange game. A blow out where the winning team only had 97 points. It led to bad lines and low minutes for the starters which is what hurt The Greek Freak in this one. He did go 10/10 from the line, however.
Khris Middleton: 1/16/6/2/2/0 – Khris has to be the most underrated player in fantasy. It actually reminds me a lot of Khris Davis in baseball. Sweet Krhismas.
Malcolm Brogdon: 1/15/5/1/1/0 – This kid just keeps producing even with Bledsoe in the mix. I feel bad that he wasn't handed the keys to the team, but I understand. And I guess I don't feel that bad, because getting the keys to the Bucks is a lot like when my parents gave me the keys to their 1986 Honda Accord when I turned 16 in 1994.
Victor Oladipo: 2/17/5/1/4/0 – VO had to only take 11 shots in this one to score 17 points and lead the Pacers to blowout win over the Suns. Oh yeah, this slash was made in only 21 minutes. Insta-Slash.
Darren Collison: 1/19/3/2/1/0 – Collison got more minutes, points, and shot attempts than VO and still had an inferior slash. Slash-Envy.
Domantas Sabonis: 0/4/14/1/0/0 – I was hoping for more from Sabo with Myles Turner still out. Turner will miss at least one more game, so keep putting Sabo out there, especially in daily leagues.
Josh Jackson: 2/21/6/3/0/0 – I will give JoJack top billing over Devin Booker just this one time. Yeah the Suns got worked. Yeah TJ Warren was out. Yeah you should stash JoJack or at least keep an eye on him. Yeah the Yeah Yeah Yeah's had a couple good songs. Yeah Devin Booker should have gotten top billing.
Devin Booker: 1/15/5/7/0/0 – I keep seeing people ask which Phoenix point guard to pick up. The answer is none of them because the point guard is Booker and he is already owned everywhere. Devin Booker is to Brent as Josh Richardson is to Son.
Dragan Bender: 0/0/5/0/0/0 – I put Bender in the recap because he has had a couple good games in a row with Marquese Chriss out. In this game he got 30 minutes and Warren was out too. I still believe in Bender and I actually added him in a few deeper leagues, but I wouldn't go crazy just yet.
Jimmy Butler: 1/24/5/4/2/0 – Butler has been a top 10 player over the last couple of months and he is showing no signs of slowing down. This is his team and he led the Timberwolves to a big win over the Trailblazers in the final game of the night. The Butler did it!
Jeff Teague: 1/22/1/8/2/0 – Teague is back so Tyus Jones is done. Well, Jones never really got going. And does anyone else want to call him Tyus Edney?
Karl-Anthony Towns: 2/20/11/2/1/0 – Big KAT was super-efficient and this Timberwolves team is going to be scary in the playoffs with everyone settling nicely into their roles.
Andrew Wiggins: 0/17/4/2/2/0 – Speaking of settling nicely into roles, Wiggins has settled nicely into his role as mediocre talent at best.
Damian Lillard: 2/21/6/8/1/0 – Dame almost messed around. He hit 7-of-14 shots, 5-of-6 free throws, and 2-of-6 from deep. He likes rap music, long walks on the beach, and his best friend CJ looks like Morris Day.
CJ McCollum: 3/18/0/0/1/0 – Speaking of Morris Day…..This is a THRAGNOF! line by a non-THRAGNOF! player. Trans-THRAGNOF!
I am not even going to mention any other Trailblazers. They scored 10 points total in the second quarter.