Man, what an exciting trade deadline!  Thanks for checking out our Trade Deadline Live Post, where you can read about all the trades that went down yesterday…
And off the emotional roller coaster of those deadline deals, the NBA is finally back after a week away.  I certainly need to consult my physician since it's definitely lasting more than 4 hours…  Especially after seeing Serge Ibaka pull a Goro right out of the 2nd-half gate!  Twas an empty big man line, but 21/22/0/0/0 is a nice way to start a shortened week!  Hit 8-12 from the field and 5-6 FT which twill get it done.  Serge didn't take a trey, and while he hit a few jumpers, look how much closer to the hoop his shot chart was: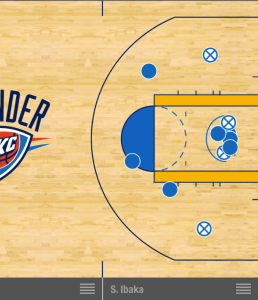 With Enes Kanter on his way to OKC to bring his own brand of mid-rangeness, I think Ibaka can look forward to a nice boost in FG%.  Sure it may cost him a trey here and there, but Serge should still seek shots from the seashore.  And while Kanter had his share of nice rebounding games with the Jazz, putting him out there for his mid-range O is going to help Serge's post presence.  I really like the move for Ibaka's value.  Here's what else went down last night in our return to NBA action:
DeAndre Jordan – Ya know, the Spurs deserved to lose last night…  And that's not something I usually say!  Pop benched Kawhi as well as going to hack-a-Jordan, which I guess was successful in making DJ a 10-28 FT shooter.  Ouuuuuuccchhhh.  Well, buh bye FT% this week DJ owners!  We thank you for flying SNL, your FT% is about the same success rate as David Spade movies…
Jamal Crawford – The ageless one!  Had some straight streetball moves and shakes, ending up with a 26/0/5/2/1 line hitting 5 treys.
Glen Davis – When he plays basketball it reminds me of this…  More SNL references!  Got some nice energy minutes in a 10/6/0/1/1 line, but meh.
Chris Paul – CP3 = fantasy MVP while Blake Griffin is hurt!  22/5/16/1/0, and hit the killer shots late to Iceman the Spurs.
Spencer Hawes – Ya know, didn't do much in a 7/4/3/1/1 line, but played 33 minutes and even if the per-36s are scrubby, he should get the run to maintain some usability in some leagues.  Although not looking too hot for most 12ers.
Kawhi Leonard – F you Pop.  Not letting your best player shoot out of a slump…  Then hack a DJ, play 4 guards and Duncan, AND lose the game.  It's like he had a Freaky Friday with Brad Stevens or somethin'!  At least Kawhi got some stats for you in a 4/6/6/1/0 line, but was an abysmal 1-11 from the field and 2-4 FT with 3 TO.  It's like a bad Michael Carter-Williams night!  Hah, and toward the end of the game, TNT's Reggie Miller was talking about how they need to get Kawhi going, and he blew a wide open layup where he got caught between laying it in or dunking.  It's all in your head Kawhi!  He'll be fine.
Tim Duncan – Should've taken a lot more than 14 shots!  Aka, Reese Witherspoon's nightly rant driving home…  12-14 FG (1-1 3PTM 5-5 FT) 30/11/3/1/1 with no TO.  Duncan and Paul looked like sure-fire HOFs out there… "They are sure-fire HOFers, JB!"  Never say never (cough, Barry Bonds…)!  Now, he did bang knees pretty bad towards the end of this game (ironically, pretty sure it was with Chris Paul), so hopefully no swelling pops up in dem oldknees.
Tony Parker – We got Kevin Garnett heading back to Sota, Tayshaun Prince back to Detroit, and Parker putting up 21/3/13/2/0 lines with no TO!  It's 2003 all over again!  Take the healthy TP for as long as it lasts, if he keeps this up until your fantasy league's trade deadline, sellllllll!
Kevin Durant – Is it just me, or did a lot of solid players have rough shooting games last night?  Kawhi, KD, DJ FTs… Durant for 12/6/5 on 4-14 shooting.  In the second half, KD did not look good at all and changed his shoes twice.  This foot thing has gone from frustrating to fantasy-killing.  Hopefully it was a minor thing that can go away, but don't be surprised if a DNP is coming again soon…  I thought the break was supposed to help heal, not make things worse!
Russell Westbrook – Putting the Thunder on his back.  34/5/10/2/0 hitting 9-17 FG and 14-14 FT.  Such a beast.
Andre Roberson – OKC pounded the glass like the T-Rex pounding the kids' Jeep is Jurassic Park!  Anyone else flip to that during the games yesterday?  Only 15 minutes yet, pulled down 12 boards.  All while Serge getting a Goro!  Nothing much to read into though…
Chandler Parsons – Another guy with a tough shooting night, hitting only 3-12.  "Actually, it's MISS Chanandler Bong!"
Monta Ellis – Only 2-13.  Marks back-to-back awful shooting nights with redonk steals!  Taking it out on the D end!  Had 6 last night, and 3-19 FG with 13 steals the past two.  Crazy.
Rajon Rondo – Returned from a broken face to break your %s.  2-9 FG (1-2 FT) 5/2/6/0/0 with 2 TO.  The new Boston PG Isaiah Thomas might be a better fantasy option ROS!
Chris Bosh – Ugh, very scary news he may have a blood clot in his lung.  Hopefully it's refuted by a follow-up, as the same issue cost Mirza Teletovic his season.  Hoping for the best.
Streamers/Cheap Daily League Picks:
*Note, the NBA record for players traded at the deadline was yesterday, and a lot of guys might not make their debuts.  So be sure to check your line-ups before tip to be sure traded guys are active or inactive for their new squads!
Alen Len (16% owned) – With all the Suns moves, plus a matchup against the big man-heavy Wolves and Nikola Pekovic, I think Len sees a lot of minutes if he's indeed healthy.  He went through practice Wednesday, but certainly a guy to be sure he's active before tip.
Jerryd Bayless (3% owned) – Ugh, so Bayless is much close to maybe being a DNP, but if the hip flexor he suffered over a week ago last Wednesday is healed up, he could be your Bucks starting PG tonight.  MCW is banged up even if he does make it to the team in time for the game, so there is a lot of PG minutes to be had.  O.J. Mayo is another good play, but at 49% owned, he won't be out there in most leagues.
I hope your fantasy squads reaped the rewards of that crazy deadline, and we'll catch you next Monday.  Have a great weekend Razzball Nation!