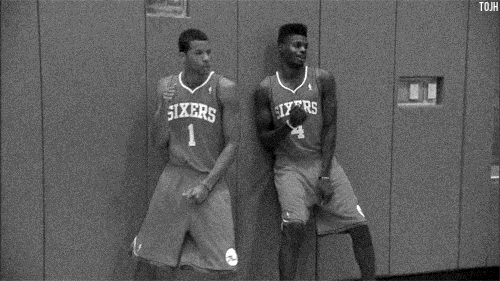 Oh, you thought it would be easier with Ben Simmons out of the fold until the All-Star Break at best? C'mon, kids…this roster is still more convoluted than a Donald Trump attempt at either apologies or giving compliments. It needs some 'splainin'.
This series is intended to cut through the weeds, bypass the ADPs, and decide which players in current position battles hold the best value for fantasy basketball in 2016. Think of it as an 'either or' for two players, or a ranking of sorts when multiple players are jockeying for position. 
—
The Process. Hopefully this is the year we can all see the future Sam Hinkie envisioned the past five seasons. The famed 'process' brought the 76ers bushels of lottery picks, but minimal production, and even less wins. The highlight of the 2016 was supposed to be the arrival of the best #1 pick in a decade: Ben Simmons. However, a broken foot sidelined him for months, once again relegating the top pick and new hope of Philadelphia to the injured reserve. Nerlens Noel. Joel Embiid. And now Simmons. Don't fret, though, because there are enough weapons in tow now to actually bring some relevance to both the fantasy game and actual, real life basketball. Normally in these articles we'll focus on just one section of a team's lineup, but for the first installment we'll be examining the entire roster for Philly, because, well…it's freaking needed. Almost everyone worth noting is new, so let's break down the whole thing and figure out who should be targeted in your drafts.
Note: Players listed in depth chart order. (#) is JB's 2016-2017 ranking.
PG: Jerryd Bayless (106)/Sergio Rodriguez/T.J. McConnell
Playing time was available in droves for McConnell last year, because, well…I could have potentially run the point for the Sixers last season. Sure, he was serviceable, but if you ever tortured yourself to actually watch a Sixers game you saw that he barely deserves to in the league. Enter journeyman Bayless and role-player-turned-Euro-star Rodriguez to run the proverbial point. I say proverbial because Ben Simmons and Dario Saric will have the ball in their hands as much as they want when they're on the floor. As a result, the numbers for Bayless as the projected starter are quite mitigated. So will be his minutes. He can hit some 3's, and gives Philly some breathing room to not rush Simmons back, but he's worth nothing higher than a 10th or 11th round pick. At best. I'd avoid Rodriguez. See ya later McConnell. And for Bayless, those 25 minutes per game just won't do it for me.
SG: Gerald Henderson (179)/Nick Stauskas
Neither of these names will end up on ay fantasy team I'm running for the 2016-2017 season. Henderson's shown in season's past that he can be roster-worthy, and Stauskas has the pedigree of becoming a JJ. Redick-style player (excuse the easy racial comparison), but neither will get enough touches or shots to bring value to a fantasy roster. If either becomes a knockdown shooter, I'll consider them as a last round 3PM flier, but otherwise find SG help elsewhere.
SF: Robert Covington (77)/Jerami Grant (164)/Hollis Thompson
I'll mention how the Simmons injury affects some names in the next two tiers, but the real winner here may be Covington. He's a stretch 4 that has the ability to play and guard the 3. As JB points out in his rankings, post-ASG Covington drained 3.3 3PG. That's bananas. And someone has to shoot the three and stretch the floor on this team. He needs to see time at the 4, but I don't see a lot of small ball happening with the triple towers on the roster. Covington's a player the team should hold on to and build with, and that may be their aim due to his continued presence on their team. I'd draft him with confidence, especially with Simmons injury. JB mentions Grant could be in line for some increased PT, too, but I'm not drafting him anywhere. He doesn't have any offensive game to add to your squad. Covington's the only target in this position battle.
PF: Jahlil Okafor (114)/Dario Saric (147)/Ben Simmons
Now the real fun starts. The next five names should all be starting in the NBA, but there's only room for three. Yep, three. Not two. Because Saric and Simmons will essentially play the LeBron Point Forward, leaving Okafor and the next two clamoring for minutes in the post. I expect Okafor to get the lion's share of playing time at the 4, where his offensive game can flourish. Next to Embiid the Sixers have two big men that can stretch the floor, albeit Okafor's game is more well-rounded. As a 20-year-old rookie he averaged 17.5 PPG and 7.0 RPG, with 1.2 BPG as a throw in. That's legit fantasy production. I can see Okafor benefiting from the playmaking ability of Simmons and Saric to creep his scoring up to the 20.0 PPG threshold, but if I'm building a team he's the piece that would be on the move. Okafor needs the ball in his hands to be effective, while the two names at C can play off the ball with great efficiency. He's being drafted relatively late for what he can bring, but I'm cautious in targeting him since by mid-November he could be donning a different jersey.
As for the other two, Simmons will be rated higher than he should for this season. He's obviously the one with the brightest future, and could essentially become a 20/10/5, or even a 18/8/8, guy, but I'm hesitant to pay the name value to get him this season. If you can snag him in the 10th round, stash away, but he may not play until mid-February. The Sixers have shown a penchant for being hyper-conservative with the prized possessions and injuries; it wouldn't surprise me if Simmons only plays the last quarter of the year. Rather than waiting on his upside, I'll shift my focus in the earlier rounds to the Euro version of him…
Dario Saric played his hand perfectly with the Sixers organization. Essentially holding them hostage until the situation improved, Saric continued getting better over in Europe. He flashed his playmaking ability at the 2016 Olympics, and displayed his overall offensive game the past three years in the Euroleague. Saric won't put up the gaudy numbers Simmons is defined for, but at 6'10" he can dominate larger defenders by stretching them outside, slower ones by slashing to the hole or posting up the smaller ones to find an advantage anywhere. His 171 ADP ranking means you can steal him in your drafts. Why target him? If he reaches 30 MPG on this roster he can bring a 14/8/4 line in his first season, while hitting 1-2 3PG.
C: Nerlens Noel (48)/Joel Embiid (163)
I may be the biggest Noel fan there is, but, unfortunately, I'm not sure Philly feels the same way. If one names gets sent elsewhere, it should be Okafor, but my gut tells me it's Noel. As a result, his impact may be limited. However, if he stays on this squad, Noel can be a beast for your team without hurting you much in the %s. He improved quite well offensively, moving his numbers to 11.1/8.1 on 52% shooting, but obviously his value comes from the defensive end. He may not begin in the starting 5, but he should reach 30-35MPG, which would be an improvement upon last season when he posted 1.8SPG and 1.9BPG. I love the upside with playmakers around him, but he still doesn't have the highest ceiling of the Sixers big men. I'll take a risk on Noel a little later than JB, closer to the 6th round, but am definitely gunning for the other C in the Process.
The enigma that is Joel Embiid will garner a lot of my focus in drafts. I love what he can do on both ends, but obviously he's a massive health risk. Are we looking at a more skilled Greg Oden 2.0? Or, could this really be the closest thing to a Patrick Ewing-Hakeem Olajuwon-Dirk Nowitzki hybrid we've ever seen? Haha, yep…lofty goals there, but when analyzing what he can do, and what he did in college, Embiid actually could dominate this era of basketball. He's not worth a high pick in this year's drafts given the unknown of his health and the vast myriad of outcomes his season could produce, but in the 11th-13th I'll definitely add Embiid as a flier. If he pans out you have a Top 50 player. If he doesn't? It's late enough where you can easily drop him for someone else bringing value.
—
While this first post may seem more like a Team Preview than a Position Battle, the Sixers lineup was worth it. So many questions. So much potential. (And I promise the rest in this series will be shorter and simpler). Target the Sixers with caution, but there are some potential treasures on this roster. In keeper and dynasty formats you can find a ton of value here. For redrafts, it's much riskier. However, play it right in the draft and you'll land some incredible assets for next to nothing, which has also been the win total in Philadelphia the past few years. 2016? The Process becomes the Progress.
DROP THOSE COMMENTS! What are your thoughts on this year's Sixers?