Welcome to your midweek guidance for Week 23!  My goal is to help you win your league championship by finding widely available streaming candidates for your specific categorical needs.  As the title suggests, we are firmly in fantasy no man's land as it relates to erratic player availability, as teams in both conferences pack it in to avoid injuries and bolster their chances of receiving a top draft pick.  While it pales in comparison to the 250 players who faced quarantine between December and January, one can be forgiven for saying that the luck side of the luck:skill ratio increases as the season winds down.
The Rockets just formally dynamited the dumpster fire that was their season by announcing season-ending injuries to three more players yesterday.  By the time the dust settles on who benefits the most among Houston's young players, the season will probably be over.  It's nevertheless a situation to watch if you're still in the thick of it.  Also out West, the Blazers, Kings, and Thunder are giving us more glimpses of their backups with nothing to play for but a lottery pick.  In the East, the Pacers' big man situation remains intriguing, with Goga Bitadze retaining the starting center position for now.
I am well aware that ownership rates may be skewed lower by the fact that many leagues are inactive at this point, so take my top player recommendations with a grain of salt if you still have several teams jockeying for final placements in your league.
The Hornets and Grizzlies only have one more remaining game this week, while the Cavaliers, Sixers, Pistons, Clippers, Lakers, Bucks suit up three more times.  These are the players I'm watching through Sunday.
Four Category Contributors
Isaiah Hartenstein (Rebounds, Steals, Blocks, FG%): I'm underselling Hartenstein's production a bit here, since he's also contributing assists of late.  By adding dimes to his list of strengths, I'd be making him an unprecedented "Five Category Contributor," and I'm just not quite ready to take our relationship to that level.  Regardless of his status on this post, he plays three times to close out the matchup and should be added everywhere (Plays Thurs, Fri, Sun).
Isaiah Roby (Rebounds, Steals, Blocks, FG%): Thanks to averages of 11.4 points, 1 three, 5.9 rebounds, 1.2 steals, 1 block, and 50% shooting, he's become a fixture on this post since returning from injury in mid-February.  The Thunder roster continues to be whittled down by injuries ("injuries"), so we can expect the strong production to roll on (Plays Fri, Sun).
Three Category Contributors
Aleksej Pokusevski (Threes, Rebounds, Blocks): See Roby's blurb above regarding the deteriorating Thunder roster and its impact on those who remain on the floor.  Aleksej played 41 and 29 minutes in his previous two outings (Plays Fri, Sun).
Theo Maledon (Threes, Assists, Steals): I tried so hard to make Theo Maledon a thing last year during the many instances of injury for Shai Gilgeous-Alexander, but he played me for a fool time and time again – mainly as a result of terrible efficiency.  The worm appears to have turned for Maledon, however, as he's putting up 21.5 points, 2.3 threes, 5.5 assists, and 1 steal in the 4 games that SGA's missed (Plays Fri, Sun).
Grant Williams (Threes, Blocks, FT%): Robert Williams III is out for the long haul with a torn meniscus, so Grant Williams has a clear path to solid minutes and will likely continue to start.  Usually, I shy away from highlighting players for their free throw shooting prowess due to lack of volume, but he's taking and making enough of them to warrant the point out (Plays Fri, Sun).
Two Category Contributors
Alex Caruso (Assists, Steals): Early season success resulted in a high degree of name recognition, so the 46% of ownership in Yahoo leagues is probably suppressed by the number of inactive leagues at this point.  Still, if he's on your wire somehow and you need a boost in steals and dimes, this is a reminder of who you're dealing with… (Plays Thurs, Sat).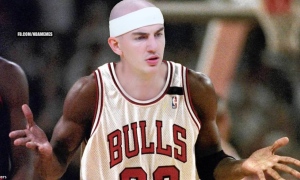 Damian Jones (Rebounds, FG%): Jones had a breakout evening in his fourth consecutive start, posting 24 points, 9 rebounds, 5 assists, 1 steal, and 4 blocks against the Rockets.  While the matchups won't always be that easy, the 34 minutes he received is a hugely encouraging sign.  The Kings lack any incentive to rush Domantas Sabonis back, so Jones will likely continue receiving opportunities (Plays Fri, Sun).
Isaac Okoro (Threes, Steals): Okoro presents as a player who fails to live up to the lofty minutes he's given, but it's hard to overlook the Cavs' favorable schedule if you need three and D from a player who has three more opportunities to play starter's minutes this week (Plays Thurs, Sat, Sun).
Josh Christopher (Assists, Steals): With Houston ruling several players out for the season on Wednesday morning, it's safe to say that Christopher won't be the only Rocket who benefits from an uptick in playing time as the season draws down.  Last night's game against the Kings suggests that Houston plans to spread the minutes far and wide across the roster, but Christopher's 5 assist, 5 steal night demonstrates how effective he can be in just 24 minutes (Plays Fri, Sun).
Kris Dunn (Assists, Steals): Since entering the Blazer rotation, Dunn has failed to register a steal only once in ten games.  It's hard to find a more reliable source among the most widely available waiver wire candidates (Plays Fri, Sun).
Killian Hayes (Assists, Steals): Hayes racked up more than 25 minutes in five straight games, indicating Detroit might actually be trying to develop players in the midst of another lost season.  To sweeten the deal, his typically horrendous shooting was serviceable over the last six games (44.5%), earning him a spot in the top 100 for 9-cat formats over that stretch (Plays Thurs, Fri, Sun).
Delon Wright (Assists, Steals): While scouring the rosters of teams who play on Thursday and Saturday, Wright stood out to me as a potential difference maker, particularly if he garners more than 25 minutes again tonight against the Cavs (Plays Thurs, Sat).
One Category Contributors
Goran Dragic (Assists): The Nets play on both low-volume game days toward and although Dragic saw his playing time cut in the wake of Kyrie Irving's full-fledged return, he is still averaging 4.3 assists in his last 3 games (Plays Thurs, Sat). 
Ben McLemore (Threes): One of my favorite Kobe Bryant anecdotes involves him reportedly asking Ben McLemore, "What are you doing here?" when McLemore reported to the Mamba Academy after initially washing out of the NBA.  Bryant's admonition to McLemore: "Stay ready.  Your time will come."  That advice obviously did not go unheeded.  McLemore is shooting the lights out, making him due for regression and somewhat difficult to trust.  At the same time, he'll chuck up enough threes to help you there, as evidenced by his 8 makes on 18 (!) attempts against OKC on Monday (Plays Fri, Sun).
Hit me up in the comments with any questions or feedback.  Best of luck!