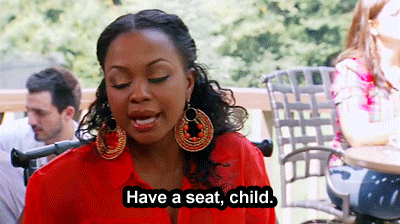 Is it done with that much sass? Probably not. But man, talk about taking the long road to success, and not even getting rewarded for it. The Nets are a clustereff, as we all know, but there are some bright spots. Many of their assets belong to the Celtics, and their best player is always the center of trade rumors (Brook Lopez). Sounds bleed (and it is), but through the dark skies rests a young'n with enough creativity as a playmaker to bring people to the arena and make the Nets a viable contender soon. Now, soon is a subjective term, so for the sake of the Nets we'll say soon is, I don't know…five years?
Seriously, they need a Process. Maybe it's years from now, maybe it's decades (Clippers, anyone?), or maybe it's just months (nope), but one thing is for sure: they're ruining the process of creating young fantasy assets this season. That creative playmaker I just mentioned? Caris LeVert. And while his average stats of the past two weeks are strong (11.8/2.7/3.5/1.3 with only 1.2 TO on 57.1 FG% and 82.4%), he's not getting enough consistent run to make himself worthy of the add. Instead, Sean Kilpatrick trades time with him, effectively canceling out the two. Coach Sean Atkinson said, "we're just taking a futuristic approach and keeping his best interests at heart." Well, that's great, but doesn't help anybody. You don't even own your 1st pick this year!
Point of this small rant? If you can play the days right, both Kilpatrick and LeVert are good adds as a stream option, but it's eenie-meenie-minie-moe between them with LeVert getting a sweet, 'Have a seat, child.' every other day.
Enough about the Nets. That was a waste. Onto the 7 Ahead!
The 7 Ahead
5-game week: N/A

4-game weeks: BKN, BOS, DEN, DET, MEM, MIN, OKC, ORL, PHI, PHO, SAC, TOR



2-game week: CHI, UTA
Top Weekly Waiver Options (<40% owned in Y!/games this week):
Jameer Nelson (12%/4) – For this week alone, I prefer Nelson to the others. Of course, not long term, but with Emmanuel Mudiay on the shelf at least through Tuesday, the odds of Nelson getting serious run this week are climbing. In 30+ mpg over the past 14 days he's averaging 10.9/2.4/6.1/0.9 on 51.6% shooting. Is he a rock star? Nope. never has been, but it's hard to find those numbers on the waivers. Give him four game and you have yourself a legit contributor for your off days or utility spots. Be aware that when Mudiay is back those minutes will drop, even though Nelson's been superior all year. He's the Gem of the Week.
P.J. Tucker (20%/4) – My close second for the gem this week, Tucker's elevated his play as of late by bringing a little bit all across the board. He's not scoring in droves, or racking up double-doubles, but 9.6/6.7/2.1/2.0 over the past 14 days in more than 35 mpg is solid. I've placed people on this list this year who bring much less upside and value across the board just for their steals alone, and Tucker brings more than those guys. We're just talking volume here. The more you're on the court the more chances you have to add stats. And he's on the floor a ton.
Ty Lawson (22%/4) – And third on the list could make an argument over Nelson for the top PG available in most leagues. The league, and the fantasy world, have soured considerably on Lawson. Nothing new there, but what is new are his consistent assists. In his past eight games he has no less than 4 assist in a contest, and he's generally outplayed Darren Collison at the point. It will be interesting to see what the Kings do as the trade deadline approaches, but if Lawson keeps doing this he's worth the add, whether he has four games or not.
Kelly Olynyk (20%/4) – In only 22+ mpg over the past month Olynyk is providing some consistent numbers that add up over time. A 10.6/5.2/2.5 line is nothing to write home about (maybe a short paragraph, tho?), and nothing to draft, but in terms of streaming he's a solid option. He shoots at a fair clip, provides some 3PM, and just put up a gem of 17/7/3 in 36 minutes Saturday. Hit that again and you've struck gold (that's what she said).
Domantas Sabonis (6%/4) – I'm not the biggest Sabots fan for this year, but given Enes Kanter's dislike for bench chairs Sabots now finds himself in a position to see an increase in minutes. No one will dominate the stat sheet while playing with Russ this year, but Sabonis the Lesser has games of 28 and 29 minutes since the hand slap from hell, posting 10/5 and 8/6 games. Again, nothing crazy, but with injuries and four games this week he's worthy of at least a look.
Lucas Nogueira (27%/4) – Bebe, or is Baybay(?), has seen some increased run with the Raps lately. He's clearly the second best C on the roster behind Jonas Valanciunas, but over the past week they have essentially the same minutes per game (27+ for JV to 25+ for LN). Always hyper-efficient, Nogueira is bringing great value on the defensive side and on the glass. 7.2/5.7/0.5/1.2/1.8 is just what the doctor ordered if you keep getting crushed on the defensive stats. His only downfall is FT%, so beware of it, but add him if you're in need of the big man minutes.
And now a look at the daily rhythms of the NBA for this week!
Monday: 6 GAMES – The future of the NBA rests on the shoulders of Monday's matchup. Those huge shoulders. After the Rockets beat the Sixers last week, and just before Kevin Hart hilariously hijacked James Harden's post-game interview, he said, 'He's the most talented big man in the game.' That 'he' was referring to Joel Embiid. However, on the other side of the country rests a sleeping, yawning, tyrannical beast named DeMarcus Cousins who may have other thoughts. The next ten years of the NBA should be a version of Pacific Rim where these two battle to see who can hit the most three pointers while grabbing the most rebounds possible. And, clearly, Embiid is our protagonist big man monster. Where's your process, Sacramento? Side note, 6pm tilt here, so set your lineups a little early.

Tuesday: 6 GAMES – When the Thunder visit the Spurs on the final day of January the potential league MVP, Russell Westbrook, fans off against my preseason pick for MVP, Kawhi Leonard. Before a short two game rest for his 'hand' (that's Spurs for vacation), Kawhi was averaging LeBron James numbers, minus the assists. He has an outside shot at finishing 50/40/90. So, Russ, take all your triple-doubles and shove it, because everyone in San Antonio is collectively beginning to think 'Timmy Who?' And that's scary as crap.
Wednesday: 12 GAMES – The heaviest day of the past three weeks finds 24 teams taking the court. The 'What Could Have Been' game happens when the Wolves visit the Cavs and LeBron faces his alternate universe Robin. Would the Cavs have been better long-term with Andrew Wiggins running alongside James rather than Kyrie Irving and Kevin Love? Who knows, but the entire construct of that team, and potentially the history of the NBA, would be different. As Brian Windhorst said last summer, 'Ask me the grade of the Kevin Love for Andrew Wiggins trade? It's an A+. They won a title. That's all that matters.' Will the franchise be saying that 5 years from now when Love's gone, LeBron's tired and Kyrie's trying his best to be alpha while taking 40 dribbles per shot? Haha, ask me in five years. The Baby Wolves can't hang with the Cavs. Otherwise give me the Bucks/Jazz game that features more length on the defensive end than a Game of Thrones book.
Thursday: 4 GAMES – Only four games, but three are worthy of the watch. Atlanta @ Houston starts the nation off on TNT, Philly @ San Antonio has the make up of an incredible game (League Pass alert!), and the nightcap of Warriors @ Clippers, while a little luster-less given CP3's injury, is always a fun watch. So, the real question for Thursday…can James Harden get inside Dwight Howard's head enough to make him feel as tall as Kevin Hart? Thank heavens that chapter of the NBA is in the past. Dwight in Houston, that is. Not Kevin Hart. We need more Kevin Hart. The league needs for 5'3″ wannabe point guards. (Love that dude…)
Friday: 9 GAMES – The ESPN matchup we've all been waiting for takes center stage to start the weekend. The rematch of the finals…from 8 years ago. Lakers v. Celtics just doesn't have the prestige it once did, and with the Lakers in all out tank mode (I would, too, in order to save that top 3 pick), this one has the makeup of a blowout. Instead, the 'who wants to lose in the first round to the Dubs' race in the West heats up as Blazers and Kings get easier matchups against the Suns and Mavs. It's a boring Friday, really.
Saturday: 10 GAMES – Make way for the King's return to mecca! The Cavs/Knicks game at MSG shouldn't be close, but could have tons of highlights with LeBron coming to New York. Orrrrr…..could we have a blockbuster trade happen by this point next week that features Carmelo Anthony in a Cavs uniform playing in New York!?! Probably not, but if Love and Anthony swap sides and then have to play each other shortly thereafter I'm definitely tuning in. Oh yeah, and there's that 7'3″ unicorn patiently waiting his turn to own a city.
Sunday: 3 GAMES – It's the SUPER BOWL! I don't know if the NBA is shrewd or silly for placing three games on this day. Yes, they're all going to end before kick off of the world's biggest game, but does anyone care? I mean, besides us fantasy nerds, of course. But seriously, even with the decent matchups, not one person if thinking, 'You know what today is? An NBA Sunday!' Haha, so…I'll take the next few moments to overwhelmingly say:
RISE UP ATLANTA!!! LET'S GO FALCONS!!!
Here's to the start of a five year run of sports dominance in the city of Atlanta, starting Sunday.
Now, DROP THOSE COMMENTS! And don't be afraid to send along any questions on trades, pickups or life! Good luck in Week 15!