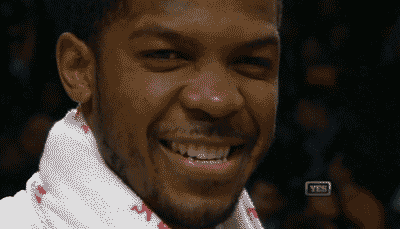 Listen, as a Hawks fan I have a special place in my sports heart for Joe Johnson. It's special because of this strange dichotomy I call reluctant gratitude. The Hawks sucked. Hard. For years. And gave up far too much to get him, but once Joe Johnson arrived in Atlanta back in the '05-'06 season the Hawks became a legit playoff team, with Johnson ascending to perennial All-Star level. Yet that damn contract (only to be rivaled by Allan Houston from 2001 as potentially the worst of all-time) handcuffed Atlanta into the nothingness that is the perpetual second-round, upper-middle tier of the NBA. It was awful.
However, Brooklyn came along and washed our bored tears away when they gulped down his albatross contract to usher in the new era of Atlanta basketball (still perpetual upper-middle tier, though). But when you think about it, that's just what Joe does: usher in the next chapter for a franchise. Well, that and play incredible (dribble) ball-stopping (dribble) isolation (dribble) basketball (five more dribbles, contested shot with 3 second left). It started in Phoenix as Mike D'Antoni and Steve Nash began their revolutionary 8-second offense, then shifted to Atlanta for the next seven years where he made six All-Star teams before becoming the epitome of the catastrophe that was the Brooklyn Nets post-prime project alongside Kevin Garnett and Paul Pierce. And now? Smack dab in the middle of the Rockies, Joe's the biggest free agent signing the Utah Jazz have locked in for the past 10-15 years. At 35 years old he's shooting 49% in 31mpg during their first five contests. Could it be that a new era is beginning in Utah with all of their young talent (and without Gordon Hayward as of yet)? They just crushed both the Spurs and then the Mavs, and I'm getting quite jazzed about the makeup of this team. Could they reach the playoffs for the first time in 5 years? Well, probably. Joe's there now. It's time for a new era.
And for this week…four games for the Jazz. Here's the 7 Ahead for Week 3!
The 7 Ahead
5-game week: N/A

4-game weeks: CHA, CHI, DEN, DET, GSW, IND, LAC, LAL, MIN, NO, OKC, ORL, PHI, PHO, POR, UTA, WSH




2-game week: DAL, MEM, MIL, 



Weekly League Streamers (by Y! ownership percent on Sat/games this week):  Cody Zeller (30%/4), Frank Kaminsky (14%/4), Lou Williams (39%/4), Doug McDermott (11%/4), Wilson Chandler (24%/4), Ersan Ilyasova (15%/4), Tyson Chandler (47%/4), Alex Len (43%/4), Joe Johnson (49%/4),
Stream days: Thursday, Sunday
Overall Thoughts: Sweet mercy that's a lot of quatros this week. Over half the league plays four games, meaning the streamable days are less and the available players to stream, when you actually can, are more. And goodie gum drops, we get Brooklyn v. New York in a nationally televised ESPN game on Wednesday! Nope. Not a good thing. But there's a lot of basketball to be played this week as we get to 10% through the year. The storylines may not be as eye-popping as the Thunder/Warriors last week, but some good ones are on the docket. Best matchups of the week happen after Hump Day when Dwyane Wade makes his first trip back to Miami (Thurs.), Boston visits Indiana for what could be the battle for the #2 seed in the East all year (Sat.), and Rudy Gobert v. Hassan Whiteside happens (Sat.). Oh, and then the most highlights are sure to happen Sunday night when the youthful squads of the Lakers and Timberwolves square off in Minnesota. So many youths!
Monday: Almost a day to stream with 14 teams taking the court, but a lot of primary players take the court. This will be your first time to get Kaminsky and Zeller on your squads as they face the surprisingly weak defensive Pacers. Giving up the third-most points per game there's a big opportunity to ride Kaminsky's shooting in his 25 mpg, and Zeller's all-around post play. Oh, and then there's that wily veteran Iso Joe! Versus the Sixers he might just go off for 74 points. (wink) Watching John Wall breeze past James Harden, and then Harden nonchalantly rain buckets over Wall, should be a fun matchup to kick things off, as well as Anthony Davis' single-handed attempts to see the Pelicans afloat vs. the Warriors on the road. Could Davis be a better fantasy option than all Warriors players this year?

Tuesday: A heavier slate, this is the first time you'll see Lou Williams take the floor in the week as the Lakers take not he winless Mavs. Williams is essentially the top veteran option on the team, meaning he'll find crunch time minutes as the Lakers compete. And, in my opinion, they'll surprisingly compete in more games than previously thought. He already sank his previous, and hometown, Hawks, and is averaging 15+ mpg in less than 23 mpg. Stretch that out to four times in a week and he's a wonderful stream and cheap DFS option. But, unlike the mainstream media, I'm not going to just harp on the potential exploits of the Lakers, because Phoenix visiting Portland doesn't just give Devin Booker an incredible shot at dropping 40, but also for Tyson Chandler to put up double-digit rebounds. Again. The Trailblazers surrender the second-most REB in the NBA, meaning Chandler can challenge the 18 rebounds he pulled down in 3 of his last 4 contests! 18!!! The Pelicans are on a back-to-back, so be aware of their streamers, and for Davis in DFS as he gets to dreaded double entendre of DeMarcus Cousins and Willie Cauley-Stein.

Wednesday: 11 games fill the slate for Wednesday, leaving just a few options available, and likely zero empty starting spots. Forget the horrible ESPN matchup I mentioned above and wait for the nightcap of Houston vs. San Antonio. Arguably the league's best offense against the league's best defense; the league's best offensive player (arguable, again) against the league's best defensive player (less arguable, and no…not Dewayne Dedmon). It's a back-to-back for Phoenix as they come back home to face the Pistons and Andre Drummond. The rebounds may be less for Chandler, but I wonder with him locked up the other streaming Phoenix big man, Alex Len, becomes a better option. He's been spotty with his production, but seems to have his best games when Chandler doesn't. Could be a recipe for a big night. The Damian Lillard/Chris Paul matchup should be a doozy to end the day.
Thursday: With just four games on the docket…stream away!!! "Come stream away, come stream away, come stream away with me!" Sorry. I promise no Stix mentions. Ever again. Worth mentioning? That D-Wade trip back to Miami, where the players play. Nope, that's Atlanta. And outside of the intros to the Heat game, and seeing how many fouls Larry Nance Jr. gets Boogie Cousins to commit after getting dunked on, I'd rather watch Atlanta than any of these four games. Meh.
Friday: Half the league goes Friday, led by what could be a first round Eastern Conference playoff preview of the Cavs vs. the Wiz. I wonder how long it takes before we see LeBron James taking a few days off at a time? Beyond that there isn't a great run of games to kick off the weekend. You'll likely have some openings in your starting roster Friday, but there aren't many, if any, wonderful streaming options going. Boogie may drop 45 on the Blazers, JJJJJJJOE JOOOHNSSOOOON should also fund himself with a nice game vs. the Magic, but other than that the rematch of Thunder/Clips is all that's left.
Another note on Johnson, Gordon Hayward has returned from injury, which seemingly must mitigate Johnson's value. However, I'd imagine the Jazz monitor Gordon's minutes at first. Their Friday game v. the Magic is the first of a back-to-back, so the value of Iso Joe should remain high this week. We'll see as the year carries on.

Saturday: After a long break the Suns take the court again for the first of another back-to-back. I love the options of Chandler and Len this weekday to their saturated stats at the front and back end of the week. The matchups are pretty cake, as well. We get a Houston/San Antonio rematch, as well as the Hawks and Sixers again. The Sixers were routed by the Hawks last week, albeit without newly acquired Ersan Ilyasova. He gets four games this week, and could fit nicely in with this team as an off-ball stretch 4 to play alongside Joel Embiid and the other Philly big men. The best of them should happen when Boston travels to Indiana, which could be the top two teams not named the Cavs in the East, and it will be interesting to see if a savvy veteran like Al Horford can slow down the upstart Myles Turner. As for streaming, Lou Williams gets another incredible opponent in the Pelicans, and by this time in the week I'd imagine Dougie McBuckets will be fully recovered from the concussion he suffered early last week. In minimal time he's putting up a 11.6/2.8/1.6 line with 1.2 3PM on 51.2% shooting. If/when his attempts bump up to the 10-12 per game range, which on this squad needs to happen given their lack of outside shooting (although Wade's been crazy hot from deep for the first time in his career), his points could hover above 15ppg, which takes him right into the J.J. Redick value. That's better than streamable. Keep an eye on him.

Sunday: The second-best streaming day of the week falls on Sunday, which is typical of the NBA until Christmas time. While the NFL is in session, the league won't saturate the Sabbath with a full spread of games. Lou Williams and the Lakers travel half-way across the country to Minnesota to end the week, which may bring some fatigue to the young squad. He's not mentioned above, because I'm still curious to see how he fits with this team, but Jerami Grant got some nice run in his first contest with the Thunder. Against Orlando to end the week he could become a streaky addition. Lastly, make sure you watched those two Hornets big men all week. They finish with the Cavs, and should be a paramount piece to the Hornets attempts to climb in the East, with Cavs test providing a good gauge on their current chances.
DROP THOSE COMMENTS! And good luck in Week 3! So many games, so many streams. Check back next week as we'll be in full stride of the young NBA season!