The season is here, the season is here!  Get out your favorite throwback NBA jersey and your fantasy stat-calculating abacuses (abaci?!), because fantasy basketball starts tonight!  If you could pick any throwback jersey, just for aesthetic sake, which jersey would you go with?  For me, gimme those old school Nugs jerseys!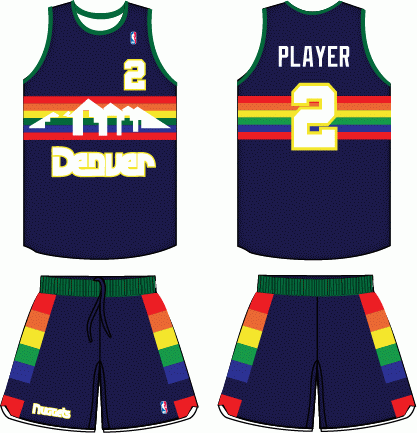 Doesn't beat that right there!  It's so 80s it makes me want to watch Stranger Things for the 3rd time!
On the docket tonight, we have the Knicks going to Cleveland with the Cavs getting their rings, Utah going to Portland to battle it out in the Northwest, and then the best game of the night – the Spurs going to Golden State and beating the Warriors on the road to send Dubs fans into a panic!  I'm planning on staying up all night to watch that game, so if I'm a little cranky tomorrow morning, it's probably because the Spurs lost and I'm dehydrated after drinking 3 pots of coffee…
We're stoked for another huge season at Razzball, and looking forward to our biggest season yet!  If you missed our scheduling preview post for Razzball Basketball's 2016-17 content, you can check it out here, and be sure to welcome in our new staff with as many comments as you can muster.  Not unlike the Knicks, we have a Super Team assembled for 2016-17!  Let's get this ish going!
Here's a few notes for the games tonight, along with a few final thoughts from the preseason (a lot of injury notes we just discussed on the Pod this morning, so be sure to give a listen!):
The Poison Goose – Ready to build on an historic rookie campaign?!  He better be!  Although I ended up whiffing on any shares of the Goose this year.  He ended up shooting only 3-17 from downtown the last 5 games this preseason, but did wrap up with back-to-back 3 block games in only 23 and 22 minutes.  I want a golden goose!
Derrick Rose – Acquitted of all charges.  Kinda like how he acquits himself from ever having a good AST:TO ratio!  I shouldn't make jokes, this all sounded pretty awful.  Even if not guilty of a crime, as one comment I read somewhere put it, "it gave us a window into D-Rose's life and it wasn't pleasant."  No shares of this Super player for me either…
Brandon Jennings – Shot 30.6% in the preseason.  Also had a 4.0:2.2 AST:TO in 21.6 MPG.  2.2 turnovers in under 22 MPG is too high for a guy who turns it over with his labradoodles clanking off the rim 2/3 of the time anyway….
Cleveland Cavaliers – Pretty much the most boring team in fantasy.  LeBron is going to have his minutes limited again this season, but unless it's a 30-point blowout through 3, I bet he plays a good bit for the home crowd…
Maurice Harkless – Wins the starting SF role out of the gate for the Blazers.  Portland doesn't have the greatest facilitators off the bench, so it makes sense to bring Evan Turner and Allen Crabbe as reserves for your 6/7th men.  I can't see Harkless out-minutesing Turner either, and I'd bet Turner players down the stretch most games.  Talk about dreadful preseasons though, Turner shot 27.1% from the field!  And had only 2.8 AST to 2.2 TO over the last 5 games.  At least his best game (15/7/2) was at the Jazz last week…  Before anyone gets too excited about Harkless, remember his FT% is atrocious, albeit in low volume.  58.9% for his career.  Never has been consistent with the perimeter game, not much consistency with D stats…  I'll let someone else take that gamble.
Joe Johnson – If you were looking to do some last-second streaming, I kinda like JJ in what should be a more uptempo-than-the-Jazz-would-like game starting for the injured Gordon Hayward.  A trey or two, maybe 15 points, maybe 3-4 assists?  Could do worse.
Derrick Favors – Finally got a limited practice in on Sunday.  As someone who has had IT Band Syndrome, I know it's a bitch!  Not to mention Favors is like, 4 inches taller and has about 40 pounds on me.  It feels like your outer part of your knee is "catching" against itself, like a bone-on-bone painful-as-shit feeling.  Just so you know this isn't some minor thing.  I thought I had torn my meniscus before I had a few months of rehab to shake it off.  Today's medical round-up brought to you by Dr. JB!
Trey Lyles – I'd guess D-Fave plays, but gets the run limited a bit.  Look for T-Lyle to get some extra burn, but before you get too crazy excited for one of the best guys from Summer League, remember you get nothing in AST/STL/BLK.  Very Teletovic-ish ThrAGNOF.
Kyle Anderson – While Danny Green is slowmo-ed down with a thigh bruise (thunder thighs!), Slo Mo is likely your starting 2.  He's got some good game, but damn if it's gonna be slow-goings (not even trying to do that for the pun) game-to-game.  I don't see him diming too much, instead trying to be that stand-up shooter that Green was.  Although he didn't take too many 3s this preseason…  I dunno, I think they'll ask him to be a Green clone, especially against the D2: The Might Dubs.
Kevin Durant – Going to be so weird to officially see him in another jersey.  I'm not going to hate on the Western All-Stars of Golden State too much, unless we find out Durant or Curry is having the equipment manager deflate the balls a little bit…
Patrick McCAWWWWWWW!!!! – Won't get to yell his name too often in this one against the Spurs, but I'll be interested to see how much run he gets in what should be a close game.
Steven Adams – One of the most frequently commented names this preseason.  Put up good numbers, but I didn't yield in my low-ish rank.  I'm feeling a little iffy about that now, not going to lie…
Nerlens Noel – As mentioned on the Pod, out for 3-5 weeks.  One of my bigger sleeper calls and preseason risers was Jerami Grant, and now it looks like he's locked into backup PF minutes behind Dario Saric and backup SF minutes behind old man Hendo.  Not to mention Saric just got an elbow to the face in practice yesterday, although it doesn't sound serious….  Grant shot a high-volume 75.6% at the FT stripe – a huge improvement for him – and went 13.1/4.0/2.7/1.0/0.9 this preseason with only 0.7 TO.  When I'm right on this one, I'm going to point to myself and yell JeraMI ME ME!
Patrick Patterson – Pit Pat!  I love you!!!!  Sounds like Dwane Casey is going to mix and match his starting PF based on matchups, flip flopping between Pit Pat and Pascal Siakam with Jared Sullinger out 2-3 months.  The starting 4 position in Toronto remains as cold as a Canadian winter.
I hope you're all pumped for NBA tip off tonight!  Catch you tomorrow morning for the first Daily Notes!