Apologies for last week's DNP. I had a bit of a breakdown after digging out of almost a foot of snow and decided it was time to take matters into my own hands by driving to Punxsutawney to strong-arm a groundhog into making it stop. When I woke up in my bed the next morning with a driveway buried in snow and not a single groundhog pelt to be found, I understood that I had failed. Resigned and bitter, I've come to understand that violence against large marmots is not the solution to my winter problems. Endurance is the only way.
Keeping this lesson in mind, this week's Hangin' looks at three shooters who have disappointed thus far. Must they also be endured or is more dramatic action required?
Michael Porter Jr. — As I alluded to in a previous HWMH, to be invested in Porter is to volunteer to be tantalized. Frustration is baked-in. Porter, who has said some dumb things about coronavirus, rejoined Denver's active roster a little over two weeks ago after clearing the league's health and safety protocols. The young stud was not held out for contract tracing, but rather for catching covid. Again. Despite Porter's gusto for finding his beach, his season averages are still buoyed by his flaming hot start. Coming into Monday night's game, he was good for 15.2/6.4/0.8/1/1.1 on 51/43/83 shooting. The splits between pre- and post-covid are interesting:
Porter Jr.'s first four games:
19.5/6.8/1.8/1/1.5 and 2.3 3P on 56% FG 42.3% 3PT 87.5% FT% in 29.2 MP
The eight games since returning:
13/6.3/0.4/1.1/0.8 and 2.7 3P on 48% 43.6% 78.6% in 24.9 MP
What I'm suggesting here has a bit of a "catching a falling knife" vibe, but I think there's a small buy-low window on Porter. He's thrown out a couple of clunkers recently, but even the less attractive version of MPJ is still a useful fantasy player. Given what we've seen when he's rolling, the potential remains immense.
Granted, the dip in minutes played is distressing. In seven out of the nine games since returning, MPJ had been relegated to a reserve role, ceding the starting spot to both Will Barton and JaMychal Green. Porter Jr. returned to the first five in time to catch an L on Saturday against the Kings when Jamal Murray sat out and logged just under 34 minutes against Sac. He clanked six of his seven three-pointers which sunk his overall line and saddled him with a team-worst plus/minus of -20. The lack of scoring was mitigated somewhat by nine boards and three swats. The lack of dimes, unfortunately, is constant.
Despite Porter seeming to be in Coach Mike Malone's dog house, the underlying scoring skills are too good not to test the waters with a Porter owner. Gary Harris is on the shelf again and doesn't have a concrete timeline for return yet. PJ Dozier is also unavailable. A thinner rotation can only improve Porter's chances at getting the time he needs to really pop. Denver is home to the 5th most efficient offense in the NBA and defense that ranks in the bottom third. The Nuggets are going to have to score to win, and scoring is Porter's MO.
It seems possible to me that the second bout of covid has impacted Porter Jr.'s ability to put up the early-round value that so many had penciled in for him at the beginning of the season. He struggled again on Monday night against Milwaukee, connecting on 3/9 shots in 27 minutes as the starting 3. That said, I called on an MPJ owner to see how they were holding up after eating 23 games of uninspiring production from Porter. Testing these same waters in your league could land you an impact talent who hasn't quite found the groove this season.
Donte DiVincenzo — Pre-season all I wanted was a heaping bowl of the Big Ragu. Coming off a fantasy-friendly sophomore season in which he posted 9.2 PPG, 4.8 boards, 2.3 helpers, and a delicious 1.3 steals with low turnovers in 23 MPG, I was hungry to see what DD would do with a clear path to playing time at the 2 following the departure of Wes Matthews. I was able to draft him in a few spots and now I'm feeling a bit like Paulie Gualtieri on his visit to Italy. All I was hoping for was comfort food but instead I'm getting something with squid in it.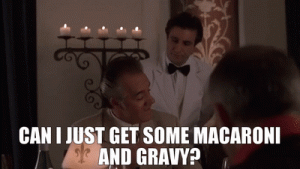 Frustrations could be mounting for those holding onto DiVincenzo because of a recent cold stretch of shooting, and taking a wider view does not make the picture any prettier. DD in 2020-21 looks a lot like the previous version. A victim of Budenholzer's rotations and the semi-frequent Bucks blowout, Donte's minutes have not rocketed up. He's now playing a hair over 25 MPG, and while the averages are up for the most part — 9.5/4.3/2.7/1.2/0.2 — it's a far cry from a breakout. The steals are top 30ish league-wide, so he's still helping there, but greater contributions in other categories have yet to arrive.
To Donte's credit, he's shooting the three-ball better — he's up over 40% now after shooting 33% last season — but there doesn't seem like there's much room to grow. A usage rate of 16.4% lags behind big names like [checks the numbers] Timothe Luwawu-Cabarrot and actually trails the 17.3% mark he posted last year. The assist and rebounding rates are down, as is the percentage of points coming from the free-throw line, the paint, and in transition. Last season, DD accounted for 16.8% of all made FG for Milwaukee; this year that number is below 15% His shot profile is tilting 3-heavy. Almost half of his hoists are from deep, and more than 80% of his made 3 point attempts are assisted. There really isn't a ton of scoring upside here outside of making shots when the ball is thrown to him.
Of course, all of this was written prior to Monday night's game against Denver when Jrue Holiday was ruled out per the league's health and safety protocols. We know already that Holiday will not travel with the Bucks to Phoenix. DiVincenzo, playing with Bryn Forbes in the Milwaukee backcourt, launched 12 FGs and hit five on them en route to a well-rounded line of 13/7/2/3/2 against the Nuggets. It would be nice to think that the departure of the point guard would mean more assist opportunities for Donte, but it's much more likely that more offense will flow through Giannis instead. Seven boards and 12 FGA is encouraging though, as he hasn't taken that many shots since late December. I'd expect the scoring to tick up for as long as Holiday is absent. Enjoy the bump in usage and production in the meantime and maybe flip him prior to Holiday's return. At full health, DiVincenzo has a firm ceiling.
Duncan Robinson — Like DD, Duncan Robinson has also been a rock for this Eastern Conference contender, but the increase in opportunity has not led to greater production. Robinson burst onto the NBA landscape last year by shooting 44% from distance. A deadeye who delivered little else, Robinson's value was tied directly to his elite 3.7 3PM, as the rest of the line was fairly anemic — 13.5/3.2/1.4 and less than 1 combined steal+block in just under 30 MPG.
Both the Heat and the Lakers entered the 2020-21 campaign with only 70 or so days of an off-season. Concerned about the scheduling impact, I faded Lakers, but it's been the Miami group that has struggled to grind out the first third of the season. Heat stalwarts Jimmy Butler, Tyler Herro, Goran Dragic, and Bam Adebayo all have missed time due to injury or plague and their absences have pushed Robinson's MPG to another level. In 23 starts, he's averaging almost 33.5 minutes.
Unfortunately, Robinson's output is stuck in neutral. The 2020-21 averages of 13/3.8/1.7/0.4/0.3 are virtually identical to his breakthrough last season, and he's getting there less efficiently than he has in the past. FG% is down (47 to 42.6), along with both 3P% (44.6 to 40.4) and FT% (93.1 to 83.8). Assuming that DR can catch his breath a bit with the arrival of the cavalry, I'd bet on the efficiency numbers creeping back up a bit as defenses shift away to more formidable offensive threats. The career-best 3.8 assist number and the career-worst 1.6 TOs both could slip a bit as the Heat re-solidify.
Robinson was drafted because the three-point shooting is top-notch, and that really hasn't changed much. Because of this, you're probably just going to have to ride it out for the rest of the season. His primary skill set is still first-rate, as his 3.4 3PM puts him just outside the top 5 league-wide. As a one-trick pony, it's important that he's executing his single gig, though I certainly understand if you haven't been wowed by the production thus far.
Thanks as always for hangin'. I'll catch you guys later this week when I recap the Wednesday night games!