This is the Division of New Instruction because, with one year plus the 26 games the Pacers have played so far, Nate McMillan is the senior member of the division's coaching membership. Two teams, the Pistons and the Bucks had new coaches to begin the year, and the other two teams, the Cavs and the Bulls, changed leadership during the season.
Instruction and teaching do matter in the NBA. So many players are coming into the league with only a year of college ball, so today's coaches must have staffs that can teach them to play the game. Coaches have to find ways to make players with limitations productive, and the coaches who can do it the best are the ones who are successful.
We witnessed Indiana's improvement last year under the tutelage of McMillan, and the Bucks and Pistons under new leadership sport winning records this year while looking like different teams.
Three of the teams have records in the top five of the Eastern Conference, while the other two which jettisoned their head coaches early this season, are languishing at the bottom. Also, alphabetically, the records go from worst with Chicago to best in Milwaukee, for whatever that means.
Chicago Bulls 6-21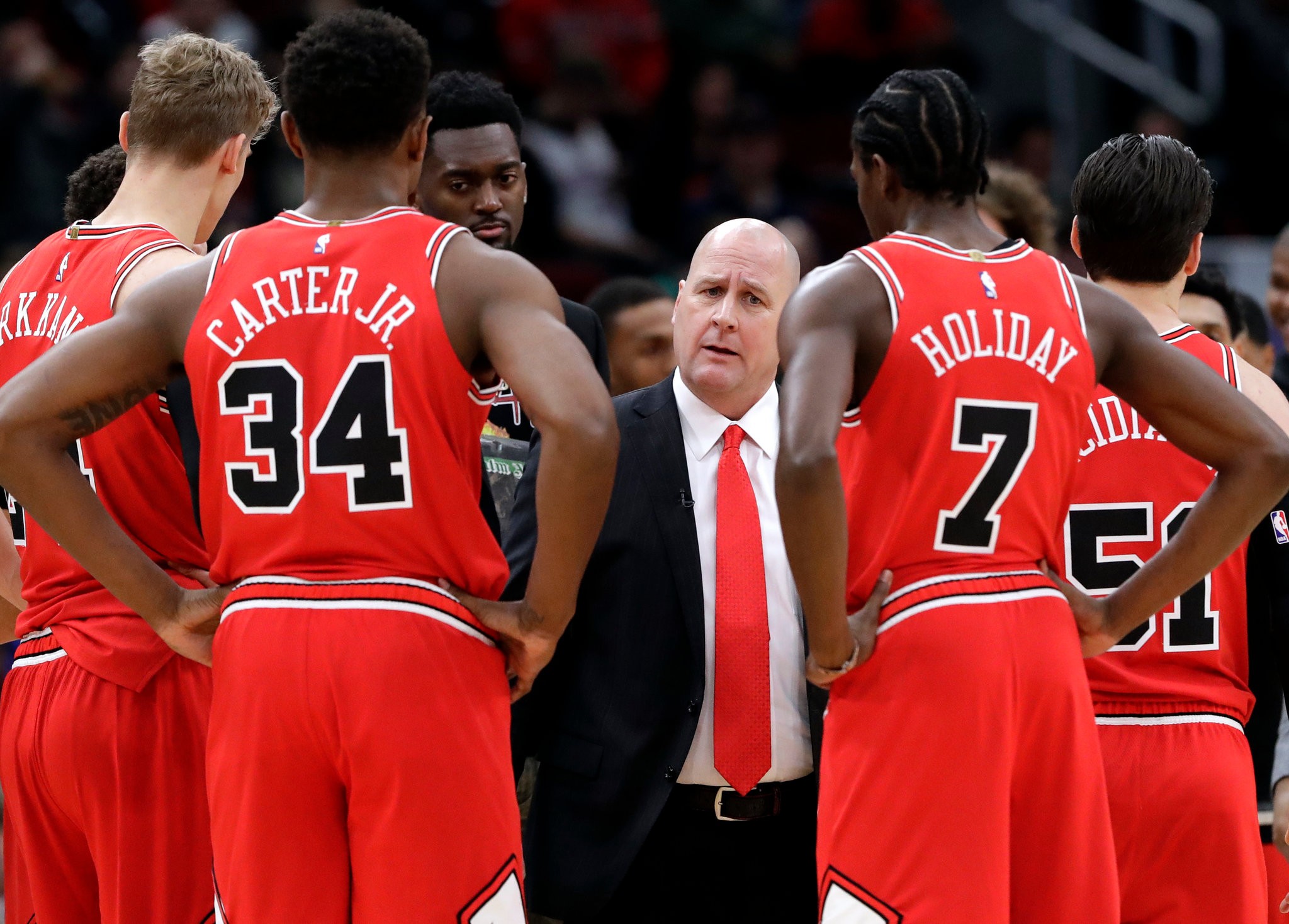 Team Outlook
Coach Fred Hoiberg didn't have a chance.  Nicknamed the Mayor because he had the popularity of a politician, it didn't seem he ever grasped the reins of the Chicago franchise. He quarreled with hardscrabble team leader Jimmy Butler, and his easy going nature seemed ill-fitted for the hard hat group left to him from the Tom Thibodeau regime. After Butler was sent to Minnesota, for what became Zach Lavine, Kris Dunn, and Lauri Markanen, it looked like there was some young talent to build around. Injuries and calamity followed, though. Player fights, the trading of Nikola Mirotic last year  just when the team started to win some games, and then another spate of injuries this year doomed the well liked Hoiberg's fate.
The team's additions created defensive problems, and not having PG Kris Dunn made matters worse.  The team inexplicably did not retain one of their best wing defenders, David Nwaba, but at least first round draft choices Wendell Carter Jr. and Chandler Hutchinson look like sound choices.
Now, Jim Boylen gets a chance. Fortunately for him, Lauri Markkanen just returned, as have Kris Dunn and Bobby Portis. Early results have been mixed: a competitive loss in the first outing, a huge overtime win against the Thunder in game two, and a terrible home blowout loss to the Celtics in game three. Boylen has a tough job, but if he does too good of a job developing and winning too many games, the Bulls may not get a transformative draft pick.
Player Outlook
Zach Lavine has been the team's offensive bellwether, showing improvement as a playmaker, adding 5 APG to 24 PPG and 5 RPG. 31% from deep needs to improve, and should once Dunn comes back. Jabari Parker, the team's big free agency pickup, adds 16.1 PPG and 7.3 RPG, but has had issues defending opposing forwards. Lauri Markkanen has shot poorly in his four games (38%) since returning from injury, but that is simply rust. See if his owner is disappointed with his early struggles and ask for him.  He has still provided 15.8 PPG and 6.2 RPG. The addition of Kris Dunn will help all the Bulls shooters.  Dunn had 7 assists in one half of the game he played before he injury struck. If he is on the waiver wire, and you need assists, get him before someone else does.
Justin Holiday is the team's best all-around performer so far. Forced to play more of an offensive role than he probably should have, he is still a good fantasy asset because of the 12.6 PPG, 4.5 RPG, 1.7 SPG, and 3 three-pointers a game. Ryan Arcidiacono, a former two-way player, has outplayed former first round draft pick Cameron Payne to run the team in Dunn's absence. Arcidiacono led his high school team to the state playoffs as a sophomore and junior, but missed his entire senior season due to a herniated disk. He went to Villanova, where he had a great career and piloted his team to the national championship. He is averaging 7 PPG and 4 APG, and will probably keep the backup job behind Dunn
Antonio Blakeney has shown flashes as a scorer (9.5 PPG), but only becomes viable if Holiday is out.  The first rounder, Wendell Carter Jr., has effectively made Robin Lopez a bench player and is shooting 47% with 7 RPG, 1.6 BPG, and 11 PPG. I expect him to get better as the year goes on.
Cleveland Cavaliers 6-20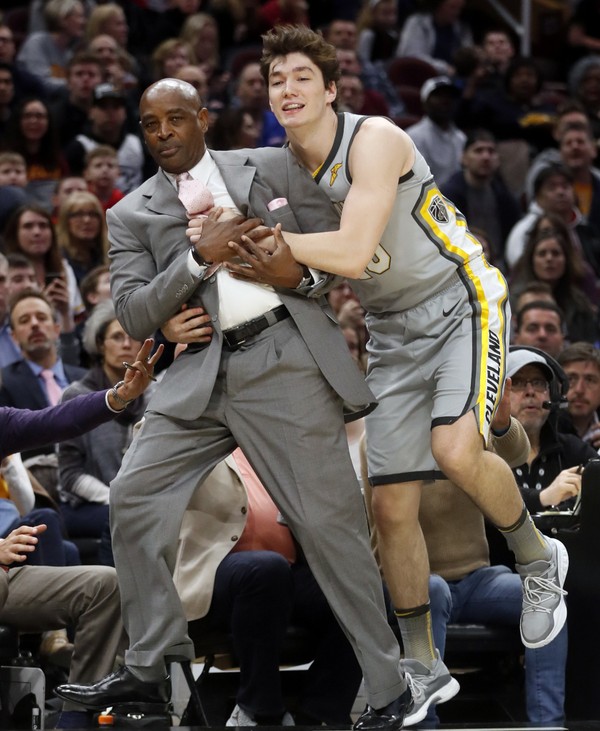 Team Outlook
The Cleveland Cavaliers season effectively ended when Kevin Love got hurt. He played four games, but was not really himself. He is targeting a mid-January return, but his return does bring us some internal conflicts. The Cavs currently are clearly one of the worst teams in the league, which puts them in a great position to get one of the prizes coming out in the draft next year. But Love gives them a low-post presence, is a double-double machine, and more importantly, a fourth quarter go-to-guy who would bring wins that could knock them out of the Zion/Reddish/Barrett sweepstakes.
Additionally, the team has been playing better under Larry Drew, who took over for Tyronne Lue. Collin Sexton has been starting and learning what it takes to be an NBA PG, and has not backed down from anybody. Tristan Thompson, over the past two weeks, has looked like the guy who merited an $18M a year contract.
However, one stat is very illuminating. The team leader in assists per game is Love at 3.5, although he's only played in four games. Sexton, Rodney Hood, Jordan Clarkson, and the newly acquired Alec Burks are all scorers and not distributers. Kyle Korver was traded to Utah and JR Smith would be gone yesterday if the Cavs could find anybody to eat his salary. Some playoff teams might be able to use him this season, but he has a $3.5M player option for next season that scares many teams away.
So, we have to wait and see what the Cavs do when Love returns. Both his and Thompson's salary are hard to move, so it will probably be in the summer when we see the big moves to clear the roster. Teams will have to see him play to make sure he is the same Love in order to justify trading for him, though. If he is that Love, that probably translates into more wins than management really wants to see. Truly, the horns of a dilemma for Cavs management. No wonder Larry Drew wanted to make sure he got paid for the job that is in front of him.
Player Outlook
Tristan Thompson has been a rebounding fiend lately. He has been scoring by gobbling up the misses of the aforementioned chuckers, and putting them back in for points. You can add Cedi Osman to the group of shooters, as he is scoring 11.4 PPG, but only shooting at 37 %, so if you bought into the pre-season hype and drafted him high, you were hoping for more.
Jordan Clarkson is leading the team in scoring (16.3) while coming off the bench, but Collin Sexton may overtake him now that he is starting and George Hill has been jettisoned to the Bucks. Both are shooting in the mid-40's, as is Rodney Hood, but neither is adding a whole lot in the other categories.  If you have Hood or Clarkson, and they have a strong stretch of scoring games, you should try and move them for someone with a little more rounded fantasy resume.
Sexton is the guy to own on this team. Watch Alec Burks and see how Drew fits him in. It seems like Clarkson, Hood, and Burks are the same player, so it may be a hot-hand approach. Burks has been injury prone, but he was never able to get the consistent minutes to show what he can do in Utah.
If your league has an IR spot, hold onto Love, but it is a foot injury, so even upon his return, it may take a while for him to get on track. If you can trade him for something you can use now, to somebody who can afford to wait on him, consider it. Mid-January is still over a month away, and Love has said he won't rush himself back, and will probably be looking at a minutes restriction.
Detroit Pistons 13-11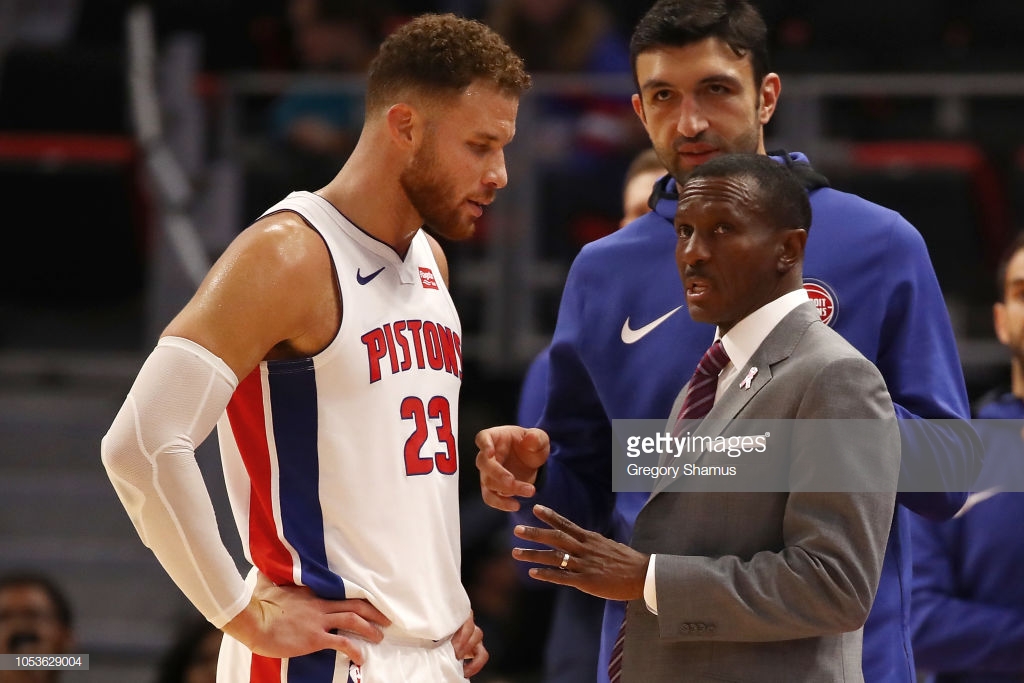 Team Outlook
This team is currently fighting for a home playoff spot in the East, and new coach Dwayne Casey is trying to utilize his second unit in the same manner he used his bench mob in Toronto last year. In Toronto, he had two star backcourt players. In Detroit, he has two star frontcourt players. Casey is meshing the other starters around those two, and developing the bench to play hard, especially on defense, and share the ball. So far, it is working. Blake Griffin is playing his best ball ever, Andre Drummond is double-doubling every night, and the others are playing well enough to secure wins. However, when you look at the stat sheet, you wonder how they are doing it. After Blake and Andre, Ish Smith's 41% from the field represents a HIGH water mark for the next nine scorers.
Reggie Jackson and Ish Smith share the backcourt duties, each providing plusses and minuses, and the wing contingent of Reggie Bullock, Stanley Johnson, Langston Galloway, Glenn Robinson III, and Luke Kennard have each had their moments, but none have distinguished themselves from the others. I don't know if the record is sustainable unless a third guy steps up, but you have to applaud Casey for where this team is right now.
Player Outlook
Blake, Blake, Blake!!! Blake Griffin has been outstanding – averaging 25 PPG, 9 RPG, 5 APG, 2.3 3's, and 5.5 FT's. If you drafted him, you are really happy.
Andre Drummond has been traded twice in my league, and I have no idea why either owner did it.  Admittedly, the 50 FT% is a downer if your league has that as a category, but the 18 PPG, 15.6 RPG, 1.7 BPG, 1.4 SPG, with 51% from the floor are numbers any fantasy team can use. After those two, things gets a little murky. Reggie Jackson (16 PPG, 40% FG, and 4 APG) is often the third scorer, but the inconsistency makes him a Tums candidate, and it seems the team plays better when Ish Smith is running the show. Unfortunately, the diminuative Ish is a defensive liability, and isn't much more efficient on offense, so it is essentially a timeshare.
Reggie Bullock (10 PPG and 39% shooting) and Glenn Robinson III are supposed to be the deep shooters that make teams pay for clamping down on Blake and Andre, but they haven't been consistent.   Management would love high draft pick Stanley Johnson to be the guy, since he is the best defender by far. While he shows flashes (9,8 PPG, 4.4 RPG), he only shoots 28% from deep. I believe in Johnson and think he will shoot better and become the guy they want him to be. Smith got hurt this weekend, so Langston Galloway may get the backup PG minutes, so monitor him for increased production
Indiana Pacers 16-10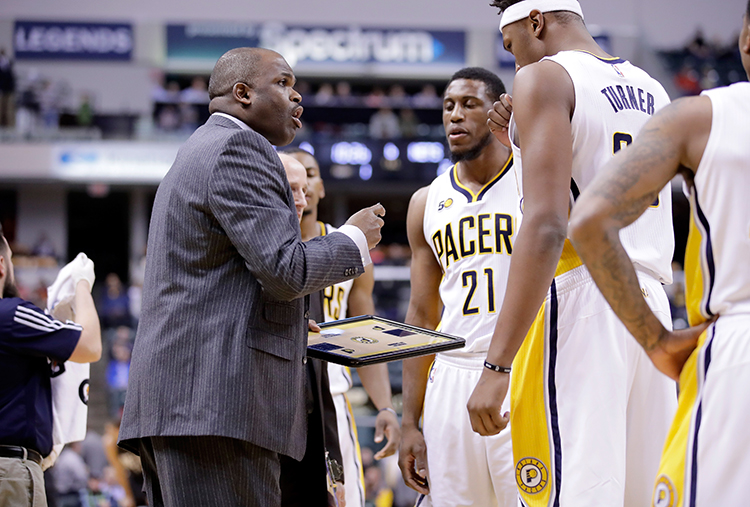 Team Outlook
The Pacers gained confidence last year by playing the Cavs in a tough playoff series, and it has carried over to this year. The additions of Tyreke Evans, Doug McDermott, and Kyle O'Quinn were designed to improve the second unit.
Adversity has struck, though, as star Victor Oladipo is having knee issues, but the Pacers have gone 6-4 in the ten games he has missed. While no timetable has been announced for his return, Oladipo says he will be back soon. In some ways, it has been a blessing in disguise. Without his offensive output, the team has been forced to really focus on the defensive end. The others, including Bojan Bogdanovic, Damontas Sabonis, Myles Turner, and Doug McDermott have also had to increase their scoring. When Oladipo returns, the Pacers should be an even stronger unit.
Sitting currently in the fourth spot, the Pacers hope to stay at least there and secure a home playoff series, or perhaps challenge for a higher seed.
Player Outlook
Victor Oladipo's scoring and efficiency are down slightly from last year, but that may be due to the knee issue. Still, his overall excellence (21.4 PPG, 5 APG, 6.6 RPG, 1.6 SPG, and 2. 5 3's) is such that he can be a major building block for any fantasy franchise.
Domantas Sabonis has been great all year (14.3 PPG, 10 RPG, and 64% shooting), as has Bojan Bogdanovic (16.4 PPG, 2 3's, 52% from the field and 48% from three). The Pacers are looking for a little bit more punch from Myles Turner and Tyreke Evans, who was brought in to add another scorer/playmaker.
Turner, who has officially been on breakout lists for two years now, has been effective (11.4 PPG, 6.5 RPG, and 2.7 BPG), but owners were definitely looking for more points and boards. Evans had a productive season with the Grizzlies last year, which lured the Pacers into signing him in the offseason, but they haven't gotten contract year Evans. Instead, they have received 10.6 PPG and 37% shooting Tyreke. Darren Collison was a league leader in 3point FG percentage last season, but this year has been different, as he is down to 35%  from deep and 43% overall. Thaddeus Young has been his usual steady self, but his numbers are down a bit (10.5 PPG, 5.3 RPG, 49%, and 1.4 SPG), but his three-point stroke is on vacation (23%) and he has lost minutes to Sabonis. Cory Joseph and rookie Aaron Holiday have both played well in a backup role and, if something should happen to Collison, snap them up. Kyle O'Quinn and Doug McDermott have improved the strength of the second unit, but neither gets enough minutes to be roster worthy.
Milwaukee Bucks – 17-8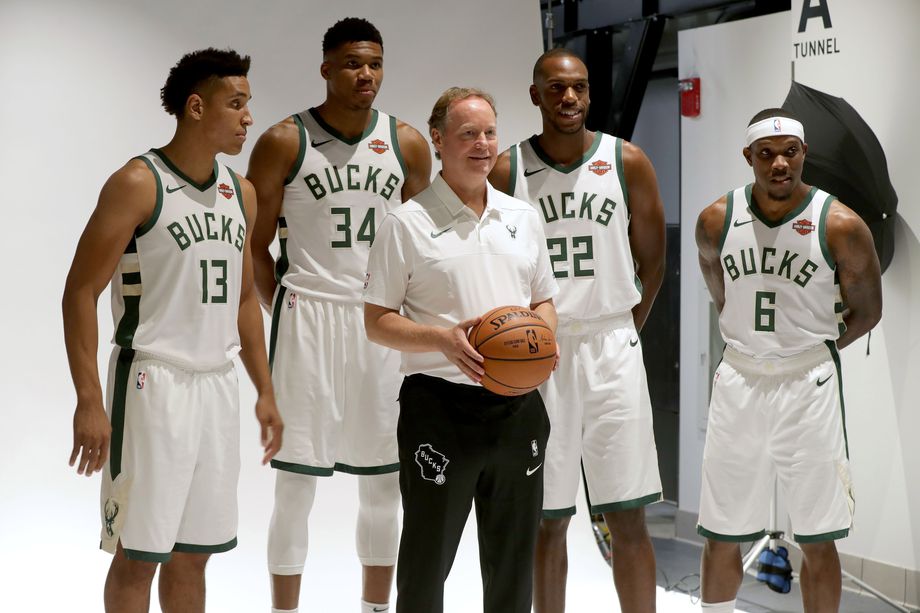 Team Outlook
Welcome to Bud Ball: play defense, share the ball, and shoot plenty of threes so the lane becomes open for the slashers. And what a group of slashers it is, led by MVP candidate Giannis Antetokounmpo. Khris Middleton, Malcolm Brogdon, and Eric Bledsoe, all take turns attacking the rim. Shooters Ersan Ilyasova, Tony Snell, Pat Connaughton, and Brook Lopez space the floor making for a very effective offensive scheme.
All five starters average double figures and the bench will be further strengthened by the newly acquired George Hill and Jason Smith. Last week, Bud sent a message to all Milwaukee players by benching Middleton for the fourth quarter and overtime for not hustling on defense. Coaching matters.
The Bucks are currently holding the second best record in the Association and still have room to grow as the players get more accustomed to the principles of Bud Ball.
Player Outlook
Replacing John Henson and Thon Maker with three-point shooting Brook Lopez is a Bud Ball genius move. Lopez is still big enough to be a rim protector (1.8 BPG), but his perimeter presence (2.5 3's per game) brings other teams bigs out and opens up driving lanes for all the Bucks slashers.
Giannis Antetokounmpo is averaging 26.8 PPG, 13 RPG, 1.5 SPG, and 1.3 BPG. He is also dishing out 6 dimes a game. The numbers speak for themselves. Khris Middleton continues to wear the label "one of the most underrated NBA players," due to his consistent production (19.1 PPG, 3.8 APG, 5.7 RPG, 1.3 SPG, and 3 threes) and non-flashy play.
Eric Bledsoe and Malcolm Brogdon are twin gems at the guard positions, with the former (16 PPG, 5.8 APG, 4.3 RPG, 1.5 SPG, and 42 3PT) almost a dead match for the latter (15.3 PPG, 3.4 APG, 4.5 RPG, and 44 3PT). Brogdon has been hot lately, so you might want to see if you can snatch him. Thon Maker, Pat Connaughton, Tony Snell, Ersan Ilyasova, and Sterling Brown form a hardworking bench, but none are fantasy relevant unless there is an injury.
Central Division Odds and Ends
You are a Genius – if you drafted Malcom Brogdon, Collin Sexton, or Blake Griffin
You need Tums – if you drafted Kevin Love, Reggie Jackson, or Myles Turner
Don't Drink and Draft – if you picked Thon Maker, JR Smith, or Robin Lopez. Leave the Coronas alone until after the draft is complete next year
Run, Don't Walk – grab Darren Collison and Kris Dunn
Word of the Week
Actuate – from the Latin actuare (to actualize)
The minute the Bulls traded Jimmy Butler, they actuated the current rebuilding plan for the team.