Merry Christmas Razzball readers! I hope you enjoy the holiday season and take advantage of the extra free time to watch more NBA by the fireplace! This year, Christmas coincided with the opening of the All-star voting so, if you haven't already, give your favorite players the Christmas gift of your vote and drop a comment below on who is the most underrated player that should be an All-star this year!
Taking a look at last week's suggestions, both Cody Zeller and Nemanja Bjelica had a pretty low-scoring week, but I still like them going forward. The same can be said for Jarrett Allen. Regarding the Sell candidates, Kent Bazemore is still going strong, but Taurean Prince's return is getting closer, while James Johnson had one great and three mediocre games.
Buy
Jeff Green: Otto Porter Jr. found another way to disappoint his owners this year and has been sidelined for the past week. He is not expected to play today and may sit the entire week, which makes Jeff Green a great target for points and rebounds off the wire. During the last two weeks he is averaging 15.4/2/5.7/1.3/0.6/0.3/0.9 on 52.2%/88% shooting, good for 59th overall in per game value. His minutes look relative safe for the time being, so he looks like a great streamer for this week (30% owned).
Marcus Smart: Do you need a PG who can dish the ball, defend with an elite energy, and steal the ball more than the Lakers stole the NBA title from the Sacramento Kings in 2002? Do you want that kind of "value" bundled with low turnovers and good rebounds for a guard??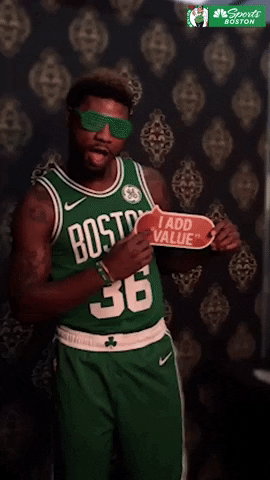 The above paragraph could be an advertisement for Marcus Smart and as every advertisement worth its salt, it hides the bad sides of the advertised product. In our case, it's his shooting. Smart is scoring 7.2 points on 37.9% shooting and is notorious for his shot selection and cold shooting streaks. If you are OK with those he can be a valuable contributor and is available in 55% of Yahoo leagues.
Ivica Zubac: His production is entirely dependent on the absence of JaVale McGee, but boy has the Croatian big man taken advantage of the extra minutes. Taking only his three starts into account, he is ranked 12th overall, with 17.7/0/8.7/1/0.7/2.7/1 on 78.1%/75% shooting.
Even he looks confused with his awesome streak! He is extremely valuable for as long as McGee is out and maybe he earned some extra minutes in Walton's rotations long-term, so he is worth a look right now. Just keep in mind that he can fade as quickly as he exploded, as we have seen before… (26% owned).
Sell
Dennis Schroder: Dennis Schroeder started the year hot, mainly because Russell Westbrook was sidelined and Paul George wasn't in peak form but during the last month things aren't going exactly his way. To put it into more context, he is ranked 305th during the last two weeks and is basically just a points expert with some assists thrown in. Furthermore, he can severely hurt your team in fg% and turnovers and his name carries more value than his actual fantasy contributions. As we've discussed before, fantasy owners tend to overvalue points, so it would be wise to test his trade value after one of his higher scoring games and get a better fantasy player in return.
Terrence Ross: He had a scorching hot scoring stretch earlier in the season but, in typical Terrence Ross fashion, he has gone ice cold during the last two weeks. He is extremely unpredictable and can heat up in a hurry but, for now your team can benefit from another player in his spot and you can always add him back when his shooting stroke returns.
So there you have it folks. As always, I am eager to read your thoughts about other players you think are Buy/Sell worthy in the comments below, as well as all your fantasy related questions! See you next week with new suggestions and a recap of the performances for this week's showcased players.