I have to start this article by saying that I'm a big fan of Stephen Curry, but simultaneously I'm a bigger fan of science. And those two seemed to have a conflict recently with Curry suggesting that the moon landing didn't happen during a recent podcast. NASA's response was immediate.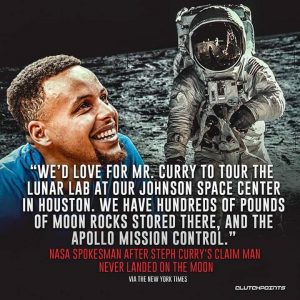 This is the second occurrence of an NBA player making such a comment after Kyrie Irving's infamous flat earth theory. My humble personal opinion is that these guys are role models for millions of children worldwide and as role models, they ought to have a more well-informed opinion on scientific matters. Their opinions may shape the views of millions that look up to them, so their statements carry a significant weight. I would love to hear your opinion on that matter in the comments. I'm interested to see your point of view. OK, Rant over, let's review last week's calls and move on to this week's suggestions!
Tim Frazier is doing exactly what is expected from him, with elite assists and contributions in steals and triples, and I really like him as long as Elfrid Payton is sidelined. Kevin Huerter has seen his minutes increase and is becoming a deep-league asset, while Marvin Williams returned quicker than expected and somewhat capped Miles Bridges' upside. Finally, Kevon Looney and Jordan Bell will have low end value until DeMarcus Cousins returns.
Buy
Wendell Carter Jr.: Similarly, Wendell had a rough month, finishing as the 157th player amidst the drama surrounding the Bulls locker room. Still, I'm not worried about his production, even with Lauri Markkanen back, and I bet on a very strong finish to the season. If there is a time to get your hands on Carter via a trade, it's now, as I firmly believe this will be the lowest point in terms of production for the entire season.
Nicolas Batum: I'm not expecting the Frenchman to return to his former dominant fantasy self, but especially during the last month he has been awful, losing playing time and ranking all the way down to #183. An improvement is in store and his value is at an all time low so, if you are interested in the stats he provides, this is the best time to get him at a discount.
De'Anthony Melton: Devin Booker is out with a hamstring injury and Melton has taken over the PG duties, averaging 12.3/1.5/4.8/5.5/1.8/0/3.0 on 35.8%/83.3% shooting. The turnovers are going to be an issue for the rookie, but he can contribute across the board and, with Phoenix heading to another lottery season, he will have all the time to play and develop. He has overtaken Elie Okobo on the depth chart and is looking like a solid pickup right now (17% owned).
Trey Lyles: The injury bug has hit the Denver Nuggets, with Will Barton, Gary Harris, and Paul Millsap all sidelined with different alignments. Lyles can emerge as a winner in this situation as he can fill Millsap's void and can score to compensate for all the missing production. He has started the year slower than last season, when he was a steady contributor, but I think with the increased playing time he is worth a long look (13% owned).
Sell
Jusuf Nurkic: I am not that concerned about his production as much as I am about his health moving forward. He has been a beast during the last month with averages of 14.7/0.1/10.7/2.8/1.2/1.5/2.2, good for #37 on the player rater during that span. However, he has missed 70 games over the last three seasons and you can get a safer player in return for him during this peak performance period, so it would be worthwhile to check his market value in your league.
Rodney McGruder: After a hot start to the season, aided by the lack of depth in the Heat's backcourt, McCruder has trended down in a big way. His minutes are down and so are his stats across the board and, with the Heat getting healthier, I just don't see enough playing time for him to be worthy of a roster spot in standard leagues. I think your team would benefit more by streaming his spot or by grabbing a hot free agent, so adjust accordingly.
George Hill: What little fantasy value Hill had as a mentor on a tanking Cavaliers squad evaporated with his trade to the Bucks. He will serve as a backup to Eric Bledsoe, so his minutes will be hard capped, and those romantic owners who remember his contributions from earlier years can safely move on from him.
So there you have it folks. As always, I am eager to read your thoughts about other players you think are Buy/Sell worthy in the comments below, as well as all your fantasy related questions! See you next week with new suggestions and a recap of the performances for this week's showcased players.