During this past week when I was researching for players to put in the Buy column, I had Tim Frazier as a potential candidate, but in no way was thinking of having him as the highlight of the article. And then he goes and does this (2.17-2.35 in the video)
Tim Frazier is one of us. Tim Frazier cares about us. Instead of getting a turnover in the final possession as the clock runs out, he passes the ball to Wesley Johnson so that the turnover is registered to him. And I doubt Johnson is on any fantasy teams right now… More on Frazier below.
Taking a look at last week's suggestions, Marvin Williams was bad and eventually got injured so you can safely drop him again. Injury also struck Taurean Prince, but he is a hold as it is not a serious one. The final Buy suggestion was Allen Crabbe who has seen the minutes rise during the last week, and I still like him for the triples and points contributions.
Buy
Tim Frazier: After that introduction it was mandatory to have him as the first Buy suggestion of this week. Elfrid Payton is expected to be sidelined for the next four weeks, so Frazier can have value as a low usage playmaker. The Pelicans want to play Jrue Holiday off the ball more and have thus asked Frazier to initiate the offense. He is averaging 8/1.3/4.3/8.5/0.8/0/2.3 on 52.4%/83.8% since starting and is definitely a worthy pickup even in standard leagues right now (20% owned).
Kevin Huerter: The long term goal of the Atlanta Hawks in this year's draft was to form a backcourt that resembles the one in Golden State, with Trae Young as Curry 2.0 and Kevin Huerter as a taller Klay Thompson. This will take many years to come to fruition but in the short term, Taurean Prince's injury opens up even more minutes for Huerter, who was already logging 25.2 during the last 2 weeks. He can shoot the 3 and will contribute in assists with solid percentages, so he is worth a look, especially until Prince returns (2% owned).
Miles Bridges: The Razzball team knows very well about my love for Bridges' potential, as I think he has all the physical and mental tools to become a star. Shaq even touted him as the most athletic player in the league right now and when this comment comes from a guy that could do that…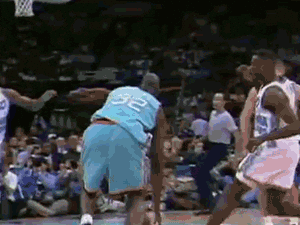 …it definitely carries more weight. Even in limited minutes (22 per game) during the last week, he was ranked 63rd in per game value and is a player who can contribute across the board. He started the second half in the last game because Marvin Williams got injured and will see his minutes increased due to that (15% owned).
Jordan Bell – Kevon Looney: Damian Jones is out for the rest of the season due to a torn left pectoral, so until DeMarcus Cousins returns, the two aforementioned players will man the center spot for the Warriors. Looney had the best performance between the two in the first game without Jones, but I like Bell more, due to his upside in blocks and rebounds. Still, they are both worth a look in deeper leagues for the time being.
Sell
Bojan Bogdanovic: Bojan is as steady a contributor as they come, but he has seen his usage and scoring rise due to Victor Oladipo's injury. Without Oladipo he has increased his scoring by 2.1 points and handles the ball more, but is still just a borderline top 100 player. Fantasy owners usually overvalue points and triples, so it would be wise to see if you can get a good return for Bogdanovic right now before Oladipo returns.
Dario Saric: I tried being patient with the Homie and expected Thibodeau to eventually start him over Gibson, as he is far more talented, but we all know Thibs loves him some Taj. Both players are locked in a timeshare, so their fantasy values are limited and I'm more than happy to move on from him for a hot free agent from the Buy section, even though he is owned in 70% of leagues right now.
So there you have it folks. As always, I am eager to read your thoughts about other players you think are Buy/Sell worthy in the comments below, as well as all your fantasy related questions! See you next week with new suggestions and a recap of the performances for this week's showcased players.