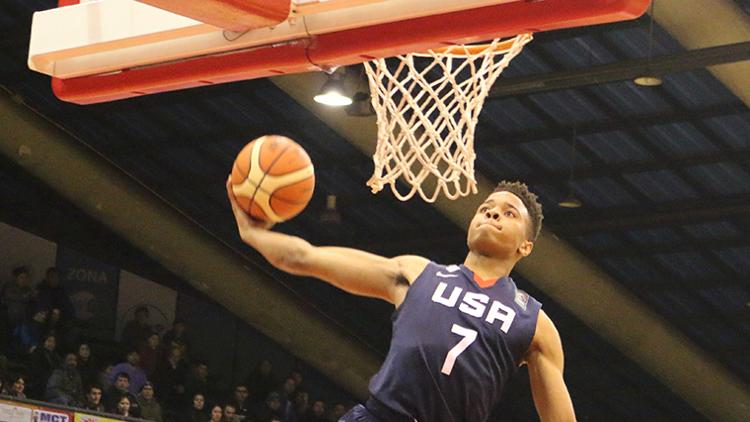 Welcome back to 'Dynasty Deep Dive' Razzball nation!
Well what a week it has been in the world of fantasy basketball. Hopefully you are not reeling from the news this week on the injuries to Chris Paul and Rudy Gay (Guess who drafted both in their RCL listener league) and scouring the wire for potential replacements.  I saw my Baylor Bears gain the number 1 spot in the nation, only to lose it in a week after a devastating loss to a super impressive WVU (Yep, I called it a few weeks back). On the bright side, boy did my boy Jonathan Motley bounce back with performance of the week against the Texas Longhorns with a superb display of 32 points, 20 rebounds (7 on the offensive end), 3 blocks and a steal.
Talking of Dynasty leagues, Caris LeVert is starting to look like the home run pick that the Nets were looking for. After reeling from past mistakes (ala the Paul Pierce/Kevin Garnett trade) the Nets took a chance on a talented LaVert returning from serious injury, and are already (earlier than anticipated) seeing the high level game he is capable of. Over his last two games the former Michigan star has put up 31 points, a block, 3 steals, 10 assists, 8 rebounds whilst going 12/14 from the field (5/6 from downtown) in 40 minutes of action. The Nets swung for the fences, are you ready to take the leap of faith going into the business end of the season?.
So what do I have in store for you this week? Well, a revisit to my top 10 2017 draft eligible rankings after my first look just over a month ago. I have said it before, and I will say it again…………THIS DRAFT IS LOADED!
Without further ado, let's get into the action:
10. Lauri Markkanan (Great landing spot – Pelicans):
As we look at the twilight of a great 7 foot pure shooter in Dirk Nowitzki, we will be welcoming another one to the NBA in Finland's Lauri Markkanen. The Arizona power forward not only carries elite size but an elite ability to stretch the floor on offense, currently shooting 49% from downtown on 4.8 attempts per game (whilst averaging 17 points and 7.4 rebounds per game). The Firing Fin is not an elite athlete, nor an elite defender, but in the right landing spot could see a potential Ryan Anderson type of career. Being so deadly from the perimeter, The freshman could well contribute from the off for a team that likes to stretch the court from the 4, and create space in the paint for a franchise player ala Anthony Davis.
9. Jonathan Isaac (Great Landing spot – Denver)
Man would I love to see this kid lined up next to Nikola Jokic over the upcoming years, and factor in growth from a talented stretch four in Juancho Hernangomez and you would have a variety of game from a potential Denver frontcourt. Rather than sound like a broken record, here is what I wrote about the Florida State forward just over a months ago:
Jonathan Isaac is a guy you will find an aggressive ranking from yours truly and a lot of this has to do with the great ball handling skill and shooting ability the FSU prospect has for a man of his size (6-10 at 19 years old).  Through 8 games so far he has demonstrated his excellent shooting ability with a .569 FG% that also includes on average 3.75 treys attempted per game (being successful with 1.62 per game of those), demonstrating that offensive versatility that NBA teams currently crave in the modern day game. He also has good rebounding instincts and plays with an excellent hustle on the defensive end averaging 7.12 rebounds,  1.12 steals and a block a game. When guys approaching 7 foot are averaging a triple 1 (a block, steal and three) with good percentages then it is time for fantasy land to take notice, especially from a guy who won't hurt you at the line. The one concern at this point is the slight frame, and gaining weight and strength is going to be essential to Isaac to reach his oozing potential at the next level; but I am all in on the Florida native to keep his stock rising and assert himself as a lock for a lottery pick over the upcoming months.
Isaac has fallen 5 spots since my last rankings, but that is more of a product of the play of the guys around him than the skill set he provides.
8. Josh Jackson (Great Landing Spot – Pheonix)
Loved by many, not quite so much by me. The potential is clear to see from the freshman, but foul trouble earlier in the season and some inconsistent play at times leaves me more of a pessimist than an optimist. That being said, Jackson has the potential to be a do it all type of swing-man at the next level given time, currently posting averages of 15.1 points, 6.8 rebounds, 3.1 assists, 1.6 steals and 1.4 blocks per game. I am a big fan of players with two way potential and Jackson certainly has that, and with a bit more consistency could find himself rising once again in my top 10.
7. Jayson Tatum (Great Landing Spot – Chicago Bulls)
I personally really like the potential of Jayson Tatum, who is currently averaging 16.8 points, 6.6 assists, 2 assists, 1.9 steals and 1.5 blocks per game, especially given the safety net of being an impressive free throw shooter as well as a contributor on both ends of the floor. Given his perfect size to play the wing at the next level, a good mid range jump shot and lengthy arms that cause havoc on the defensive end, I can see a very good NBA regular in time, especially if he can improve his consistency from beyond the arc.
6. Dennis Smith Jr. (Great Landing Spot – Dallas Mavericks)
Boy would Dallas love to have an explosive athlete with the ability to run the court. Rather than sound like a broken record, why not check out what I wrote about Dennis Smith Jr. a couple of weeks ago:
"You would be hard pressed to find a better performance in College basketball last week given the strength of the opposition than Dennis Smith Jr.'s  27 points, 11 rebounds, 11 assists and 5 steals for NC State (who haven't had much to cheer about in the NBA in recent seasons outside of TJ Warren and JJ Hickson) against 21st ranked Virginia Tech. The highly touted freshman, who is expected to go high in the draft, now possesses season averages of 19.6 points, 6.5 assists, 4.1 rebounds and 2.1 steals. The big time athletic PG sat out his senior high school year with a torn ACL and is quickly demonstrating that he has not lost much of his explosiveness as a result. Although an explosive finisher who gets to the rim with ease, there is still work to be done on the shooting end as he has thus far struggled with his 3 point shot, and is not spectacular when shooting from the charity stripe for a man of his position (thus far shooting 75% from the FT line). If Smith can continue to show he is over the injuries, and improve in consistency shooting from range, then the NC State PG could prove very desirable in fantasy drafts for the 2017/18 season if he decides on the one and done route (Given the right landing spot). I am sure Dennis Smith Jr.'s game will have JB drooling come Dynasty league draft day."
5. De'Aaron Fox (Great Landing Spot – New York Knicks)
Ok, so a landing spot of New York is unlikely given the projected draft slot of the Knicks, but man would I love to see an explosive, lightning quick point guard push the tempo alongside 3-6 Latvia at the garden. For those of you that have been watching Kentucky basketball, you have been blessed by some astonishing backcourt play from Fox, Monk and at times Briscoe. What impresses me about Fox the most is not just defender's ability to defend the speed and explosion, but the fact he turns the ball over just 2.3 times per game in a ridiculously uptempo offense as the primary ball handler. Another one of these 'Do it all' point guards in this draft, Fox is averaging 16.7 points, 6.3 assists,  5 rebounds, 1.7 steals and 2.1 treys a game on 48% shooting. College stats don't tell us a whole lot about a players ability to translate at the next level, but Fox is a guy with 2 way ability with some elite tools and speed that should play havoc in the NBA.
4. Frank Ntilikina (Great Landing Spot – Sacramento)
Is it likely that the French phenom ends up in Sacramento?  Probably not, but there is always the potential for a player from Europe to fall or a draft day trade. One piece of advice I can give: do not attempt to translate Euro stats to that of college or the NBA. The intangibles are so different because of things such as need for sponsorship money (especially for non Euroleague teams) leading to rising stars not really being developed in preference to vets, the fact that some teams are aware that their potential talented stars are looking for bigger things, and of course the differences in stats being accredited (this is particularly the case when being credited with assists, as the NBA is way more generous than Europe). Here is what i wrote about my boy in a previous article: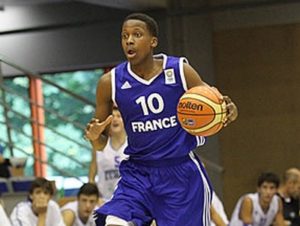 Born in Belgium but raised in France, Ntilikina is probably my favorite prospect playing their trade in Europe not named Ante Zizic right now. 'Franky' is an elite sized point guard who really knows how to play the game of basketball for a man so young. For those of you that follow the game outside of the NBA and NCAA, this will be a name you will be a familiar with. A real chance to go in the lottery, the Belgian combo guard possesses a great blend of quickness, elite passing ability, great athleticism and a defenders nightmare in isolation situations. Although still very young, the maturity to his game and the huge amounts of potential gives Ntilikina a real chance of being an elite level NBA talent and a name you REALLY NEED TO KNOW. If there is a place to pick a hole in his game, his shot selection and jump shoot still has room for improvement, but this a guy who could really mix it up at the top end of the draft and it is not unfeasible given the skill set and potential that he could be in contention for a top 3 selection. If this player falls in your rookie drafts next year, then pounce at all costs; this is a Dennis Schroder type with even more upside to his game.
3.  Malik Monk (Great Landing spot – Philadelphia)
With Ben Simmons flirting with a return to the court around the ALL star break, what better way to compliment him than a sharp shooting, athletic player who has an immense talent to create his own space and shoot off the dribble (maybe the most important element I look for in fantasy when drafting professional scorer). If you have been reading my columns, then it is no secret that this is a man love of mine, and a legend in my own lunch break. Everything I hate in Buddy Hield I love in the Monk, a freshman who looks like a man among children on the court with his advanced play. Yes, the counting stats are not there n his college game, but with the kind of athleticism this kid has, I am all in for Monk to be able to develop his game into a fantasy darling in an era when we have been disappointed by shooters coming out of drafts.
So after reading all that why not the write ups on the number 2 and number 1 ranked players in the draft? Well, you will have to tune in next week for a Bird vs Bird style article of Lonzo Ball vs Markelle Fultz to see why the Washington star isn't moving from my number 1 spot in the rankings.
You can find me on Twitter @storytelling41 for minor league baseball and basketball content.