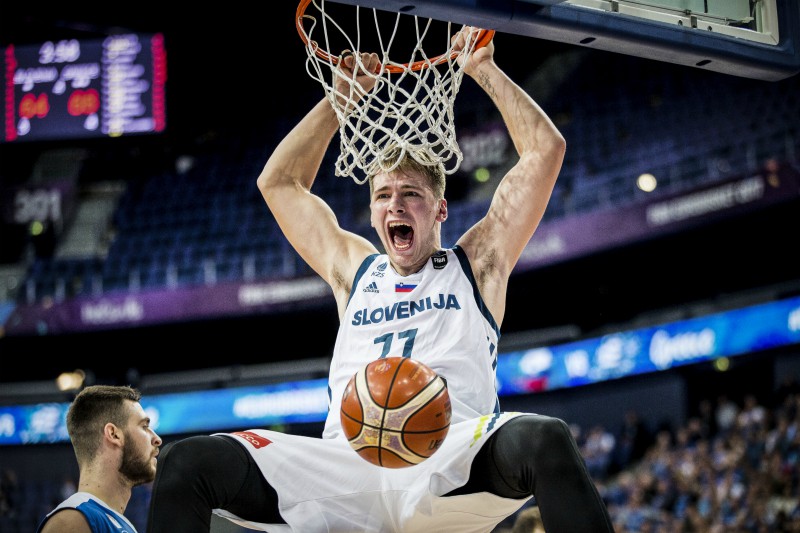 Whatup Razzball Nation!!
All good things come to those who wait. In what has been a challenging few months with my own health and the passing of a family member, I am back with another portion of Dynasty Deep Dive, as those of you who have been keeping up to date with the Razzball Basketball podcast would know.
So where are we at? What has happened in my absence?……………
Only the development of yet another superb freshman class, in what has been a topsy-turvy, can't miss season in college basketball. The action hasn't stopped there, though, as we have witnessed what no other 18 year old has done before and that is dominate the Euroleague (Europe's highest level of basketball) with a mixture of wizardry and masterful shooting from one of the best European basketball prospects to have stepped foot on the court (and I believe that to be no exaggeration).
So who are these pretenders? What makes them so special? Well, keep reading and let me take you on a little journey of why I'm drooling over the 2018 NBA draft class.
Want the best tools and projections to help dominate your league? Check out the Stocktonator, the byproduct of Rudy and machine making love. Click HERE for a FREE 3-day trial.
| | | | | |
| --- | --- | --- | --- | --- |
| Rank | Name | Position | Status | The Buzz |
| 1 | Luke Doncic | SG/SF | INT | What he lacks in quickness is more than made up for with elite vision, passing ability, ball handling, and an ability to thrive in the pick and roll. Made top level European basketball look easy at just 18 years old. |
| 2 | Trae Young | PG | Fr | Closest thing I've seen to Steph Curry on a college court. Can pull up and hit a three from anywhere, great passing ability despite being labelled as selfish, and shown the ability tocarry a team on his back. Defense a work in progress though. |
| 3 | DeAndre Ayton | C | Fr | In the day of the Unicorn, have we got another 7-footer with a great jump shot, elite shot blocking ability, and the size & strength that makes him NBA ready from the get go? |
| 4 | Michael Porter Jr. | SF/PF | Fr | Could have been the overall number one before injury ended his season. Athletic high school phenom who has the elite size, shooting, and athletic ability to be a star. The injury is a worry though. |
| 5 | Marvin Bagley Jr. | PF | Fr | Another athletic freak who has all the tools to be a potential star. If the jump shot and post skills improve, this ranking could end up being too low. |
| 6 | Jaren Jackson Jr. | PF | Fr | Potential is through the roof and recent form demonstrates that the kid can be a defensive force. Highly skilled shot blocker who isn't frightened of using both hands. Room to work on his shooting technique and offensive development key to being a high lottery pick. |
| 7 | Collin Sexton | PG/SG | Fr | All-American who got helium-type buzz going into the college season. Extremely explosive player. A big time threat on the offensive end, both driving the lane and jump shooting. Sexton is a player easy to fall in love with |
| 8 | Mo Bamba | C | Fr | Uses his incredible length and size to change games as a defensive stopper. Good ability to run the floor and has some mid range offense to his game. Very effective as a catch and finisher but still needs plenty of offensive polish to become more rounded on the offensive end. |
| 9 | Miles Bridges | SF/PF | So | Was in my Top 10 last year, but committed another year to the Spartans. NBA ready body with freakish athleticism, which he uses well on both ends of the court. Needs to improve his perimeter game to stick as a SF and under sized for power forward. |
| 10 | Wendell Carter Jr. | PF/C | Fr | Strong performances the last couple of weeks has elevated Carter into my Top 10. Versatile big man who has the ability to put the ball on the floor. Strong rebounder with a good post game, which should improve with better footwork. Scouts likely to see small ball center potential here. |
| 11 | Mikal Bridges | SG | Jn | High IQ player who uses his length extremely well on the defensive end. Good ball handler who has the ability to play both SG and SF on both ends of the floor. Oldest player on the list, which could hinder his draft stock. |
| 12 | Shai Gilgeous-Alexander | PG/SG | Fr | Helium prospect who has seen his draft stock rise dramatically. Still somewhat raw and likely would benefit from another year under Calipari. Great physical tools that are still developing and excellent potential on the defensive end, with an offensive game that looks very coachable. |
Number 1 Overall?
The top 6 are so close that a case can be made for all of them being the potential number one overall pick. Much will naturally come down to the draft order and team needs, but for me it is hard to ignore what Luka Doncic is doing in the second highest level of professional basketball. He doesn't possess the elite level athleticism that some of the other guys have, but his intangibles and ability to read the game are far superior at this stage. There is some concern that he will struggle as a scorer at the next level, but with his ability in the pick and roll and an ability to create for himself with some excellent ball handling skill leave no doubt in my mind that Doncic has every chance to be special at the next level.
His per 36 numbers (22.9 pts, 8.1 rebounds, 6.7 assists, 1.6 steals, 2.4 treys) are nothing short of astonishing given his age and level of competition, especially as a facilitator when you consider that with no continuation, it is harder to be accredited for an assist in European basketball. Luke Doncic is a stud. Ignore the haters!
The Contender:
Who wants to take a ride on a Unicorn? I sure do. This draft gives DeAndre Ayton the potential to join the ranks of Embiid and Porzingis as a defensive powerhouse who has the ability to drain a three. Ok, I might be dreaming a little about his three point effectiveness (currently averaging 0.4 treys in 1.2 attempts per game on 32% shooting), but with that jump shot I see no reason why an NBA team in the modern era wouldn't look to utilize and develop the skill that could potentially be a weapon. After a very slow start to the year for Arizona, the 7 foot specimen has been pivotal in seeing Arizona climb the ranks again, putting up averages of 19.7 points, 11.1 rebounds, 1.8 blocks, 0.5 steals on 63% shooting from the floor and 72% from the line. The Arizona center is many people's number 1 at this point, and it is hard to argue against the skill set and body that should immediately translate at the NBA level. Still number 3 in my rankings, behind Trae Young and Luka Doncic, but you will find Ayton's name atop the board of many analysts ranks.
The Helium:
Jaren Jackson Jr. sure has started to gain momentum the last month, and has put his name n contention among the very best in a loaded draft class. Entering the season it was fair to suggest that the skill set was there, but a combination of rawness and the presence of Miles Bridges could have limited opportunities in his freshman year. How wrong I was. Through 21 games, playing 23.1 minutes per game, JJJ is averaging an amazing 3.3 blocks per game. That's nearly 5 blocks per game on a per 36 basis. In his last three games alone, he has amassed 15 blocks, including two 6 block performances against good opposition in Michigan and Illinois, when he played 27 and 30 minutes respectively and scored 19 and 21 points. In my opinion, JJJ could well be the most skilled shot blocker of the class with his outstanding anticipation, improving leaping ability, and a willingness to block with both hands. Many draft analysts have raised the Michigan State freshman to the top tier of their boards, and it is hard to create an argument against, but I would like to see a few more strides on the offensive end.
Overlooked?
In virtually any other year, Collin Sexton would likely stand out from the crowd, and not just for his hair. An extremely explosive athlete who has carried an Alabama side on his back, the 6′ 2″ point guard has season averages of 18.5 points, 3.4 assists, 1.2 steals, 3.4 rebounds, and 1.3 treys (with just 2.6 turnovers). Not numbers that necessarily pop out at you, but the kid is a walking highlight reel and easy on the eyes. More of a SG in high school, Sexton is still learning his craft as a PG and seeing Donovan Mitchell thrive at the next level gives me optimism that Sexton could find success as well. My fellow friend and scout, Stevel Connell, recorded the below video at the All-American dunk contest and singled this kid out before the helium took effect.