Some big games last night!  Easily the most fun Tuesday we've had on the young season.  Twas a… Ruby Tuesday?  There's really no good Tuesday references… Have you ever thought about how much Tuesday sucks?  There's nothing interesting at all about Tuesday!  Tuesday is just a lost day… Except let's hope you were able to watch some hoops action, as this Tuesday was a big one!
And none bigger than LaMarcus Aldridge torching Denver, putting up 39 Pts on 16-30 shooting.  What's hilarious about his 39/11/1/0/2 line is that one assist was a high-low pass to the awful Robin Lopez for the game-winning layup with one second left.  Surprised Lopez didn't botch it!  When you have Sonic the Hedgehog as your haircut, it's got to be distracting… L.A. with all that production with no TO and 7-9 FT is showing us why he's boring, but reliable as a second-round fantasy producer.  It's easy to miss the solid volume FT% and if he gets that 3-pointer dropping like the 0.5 he's bringing this year – a new development for L.A. – it's icing on the cake.  Mostly this whole open was just to highlight I'm up 3-0 on Slim in our 30-point challenge!  Even after his slimy Kevin Durant pick.  Slimy, I say!  I think Aldridge has moved into that top 13 or 14 overall, with double-digit boards in six straight bringing those rebounds closer to the 11.1 we saw last year.  If he can avoid any injuries, he'll be a premiere day of the week, like Friday or something.  No one wants to be a dud like Tuesday, which more than suitably personifies Robin Lopez.  Henceforth, I will now call Tuesdays "Robin Lopez Day".  Here's some other happenings that went on across the NBA on Robin Lopez Day:
Kevin Durant – Welcome back the Darantula!  But a certain other player in this game looked like an MVP…  A really solid 30 minutes for 27/3/2/0/0 on 9-18 FG (3-8 3PTM 6-7 FT).  The 5 TO is no bueno, but hey, you got a superstar back and healthy!
Anthony Davis – The TRUE fantasy MVP!  Sure Durant was rusty, but for Brow to put up not just a rainbow line, a DOUBLE RAINBOW (!!), speaks volumes.  25/10/4/6/4 shooting 8-15 FG with only 1 TO.  Only blemish was a little bit of a rough night at the stripe for 9-16, but it sure is a nit-pick!
Serge Ibaka – Eesh, was cold in this one shooting 3-11 and only 3 boards?!  A little flukish, but you gotta love seeing the 4 swats.  No reason to jump ship with Ibaka now that the studs are back.
Tyreke Evans – Put up a 30 spot.  Shot 14-24, but look at that shot chart!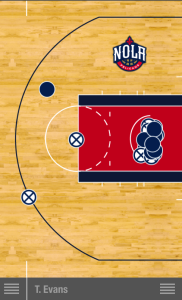 That's 21 shots right at the rim… C'mon Ibaka and Steven Adams, start swattin' more of those!
Jrue Holiday – Rainbow alert!  Not quite a double like the Brow, but 16/5/10/3/2 will certainly get it done, with another solid low-TO game with only two giveaways.  The Jrue will keep you from having AST:TO blues!
Brandon Knight – "And we will not go quietly into the Knight!"  27/6/8/3/0 on 10-18 shooting (5-9 3PTM, 2-2 FT), in a carrying-the-team sort of performance almost beating the Cavs.  Bucks shoulda won this one!  On the Pod yesterday I mentioned my worry about this being a blowout and Kidd playing a lot of reserve minutes, but they were in it and Knight played 37.  Great to see my boy bouncing back after three straight pretty bad games.
Jabari Parker – Pretty sick combo the Bucks got cookin' for the future!  22/8/3/2/0 on 11-15 shooting.  Getting big run as well!  38 minutes leading the team.  31:49+ minutes played in three of the past four, and really picking it up.
Ersan Ilyasova – Somebody punched him in the gullet!  Had to sit out the whole 2nd half with a facial contusion, but it shouldn't be serious and I bet he plays tonight unless something really funky happened… For example, the bruise on his cheek started growing feathers… Something like that…
Kyle Korver – Couldn't miss!  8-9 FG with 6-7 3PTM.  24/6/4/1/1 with only 2 TO as he literally hit all the cats.  Well, he didn't "literally hit a bunch of cats", he's not cat-version Michael Vick!  No ThrAGNOF, no more for Korvy.  Even before last night, was at career bests in FG%, 3PT%, Pts, and the biggie – for me at least – up to 3 dimes a game.  He's really flourished there in Hotlanta.
Paul Millsap – Tap the tree, time to get that syrup flowing!  19/6/7/3/3 shooting 7-15 FG and 5-5 FT.  Rainbowing it up!  Those were some dark days a week or two in where my Millsap love looked a bit foolhardy, but now I'm just full-hardy!
Rajon Rondo – Blowing up those dimes!  The dime-bomber!  2/12/19/1/1 while really struggling with his shot going 1-8.  Three of those misses were treys… Take a dribble in next time, Rajon!  The 7 TO are MCW-ish, but he had only 6 TO the previous 4 games, so I think given his injury-deflated draft day price, you'll take some rough shooting and TO with these big stats you're gettin'.
Kentavious Caldwell-Pope – OMG LOL, FMEINTHEA!  As soon as I buy back in, fall off the KCP wagon, start taking KCP shots like they're out of business, he lays a turd muffin against an awful Lakers team!  Given the purps and golds are playing better, but sheesh!  7/4/0/0/0 shooting 3-9, and after the steals were finally coming around with at least a swipe in 6 straight, goose egg there.  It doesn't help Stan Van played the reserves down the stretch as he's as frustrated with the Pistons as fantasy owners are…
Guess the Kobe Bryant line – Well no one was even close!  12/5/13/2/0 for a facilitating Kobe, and by facilitating I mean to both teams, racking up 10 TO.  Ten!  Tripdub the hard, bad way.  Makes JashFath the winner last night!  His guess of 28/3/6 was the closest as we all went big.  Why this game is impossible most nights!  "Life is like a box of chocolates, we never know what Kobe we're gonna get."  For tonight at the Wizards… I'll go somewhat low again for 22/5/5 on 15 shots.  Make your guesses, and good luck tonight!
Jordan Hill – Well so much for that Byron Scott-proposed line-up shake-up, as Hill put-up.  22/13/1/1/0 on 10-15 shooting, and while it probably isn't his job in jeopardy, another Lakers W should continually give you Hill-happiness.
Jose Calderon – Season-high 7 dimes last night against the Nets for a 19/2/7/2/0 line shooting an extremely efficient 7-9 FG (5-6 3PTM).  You taking notes, J.R.?!  13 dimes the past two games now, but still a little weird he has two 10 board games and hasn't passed 7 dimes…  Ay dios mio!
Amar'e Stoudemire – Kinda unreal what he's doing right now, and was put into the starting line-up last night for 17/9/2/0/1.  37 minutes the past two games now, so I guess the walker is staying in the garage for now.  Ride em while he's hot and the knees are functioning!
Monta Ellis – Don't stop shooting!  "You're shooting with Althea?!  Nice shooting!"  38/2/1/2/0 on 16-35 FG (1-4 3PTM, 5-5 FT).  Overtimes will help pad the stats!
Chandler Parsons – Maybe should've saved the Althea reference for Chandler!  24/7/2/3/0 hitting three treys and 7-8 FT for Parsons' best game on the year.  While I think he's still a hold – I wouldn't sell off this game at all – the dramatic falloff in dimes is for real.  After averaging 4 a game last year in Houston, is at 2.3.  I think his FG% improves, and while you don't own Parsons for dimes, that assists-dropoff will cost him some overall value.
Devin Harris – 35 minutes, and let's hope he spends some good long time in the ice bath!  Very big night for 20/4/8/1/0 and way outplayed Jameer Nelson.  Harris hit 7-10 FG and 6-6 treys on top of it!  30+ minutes in four straight, and Harris is playing like a must-own in 12ers.
Nikola Mirotic – On the other side of the ball in this marathon, Mirotic is also playing must-own worthy in a bench role.  26 minutes for 15/4/3/0/2 with a team high 7-8 FT.  The return of Taj Gibson still looms, but stream Mirotic for all he's got!
Joakim Noah – Rainbow update!  8/14/6/2/2 in a solid showing.
Nicolas Batum – 13 dimes?!  How about spreading some of that love to some other stats, Frenchy?!  4/4/13/3/0, and I think you stand tough with Batum even though the full game hasn't come around yet.  The last 5 games, Batum is somehow 1-24 from deep.  One for twenty-four!  4%!  Stop shooting from Andorra!  Of course that will start turning around, so he's still a big buy low guy.
Denver Big Men – No one could guard Aldridge, and other than J.J. Hickson's 31 minutes, no one else on the front line, including Kenneth Faried, got to 24 minutes played.  Tough to feel good starting any of these guys!
Ty Lawson – About the only Nugget I have faith in night in, night out.  24/4/13/2/0.  Another dimebag!  I'm so high on Lawson.
Goran Dragic – More guys dropping 30-burgers!  Could not be stopped last night, and my Dragon-patient teachings are hopefully reaping rewards in Razzball Nation.  34/5/3/4/0.  That sweet, sweet efficiency too – 11-15 FG (5-6 3PTM, 7-7 FT) is giving me wiggles in my dragon!  OK, no more jokes about my dragon today!  But in a ranty moment of weakness, I of course go against Dragic in REL on top of them getting Durant back just in time… I'm cursed I say!
Eric Bledsoe – Solid as well for 27/3/7/4/0.  Dragic and E-Bled are both telling Isaiah Thomas to take his good ol' sweet time rehabbing that kankle…  I wouldn't be surprised if they hit up Vontaze Burfict for tips…
P.J. Tucker – Back in the starting line-up, overtaking Marcus Morris.  While Tucker amassed only 23 minutes, I think with this being a blowout, Hornacek tinkered with the bigs.  I'm not the biggest PJ fan, but if he can back to that 30 MPG mark as a starter, he'll be valuable again.  "Super" valuable.
Roy Hibbert – Welcome back, Roy!  Welcome back to this terrible team… 15/10/1/2/1 and played 31 minutes.  Hibbert owners are glad to see that!
Rodney Stuckey – Didn't get to 20 minutes.  The blowout-factor is as paramount as driving over a spike strip.  Still think Stuckey can bring some solid returns down the road.
DeMarcus Cousins – Had to sit yet again with an illness, especially frustrating since it was reported he would play a mere hour or two before tip.  Even though the final was close-ish, none of the Kings really showed up, except another one of those errant Derrick Williams sightings.  8-12 off the bench in 14 minutes for 18 points.  Meh.
Kyle Lowry – Like Slim said on the Pod yesterday, is going to go bonkers without DeMar DeRozan as his running mate for a while.  27/0/13/2/1 on 10-21 FG (1-3 3PTM, 6-6 FT) last night in the SAC beat down.  Raptors kicked em right in the SAC.
Greivis Vasquez – Well I guess I was wrong saying I like the impact for Lou Williams more, as Sweet Lou was Sour Lou for 1-9 shooting and only 4 points in 19 minutes.  Vasquez was solid as a starter, going 12/4/7/1/0 and a couple of treys in 30 minutes.  General Greivis can find his way onto other teams though, I'm still not a fan of that Twerp.
Terrence Ross – Ross Can!  Back-to-back 20 point games, hitting 4 treys in each, but not doing much else.  A little ThrAGNOF-ish, but with enough upside to need to be owned in most leagues.  Which he is, at 62% ownership in Yahoo.  Feels a tad low though…
James Johnson – Other than that 4 Stl, 4 Blk outing in mid-November, had his best game on the season for 19/7/0/1/1 shooting 9-13 FG and hitting his only trey last night.  While this was a nice 28 minutes, it was a season high there and he hadn't taken double digit shots yet this season.  He hits all the cats and I'd love him if he started, but he just ain't!
Andrew Bogut – Rainbow down under!  7/12/3/2/5 and playing great basketball right now.  Playing exactly what the Warriors need – defense, rebounding, and the occasional dish.  I don't think I could trade him given everyone knows about his injury history.  I'm not counting on 80 games played, but who knows, might be close!
Stephen Curry – Played decent (well, for his standards), coming off an ankle tweak.  "Your father with his disgusting tweaking. I couldn't breast feed any of you kids because of that man!"
Draymond Green – Tweaked his thumb.  #OccupyCameBackIntoTheGame!  We all good hurr.
Kyle O'Quinn – Whoa, coming out party for the Irishman!  Huge game starting at the C with Nikola Vucevic an out-of-nowhere scratch with back spasms.  The back spasms are claiming everyone!  Invasion of the Body Snatchers!  21/11/1/2/1 on 9-16 FG from KOQ, and is a must-own after this game for 12ers and up.  Vuc is already questionable for tonight, so you might get a start right away if you can grab him for this evening's game.
Victor Oladipo – Almost carried the Magic on his shoulders for the big upset.  27/4/4/3/0 on 10-14 FG (3-4 3PTM, 4-4 FT).  EfficientAdipo!  While making some slight improvements on %s and TO, still hasn't quite turned the corner I thought.  iF he's a little bummy the next game or two, I would send some offers his way.  Sell high, buy L-Oladipo!
Streamers/Cheap DraftKings Picks:
Zach LaVine (6% owned) – Start your iffy guys against the Sixers!  It's now two games removed from his big 28-point outburst against the Lakers, but Alexey Shved is questionable, and LaVine will be playing against non-PG with whomever fills in second-unit minutes at the 1 should Shved Shvit out.  Which sounds funny… And what do the Lakers and the Sixers have in common?  Bad D and overall badness!  Shvittiness!
Kyle O'Quinn (8% owned) – I'm kinda cheating with this one since I don't think O'Quinn is a streamer, but oh well!  Couldn't think of anyone better that isn't owned in so few leagues, and while the matchup against DeAndre Jordan is pretty tough given their sizes, the opportunity might be there sans Vuc.
I hope everyone had a solid Robin Lopez Day for their lineups!  Good luck to your squad tonight!