Russell Westbrook has always been a controversial figure in basketball. There are those who love his competitive spirit, ability to lead and mentor his teammates, and dynamic and physical play. There are also those who criticize the lack of progress in his shooting, defensive commitment, and success in the playoffs. Whatever your take is on Westbrook, in terms of fantasy, there was one moment that proved to be a major turning point. And it wasn't a trade, an injury, or anything else related to his play.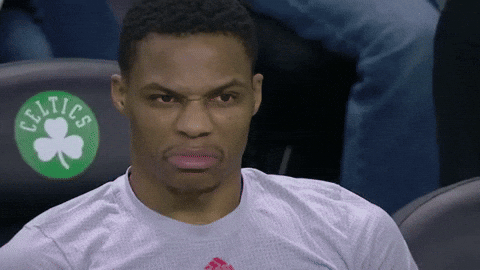 Over the summer of 2017, the NBA changed the delay of game rules, making it so that a free throw shooter is no longer allowed to go beyond the 3-point line, or he will be assessed a delay of game violation. Westbrook's ft% average before this rule was 82.4%. His average after it is 70.3%. And he is shooting a whopping 7.1 free throws per game for his career, so you can understand the fantasy impact this has. His shooting woes this year (41.3%) along with a major decrease in steals (0.8) and increase in turnovers (4.9) has him ranked 207th in per-game value. Let that sink in…Take an extra moment, you need it. Now see things clearly and try with all your might to trade him if you drafted him, taking advantage of his name value and the owners in your league that like him in real life, because he is actively hurting your fantasy team, even if you are punting turnovers.
Regarding last week's suggestions, all were serviceable, with Thaddeus Young leading the bunch with three excellent fantasy lines. Beware that from the "Buy" suggestions, De'Anthony Melton hurt his shoulder and is questionable, so feel free to stream his spot, if necessary.
Buy
Jakob Poeltl: This suggestion comes with a major warning. You have to be punting or be extremely confident in your ft% in order to get Jakob Poeltl, since he is shooting 28.6% from the line. If you can ignore this and with LaMarcus Aldridge sidelined, Poeltl is a top 70 player over the last two weeks and can be a huge source of rebounds and blocks. Again, beware that the increased opportunity has resulted in more attempts from the free-throw line, but also more attempts from the field and he looks like a great add until LMA returns (35% owned).
Josh Richardson: After a subpar start to the season, the Mavericks are starting to show signs of life, with three wins in their last four games and Josh Richardson is a major factor for their improvement. He has been a top 70 player in his last five by increasing his fg%, triples, and assists and looks like a good pickup for the remainder of the season, as he is available in 48% of Yahoo leagues.
Taurean Prince: The player I have been hyping up every preseason, drafting him with alarming consistency, and then living with my disappointment all fantasy year long is none other than Larry Nance. But not this year. This is his breakout year and thank god I indeed drafted him again wherever I could, I wouldn't be able to live with myself otherwise. But nothing good lasts forever and Nance, unfortunately, broke his finger and will miss the next six weeks, paving the way for Taurean Prince to sneak into top 150 value. His fg% has always been an issue but he can be an all-around contributor that can be had from the wire, at least until Kevin Love returns (11% owned).
Sell
Russell Westbrook: Please read the article's title.
Nicolas Batum: The resurgence of Nicolas Batum to fantasy relevance has been a pleasant surprise this season and he is currently sitting at no 60 in per-game value. I don't expect his minutes or his production to drop moving forward, but him shooting 50% is something that is bound to change, even a little, as he is a career 43.6% shooter. I expect him to finish the season closer to the top 90 so it would be a good time to try and swap him for another top60 contributor.