Welcome back to another Wednesday Buy/Sell column. I strongly believe that self-reflection is key for improvement, so from now on I'll be reviewing my calls from last week's piece. Derrick Favors has predictably improved his play sans Gobert and even posted a 25/0/11/3/0/2/1 gem against Orlando. Since starting at the 5, he is returning fourth-round value and will look to keep it going until Gobert returns. Donovan Mitchell remains consistently inconsistent with his shooting, but all the other stats are juicy. This guy going number 13 in the draft was highway robbery. In other news, Spencer Dinwiddie and his funky name is the best call from last week. Hope you rushed to your wire and got him cause he is averaging 19.3/3.0/3.7/9.0/1.0/0.7/1.0 in his last three games. Ryan Anderson's sell window remains open as he had himself a great game against the dream matchup that are the Suns. Derrick Rose is still injured and not worthy of a roster spot on your team. I already feel like a better person. Thanks, self-reflection!
Want the best tools and projections to help dominate your league? Check out the Stocktonator, the byproduct of Rudy and machine making love. Click HERE for a FREE 7-day trial.
Buy
Will Barton: Millsap is down, I repeat Millsap is down. He initially hurt his left wrist against the Lakers and exited the game. After x-rays came back negative, his owners breathed a sigh of relief. Things took a darker twist, though, as he will now undergo surgery and be out indefinitely (typical recovery time for this procedure is around 3 months). The main beneficiary is Barton, who was already worthy of a roster spot in standard leagues and will see his usage rise. If his owner is not convinced he will be better without Millsap, I would aggressively pursue a trade for him before his value skyrockets. And if you are in a shallower league or you are lucky enough to find him on your wire (74% owned at Yahoo) run don't walk (cliche) to pick him up.
Bojan Bogdanovic: The Croatian sharpshooter is already having a great season, with career highs across the board. Moreover, he has been particularly deadly this week averaging 20.8/4.5/3.5/1.5/0.8/0/1.0 in his last four, good for the number 18 spot in the player rater during that span.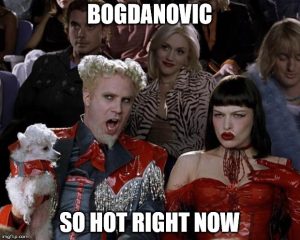 He is available in half of Yahoo leagues and although his fg% won't stay so high and he is quite THRAGNOFy, he is still a great add for 3pt/pts needy owners.
Denzel Valentine: How can you not love a player with a name like that? It's perfect for all kind of silly (excuse me brilliant) wordplay. Are you in a deep league and he is already owned? Go ahead and make an offer for him while commenting to his owner "Will he be my Valentine?" Is he available in your league (30% owned at Yahoo)? Add him and post in your group chat "I finally found my Valentine" and watch as you get ignored or blocked. And, if he has an off day just post "Have I mentioned how much I hate (d) Valentine's day?" Ok, I'll stop now. You shall suffer no more. Aside from the satisfaction of the wordplay, Valentine is coming along as a facilitator and scorer for the young Bulls. Lavine's return will hurt but he is a player they want to develop and can provide outside shooting, so the playing time will be there.
Kris Dunn: Dunn began the year behind Jerian Grant as he missed most of Summer League and the Preseason, but he started last night against the Lakers and will be starting presumably for the foreseeable future. He began his career with the highest of expectations, as his athleticism and playmaking skills were highly praised during his college years at Providence. Minnesota drafted him fifth overall but he didn't impress and was sent to Chicago in the Butler deal. He is an elite source of steals with 2.0 per game and his rebounds-assist numbers are trending in the right direction. If you are ok with subpar percentages he can be a valuable add.
Sell
Robert Covington: Let me start by saying Covington's career is an example that hard work, persistence, and dedication will eventually help you accomplish your goals. He went undrafted in 2013, waived by the Rockets in 2014 after playing mostly in the D-league, played another half season there, and last week signed a $62 million contract extension with Philadelphia. That's a very well-deserved happy ending. His start to the season has been amazing, as he is making 3.6 3pt (as many as Stephen Curry) with elite steals (1.9) and blocks (0.9) for his position. As much as I love him, there is no way he continues to have 48.4 fg% while taking so many threes per game, as he is a career 39.5% shooter. His percentage won't decline to this level, as he is surrounded with much better talent this year, but I think it is a good time to sell high, as he is ranked 15th in per game value for the year.
Paul Millsap: If your league doesn't have an IR spot then the choice is simple. You just drop him, as he will miss most-if not all- of the season. Feel free to stash him in you IR spot, but if there comes a time you need that spot for a player that will be out for a smaller amount of time, I wouldn't hesitate to make the drop.
Rudy Gay: After a great start to the season, Gay has slowed down significantly in his last five games. The minutes are simply not there, as he is averaging 17.4 during those games, and his Achilles injury is obviously bothering him. The eventual return of Leonard will do him no favors and I recommend dropping him for a hot free agent with more potential.