When was the last time you remember a true rivalry developing in the NBA? I mean aside from good old Draymond provoking everyone whenever he got the chance, there is no real "beef", as they call it, between top players or teams lately. Like back in the day, there was Michael Jordan vs Dominique Wilkins and David Robinson vs Hakeem Olajuwon. It's back now, though, after James Harden went on record saying, "I wish I could just be 7 feet and run and dunk. That takes no skill at all" about Giannis.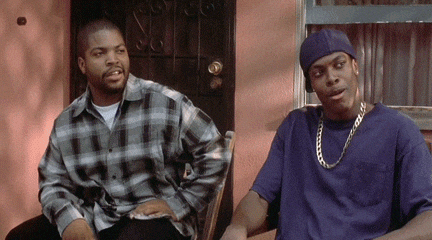 On a completely unrelated note, Rockets play the Bucks on the 25th of March and it just became must-watch TV. Imagine this matchup in the NBA finals…
Also, slim Chris Tucker looks like Rajon Rondo's twin in the above Gif. Just wanted to lay it out there. And no, my eyesight is just fine, thanks for asking…
Finally, I wanted to squeeze in this clip of Luka from the closing moments of yesterday's game.
Jrue Holiday (hurt ego) has begun therapy sessions and will be reevaluated in two weeks…
Moving on to fantasy, last week's suggestions were pretty successful, albeit to a different degree. Coby White continues to ball and there is no reason for a slowdown the rest of the season. Dieng and Temple both had a productive week and can still serve as low-end assets until their teams get back to full strength. Finally, the two "Sell" candidates, Kanter and Howard, proved worthy of that designation, with Kanter even picking up a DNP-CD against the small- ball lineup of the Houston Smurfs.
Buy
Jae Crowder: I can freely admit that I was not very optimistic for Crowder's fantasy value after his trade to Miami. The already crowded frontcourt, the acquisition of Andre Iguodala, and the deep rotation the Heat run were all factors in my judgment. However, the reality is much different. Crowder is ranked 27th in per-game value since the trade, has improved his fg% in Miami's motion system, and has also increased his defensive intensity with 1.6 steals. He is a must add with the way he is performing right now (42% owned).
De'Andre Hunter: Despite playing almost 31 minutes per game for the season, Hunter is ranked outside the top 200 as a result of his poor shooting and playmaking. However, during the last two weeks, he has climbed all the way inside the top 100, due to better shot selection, increased triples, and most importantly more consistent rebounding effort. The Hawks are focused on player development and will continue to give him all the minutes he can handle so he looks like a good add for the remainder of the season. (29 % owned)
Royce O'Neal:  Another product of Utah's great development program, Royce has improved steadily each year and is shooting a career-high 41% from deep this season. More importantly for fantasy, he is ranked 65th during the last two weeks, averaging 1.8 triples, 6 rebounds, and 1.2 steals with minimal turnovers. He won't wow you with his boxscores, but is a great end-of-the-bench type of player that is most probably available in your league (6% owned).
Sell
RJ Barrett: Barrett just became one of the five teenagers in NBA history to tally at least 700 points, 200 rebs, and 100 dimes in their first 50 starts. He joins an elite company of LeBron, Kevin Durant, Carmelo Anthony, and Luka Doncic. However, it is impressive how vastly different his fantasy value is to his real life one. For the whole season, he doesn't have a single positive fantasy category and is ranked 354th ! Even with his improved play as of late, he is still way outside the top 300 and you can surely do better in redraft leagues, unless you are a ft% punter (67% owned).
Cody Zeller: I can't say I understand James Borrego's decision to hand Zeller three straight DNP-CDs but we have to act based on the facts. Zeller is a clear drop, as it is fantasy playoffs time and there exists no luxury to have players that are not contributing anything. From a basketball perspective, it is hard to explain the reasoning behind his sidelining, as Cody is still only 27 years old and Charlotte does not have another center to develop (39% owned).