There are countless amazing moments that happen every year in the NBA. Dunks, blocks, buzzer beaters, you name it. But there are also some that are head scratching. Like this for example.
Did the spirit of Nate Robinson enter Kyle Lowry's body? Did he make an informed judgment call that he could fit through there? Was that a futile attempt to draw a foul. Fatigue just kicking in? Or was that an unsuccessful attempt at a forced piggyback ride? We will never know with certainty. Nick Nurse's surprised reaction is just the icing on the cake.
Buy
Coby White:  A substantial increase in playing time had to happen at some point of the season for White, and it seems like the time has rightfully arrived. He is one of the building blocks for Chicago and the timing of Kris Dunn's injury has worked in his favor. The minutes have increased by four during the last month and by eight during the last two weeks. White should get all the opportunity he can handle the rest of the way. (39% owned).
Gorgui Dieng: Jaren Jackson Jr.? Out. Brandon Clarke? Out. Next man up?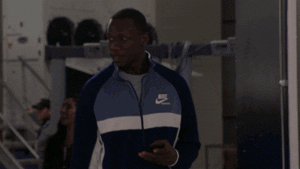 Dieng has proven that, when given meaningful minutes, he is a very valuable fantasy contributor. During the span when he was starting for the Timberwolves, he provided top 40 value in just 26 minutes per game. He is a must add as long as the two young Grizzles are sidelined, which should be at least for the next two weeks (26% owned).
Garrett Temple: Kyrie Irving is out for the rest of the season and, whenever the Nets are shorthanded, Garrett Temple becomes fantasy relevant. He will not be a fantasy game changer by any means, but the 2.5 triples, 1 steal, and only 0.3 turnovers during the last two weeks can be valuable for most teams in standard leagues. If he can hover around 43% shooting, he can be a sneaky top 100 player going forward (6% owned).
Sell
Enes Kanter: Daniel Theis' emergence as the starting center for the Celtics is something no one could have predicted at the start of the season. The aftermath of it has not been very kind to Enes Kanter, who has seen his minutes drop to 16 during the last month and is simply not getting enough opportunity to help your fantasy team. He is an easy drop option in almost all formats (42% owned).
Dwight Howard: I didn't intend to include him in the "Sell" column, as I thought he was only an option for people punting triples and ft%, but I happened to stumble upon his ownership percentage: 49% owned in Yahoo leagues!! That's absurd for a guy ranked 216th in per-game value with zero contributions in steals, triples, and assists. He is also a major anchor in the free throw department. There are surely better options on your waiver wire, especially in roto leagues (49% owned).