Many overlooked the offseason rule change regarding "overt, abrupt or abnormal non-basketball moves by offensive players with the ball in an effort to draw fouls", but just three weeks into the season, we are seeing its full effect.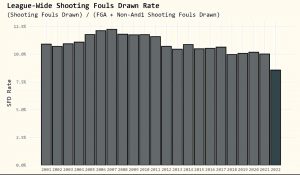 As you can see the league-wide fouls drawn rate is at a decade low and it has been a very positive change, in terms of enjoying the game as a spectator and even as a player, per Draymond Green's words. Steph Curry also admitted that he needed some adjusting during the preseason, but agreed with Draymond's view. However, a major side effect of the rule is the change in fantasy value of players that historically relied on getting to the free-throw line for a chunk of their value.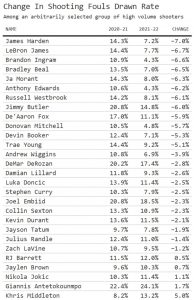 The two names that jump at the top, James Harden and LeBron James, have the biggest drop in the percentage of fouls drawn and it has affected their fantasy value, albeit in a different way. For Harden, a player that could single-handedly carry a fantasy team in the ft% department, it is a major blow to his value and a big reason he is currently ranked outside the top 20. On the contrary, LeBron historically had sub-par free throw shooting numbers and the reduced attempts have done wonders for his value, moving him inside the top 20, a vast improvement from last year. I think this change in terms of free-throw shooting volume is here to stay and I don't expect the attempts of most players in this list to get close to their respective numbers in the 2020-21 season, so plan accordingly for fantasy purposes.
Credits for both images go to Owen Philips and you can find more interesting stats on his Twitter (@owenlhjphillips)
As is the custom in all articles, the last part before the suggestions is the review of the weekly performance of players mentioned in the last article. Franz Wagner is balling and just had a career-high 28 points game, moving him inside the top 60. Even Chuma Okeke's return is not looking like it will slow him down so hopefully you went with the advice and have him on your roster. In terms of the buy-low suggestions, Kristaps Porzingis got injured and Michael Porter Jr. continued to underwhelm, but I still view both as terrific buy-low options, even lower now with another week of bad games. Finally, the sell-high suggestions of Ja Morant and Jonas Valanciunas still remain, although the former's fg% did come down a notch to more logical levels, while Luguentz Dort did nothing to change my view of him as a drop candidate.
Buy
Damian Lillard: Continuing the theme of buy-low opportunities from last week, Damian Lillard has had an ice-cold start to the season. He is shooting a mere 35% from the field in his first seven games, while his steals are at a career-low 0.4. Both those numbers are bound to improve, so it would be worth trying to see if his current owner is panicking with a relevant trade offer. Just make sure it is a fair one and not a player in Lillard's current value range, which is around the top 100. It is Dame-Time to start improving for him.
Patrick Beverley: Although we don't know the extent of D'Angelo Russell's injury, Patrick Beverley was worth a roster spot even before that. He is a very low-ΤΟ PG option that provides defensive stats mixed with some triples and assists and is ranked inside the top 70. He is an excellent streaming option for the coming week and also a solid option for the rest of the season (9% owned).
Furkan Korkmaz: Usually just a streamer for triples, Korkmaz has a real chance for short-term value with Tobias Harris out due to safety protocols. He had a good game in his first start and will look to build on it with three more games this week so if you need triples and some assists, he can be your guy (10% owned).
Derrick Jones Jr: A deeper league suggestion, for now, Patrick Williams' season-ending injury has opened an opportunity for Derrick Jones Jr. to reenter the rotation. He is only worth a look if you need steals and blocks, but for deeper matchups, he can be a difference-maker in blocks, something hard to find on the wire in those leagues (2% owned).
Sell
Kelly Oubre: Terry Rozier's return has and will take some shots from him and he is very susceptible to awful games, like the one he had on Monday. He is not going to completely disappear and will occasionally have great games, especially when his shot is falling, but I prefer more trustworthy players who don't hurt my percentages as much, so I would be exploring my trade options for him.
Kyle Kuzma: His hot start to the season can't be denied but if you look past the flashy scoring you will see a fantasy game that has too many holes to maintain standard league value. He is rebounding at an elite rate, with 11.1 rebounds per game, which seems pretty unsustainable, and is not offering much outside of points and triples, while hurting both percentages. We have no news regarding Rui Hachimura and a potential return date for him but that's an extra incentive to try and capitalize on Kuzma's hot start with a trade.
Duncan Robinson – Joe Harris: Both players are similar in that their value is tied to their 3pt shooting, but unfortunately it is only there. They can have hot stretches where they are worth a pickup but both are negative contributors in other categories and their spot can be safely streamed, or used when you need triples, but are both currently a sell in standard leagues (58% – 55% owned respectively).