Another fantasy season has started, another season for me to mumble about something that caught my attention in the introduction, review the performance of players suggested in the article of the previous week, and then showcase players to buy/sell every week before we discuss them in the comments with you good folks.
What caught my eye this week is something that is very hard to miss, pun intended. A not-so-flattering image of Zion Williamson's weight has surfaced, comparing his appearance during the Pelicans' media days in 2021 and 2019, on the left and right respectively.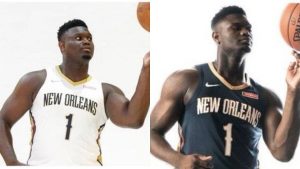 Now I am the first to admit that good food is one of the greatest enjoyments in life and can certainly be sympathetic, but in terms of his basketball and fantasy future, this is concerning. His knees and feet, in general, will be under a lot of stress to support his massive frame so this is something to monitor going forward, particularly when he eventually makes his season debut, and hopefully, he is one of the usual weight-loss stories next off-season.
This week's article contains more players than usual, as I think the start of the season presents many opportunities that should be pursued aggressively in order to get an advantage early on.
Buy
Michael Porter Jr: Fellow owners of him, I sincerely understand. Porter was awesome in the second half of last season and especially since Jamal Murray went down, the expectation was that he would start the season strong with momentum. Unfortunately, he has been ice cold from the field, shooting a meager 34.6% but if you look more closely you will see that the rest of his stat line is not so different from last year, when he was a top 30 fantasy player. The shot will start falling sooner rather than later so this is a perfect buy-low opportunity.
Kristaps Porzingis: Another clear buy low target is Porzingis, whose shot is also not right at the moment with a 30.2% from the field. He is not the shooter Porter is but has never finished a season shooting less than 42% so better days are ahead for him for sure.
For sure I said! The encouraging stat is that his blocks are present so it is only a matter of time and health to improve his fantasy value. I have to say I don't trust Jason Kidd to get the best out of him but I do trust that he has been a top 60 fantasy player from the first season he entered the league.
Franz Wagner: I have to admit I didn't expect Wagner to play so many minutes so early in his career, but he is one of the most NBA-ready rookies in terms of his all-around contributions for a team. The Magic are missing both Chuma Okeke and Jonathan Isaac and this has resulted in Wagner averaging 32.9 minutes in his young NBA career. For fantasy purposes he is ranked inside the top 100, averaging 13.3/1.8/4.3/2/1/0.8/1, and is a great option until the Magic get healthy. He might have also earned some extra playing time when the team is at full strength so he is a must-add in my book (33% owned).
Devin Vassell: I have been a believer in Vassell since the preseason and even targeted him in 16-teamer drafts this summer, as I believed in his fantasy-friendly game and the opportunity that will eventually be given to him during the Spurs rebuild. Doug McDermott's latest injury helps even further but Vassell has already been a top 120 player, even while shooting 25% from the free-throw line, which is bound to self-correct. I would seriously consider adding and holding him even in standard leagues, as I think his value will only increase as the season progresses (11% owned).
Sell
Ja Morant: Morant is in a groove and his real-life value was always greater than his fantasy counterpart. Combine this with his electric start to the season and you could trade him for a traditionally much better fantasy player, as it seems impossible for Morant to continue shooting 58% from the field and score 35 points with 2.7 triples. A regression is bound to happen with his fg% so take advantage of his hot start with a sell high.
Jonas Valanciunas: He has been awesome to start the season and is finally playing starter minutes for maybe the first time in his career. Still, Zion Williamson's eventual return will take away some touches and shots and will also likely affect his assists a bit. He will still have a great fantasy year but maybe finish closer to the 30-40 range than the 10-15 range he is currently so flipping him for a surefire top 15 player may not be a bad option.
Luguentz Dort: Dort is a prime example of a player that is better in real life than in fantasy. He is a lock-down defender and the kind of player you prefer to be a teammate than an opponent, but unfortunately, this has does not translate to fantasy contributions. His only positive contributions are steals and assists and there are far better choices in the waiver wire, even for those two categories alone (41% owned).
Patrick Williams: All the new players Chicago brought in during the summer apparently need all the usage that is available for a 48 minutes game so Williams, after an encouraging rookie season, looks like an afterthought with a usage rate of just 8.6. Let's cut to a live look of him during the Bulls' offensive possessions.
That 8.6 usage rate is incredibly low for a player playing 27 minutes and there are better options in the wire to stream in his spot (41% owned).