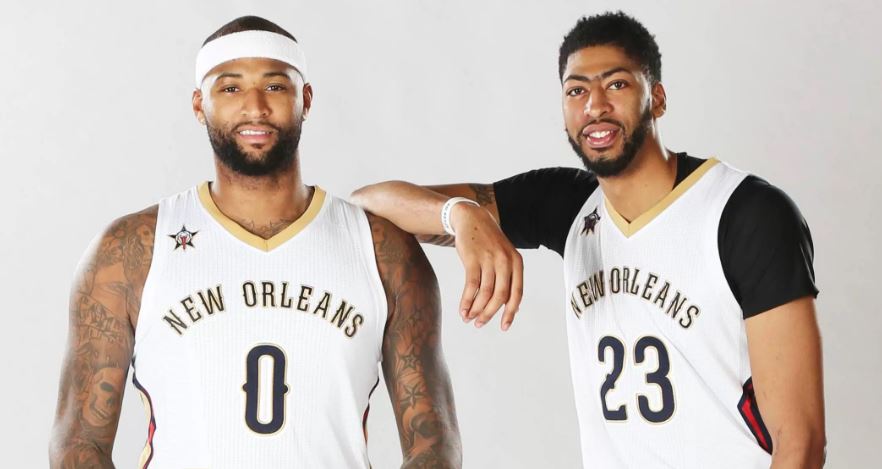 The most exciting part of the evening, was clearly the debut of the Pelicans shiny new front court.  While the Pels did get overwhelmed by the Rockets shooting, the chemistry was obviously there with the New Orleans big men.  I would say though, that they're both a bit tentative, and that will change as they get more comfortable and assertive. I am not scared to say though, that this is possibly the greatest PF/C duo in NBA history.  Up there with McHale and Parrish, and Duncan and Robinson.  Both bigs have absurd skillsets.  I think the key for the Pelicans will be the play of Jrue Holiday, and how involved in the offense he is.  Tonight, he was locked down by Beverly, but more slashing in the pick and roll should really help him.  I could see his efficiency being extremely high, given the opposite player in the pick and roll.
At any rate, here's your recap for most of Thursday night!  Thank goodness the break is over…
Damian Lillard – Dame Lit up the Magic for an efficient 33/5/2/0/0 The peripheral stats are underwhelming, but the 4 treys definitely help his case.
Jusuf Nurkic – Remember when I said to grab him in the last WaiverWired?  12/12/5/3/2 He had the biggest line of the game, and there's no reason to think that he won't be one of the best bigs in fantasy moving forward this season.  34 minutes per game will help with that…
Shabazz Napier – 10/7/5/2/0. A nice little line from Napier off the bench – He also managed to get 26 minutes, so keep an eye on that.
Terrence Ross – 13/5/1/3/0. It was a mixed bag for Ross, who finished 4-17 from the field.  Fortunately, his shot total and starting job tell us that he has a looooooong leash.  He's a must own in all 12ers.
Nikola Vucevic – With no Ibaka, it is Vucevic's paint once more.  25/9/2/0/2. This line should be pretty typical going forward.
Kemba Walker – 34/7/6/2/0, on an extremely efficient 11-19 from the field.  There really wasn't much more that Kemba could have done to prevent the Pistons from squeaking it out in over time.
Michael Kidd-Gilchrist – A massive 12/14/2/2/2 line from MKG.  He has the strangest lines from a wing… This is much more of an Andre Drummond type line, than a typical SF.
Kentavious Caldwell-Pope – 33/9/3/0/0 with a massive 7 treys.  He was hot tonight.  So yeah, that's that.  I don't expect him do this regularly.
Tobias Harris – Tobias dominated off the bench with a 25/7/3/0/1 line.  The main story here was his efficiency (9-17) and the fact that he hit 4 from deep.  Tobias has really thrived in his new 6th man role.
Ish Smith – I wasn't going to add him to the recap, but he put a massive 16 assists on 1 turnover.  That is incredible, even with the 5 points.
The Rockets – Hit a hell of a lot of treys.  20 when it was all said and done.
Patrick Beverley – 2/12/5/4/0. Played his usual lockdown defense on Jrue Holiday tonight.  The 4 steals were sweet.
Lou Williams – [email protected]#$%.  Sweet Lou came out swinging with 27/2/2/0/0 and 7 buckets from deep… His value definitely will not go down with the free-shooting Rockets.
Jrue Holiday – 6/4/4/1/2. The block spree continues, but Jrue was locked down by Beverley tonight.  I think Jrue is the key to this team working – Obviously the front-court will dominate, but the Pels must make a concerted effort to keep Jrue involved.
DeMarcus Cousins – 27/14/5/5/4. Boogie absolutely dominated this game.  Unfortunately, the Rockets were just raining in threes… Better luck next time.
Anthony Davis – 29/9/1/2/2. The second half of the dominant duo.  This is going to be an incredible team to watch.
Courtney Lee – Lee was the only efficient Knick last night, putting up a stellar 25/6/5/1/0 on 10-15 shooting and 3 hits from deep.
Kristaps Porzingis – The poor goose sprained his ankle and did not return.  I expect the Knicks to bring him back cautiously, so Kyle O'Quinn and Lance Thomas should get a boost.
LeBron James – 18/13/15/0/3. King James threw a block party to celebrate another triple double.  The outrageously good lines will continue, especially with love out.
Kyle Korver – 20/2/3/1/0. Kyle nailed 6 threes, and did what he was brought to Cleveland to do.
Sooooooo, as curious as I am to see how Buddy Buckets does in his debut, I'm not going to report on the last two games tonight.
Shoot me all your fantasy questions below, and make sure to include your league size and format!
Peace out RazzNation!