I swear, I performed all the searches I possibly could. I looked through thesauruses. Or is it therausrus's? Thesaurasites? San Diegons? I looked at all the dictionaries, even the urban ones, and nothing, I mean nothing, rhymes with Kuzma. Try it. We're talking about the rise of Kyle Kuzma. Everyone is all over the Kuz-train. Will he start? Will he be the sixth-man? Will he stop dominating? Well, he finally had an off game as the preseason concluded, but some of the moves he was pulling for the Staples Center crowd were magnificent. The problem with Kuzma is that the hype train has left the station. ESPN has moved him up in their rankings to 88th overall. That's a major jump from being undrafted merely weeks ago. Do we trust this second round pick to be a stud for the entirety of the season? That's the biggest question. Bigger surprises have happened. Draymond Green and Malcolm Brogdon are two recent rookies to outshine their draft day position, so it's not crazy to think Kuzma could be in for a big rookie campaign. With that all said, Kuzma is too far "on the radar" to slip beyond the glory. So today we talk about two Lakers I have targeted all over. Two Lakers who's hype train has stalled and taken a backseat to that of Kuzma's. And no, neither of them have a father who will haunt your fantasy team if you don't play his son.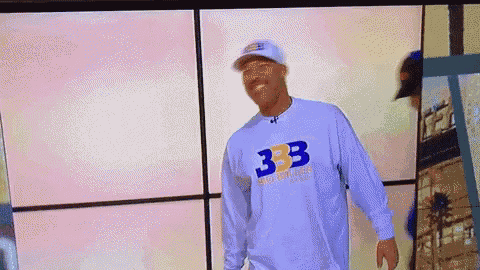 Rudy and the Stocktonator are ready to take your game to the next level. Click HERE for a free 7-day trial of the best projections and tools in the business!
I am infatuated by the fantasy depth and potential on the Lakers. From Lonzo Ball to Luol Deng (not actually) there are a ton of players who can prove useful this year. I think the Lakers will play uptempo and be all in on the youth movement and that's what this game is all about. I try not to draft any players above the age of 28. Seriously, my oldest player this year is Serge Ibaka, but who knows how old he really is. He's got that Greg Oden, Julio Franco, Thon Maker feel about him. He might be 28… but he damn well might be 40. Anyways, the NBA, like the NFL, is about youth. It's about the athletes, the fresh legs, and the potential. The Lakers have the aforementioned Lonzo Ball running the point for a team of (in no specific order) Kentavious Caldwell-Pope, Jordan Clarkson, Brandon Ingram, Kyle Kuzma, Julius Randle, Ivica Zubac, Brook Lopez, and Larry Nance. I can see this team running and gunning for their lives like Efraim in War Dogs and that could lead to a lot of useful fantasy production.
So maybe this information doesn't help on the eve of the NBA season. We have all most likely had our drafts and may love or hate our teams. It's too early to tell, and with the NBA season starting earlier than ever, there may be some sluggish starts. That opens the door for opportunity. Brandon Ingram and Julius Randle are two guys I want everywhere. Both are in prime position to breakout in a big way for this Lakers team and for your fantasy team. The early trade window is now open. Ingram had a shaky preseason, not living up to the excitement, but how many times do we need to be told… it's only preseason. Randle is dealing with a rib injury that might sideline him for the opener. Buy-low anyone? The concept of buy-low is almost defunct in fantasy. Everybody basically has access to the same articles and information. For you Razzball readers, who keep this blog near and dear, you probably know more than your league mates. With that in mind, let me be the first to tell you to sell that ribs injury, sell that Kyle Kuzma hype, and buy Julius Randle. Today.
What makes these players so enticing to me is the youth and upside they possess and have shown. Let's start with Ingram. Many people forget Ingram was the second overall pick merely a year ago. That's right, Brandon Ingram is entering his second season in the NBA and is only 20 years old. This is the same guy who a year ago was drawing comparisons to Kevin Durant. This is the same Brandon Ingram who grew two inches (!!!) over the off-season! Who still grows at 20 years old besides the Greek Freak?!?! Well obviously, Brandon Ingram does. Now standing at 6'11 his game is going to be very hard to guard. Magic Johnson think's he'll score 20 a game. Why the hell not! I love Ingram and I think we are far enough removed from the Kobe hangover that the Lakers will be playing loose  and Ingram will thrive. I can see him scoring 15+ with 2.0 3PM and a handful of counting stats.
Speaking of playing loose, Randle was a monster at points last year. He had a stretch last year when you thought he was going to triple-double every night. His assist numbers were off the charts for a big man. Now keep in mind, Randle is also a youngster. After a brutal injury in 2014, missing his rookie campaign, this is now officially year 3 for Mr. Randle. Year 3 is notorious for being a breakout year. At 22 years old, I can only imagine how high the ceiling is for Randle. He can take the ball off a rebound and lead the break. He can pull up and hit the occasional three. He can bang and board down low. Brook Lopez is not known for his rebounding prowess, so he should be able to clear space for Randle to get 10+ boards per game, potentially. Lonzo may put a damper on his assist numbers, but who's to say it won't be Ball and Randle as primary ball handlers on the break. I think the Lakers will adopt the BBB style of play to some extent, which could mean a lot of run-&-gun, rapid fire offense. This will only make Randle and his high motor that much more valuable. Look for a line of 17.0/8.5/4.5/1.0/1.0. Extreme value that you may be able to buy at a minor injury discount.
Thanks for joining me, Beyond the Glory, for the pre-season and pre-draft content. As the season continues I'll help you find that sneaky waiver pickup who can provide major value long term.
Enjoy opening night!