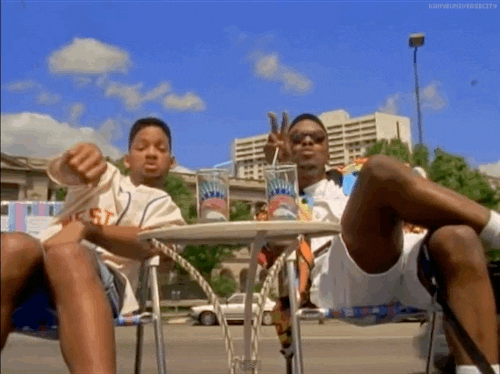 Summer is here and our three favorite B's are back. Not Big Baller Brand, but Bikinis, BBQs, and Basketball. The NBA Summer League commenced on July 1, so I'm going to highlight some of the guys that balled out in this edition of The Abode. Here's a little tune to get us going:
Before I start, Slim and I are working on projections and rankings. We should start pumping out some serious content around August. In the meantime, I'll post random thoughts in The Abode every Monday and Craig B has been churning out his Dynasty Deep Dive articles every Saturday, so check those out. If you or anyone you know would like to write for Razzball hoops, email me at [email protected]
Bam Adebayo
Holy Adebayo! Many thought the Heat reached for him at #14, but he could end up being the steal of the draft. Here's what I saw. Able to score from the post with little right-hand baby hooks and turn-around jumpers. Quick drop-step spin moves to the baseline. Nice form on free throws and also hit some 15-foot jumpers from the wing. Ability to take bigs outside and either blow by them or cross them over with his handle. Also finished with authority on lobs and dimes off pick and roll action. The most impressive aspect of Adebayo's game was the handle through traffic in transition and the Eurostepping to finish. We knew the rebounding and defense would be there, but this?
Luke Kennard
The more I watch Kennard play, the more I like him. As I've said in the past, I should have put more credence in the fact that Coach K let Kennard drive the Blue Devils train last season with Jayson Tatum and Grayson Allen on the squad. The dude just knows how to play ball. He's a deadly spot-up shooter but also adept at running the pick and roll. He moves well without the ball, both utilizing screens and cutting back door when defenders over play him. He's not the most athletic guy but anticipates well on defense. If he gets minutes, I can see him contributing across the board.
Josh Huestis
Huestis is a third-year small forward for the Oklahoma Thunder. He has a really nice stroke from outside. He dropped 26 points against the Knicks on 11-of-17 shooting and 4-for-8 from three-point land, but many of those shots were wide open. Knicks D. With that said, the form is nice and he had some thunderous dunks inside. He has great size at 6′ 7″ 230 pounds. Looking at past quotes from Billy Donovan, it sounds like Huestis is still learning the nuances of playing small forward in the NBA, especially at defending the pick and roll. Huestis primarily played power forward in college. Huestis isn't going to be fantasy relevant, especially since the Thunder acquired Paul George. With that said, he looked good to me and could be a name to file away.
Dante Exum
The 21-year-old, third-year point guard for the Jazz is fun to watch. At 6′ 6″ he can look over most defenders. The length also makes it seem like he's gliding around, but then….BOOM! He changes direction and is gone. The jumper looks much improved but still a little slow to get off. Off pick and roll action is where it's most pleasurable to watch Exum work. Imagine CP3 or Nash with giraffe necks. That's what Exum reminds me of. He will probe the defense with his dribble while still being able to see over it. He looks good after tearing his ACL in 2015. Unfortunately, the Jazz acquired Ricky Rubio, so he will probably serve in a reserve capacity.
Donovan Mitchell
The first thing you'll notice with Mitchell is how strong and built he is.
He's not just a bully, though. He has three-point range and can both spot up and utilize a step back. Mitchell also has a nice mid-range game with pull-up jumpers and floaters in the arsenal. He's adept at running the pick and roll to, not only score, but get his teammates involved. He also plays the passing lanes well on defense. Speaking of defense…
That's the #3 pick Jayson Tatum. Love the toughness. Rodney Whood? He better watch out. In fact, Gordon Hayward who?
Jayson Tatum
Man, Tatum is really good. Silky smooth and very polished on the offensive end. I get it why Danny Ainge had Tatum as his #1 guy. Dirk you very much:
Set setting to spin cycle then….splash:
It's a great move, no doubt, but did you notice that he missed the wide-open cutter before he made his move? I just don't want to crown his ass yet. I'd also be careful of over-drafting him. NBA defenders will be more physical and skilled. Just look at what Donovan Mitchell was able to do against him. In addition, the Celtics are still ITs team and just how many minutes will Brad Stevens hand out to Tatum? Especially since the Celtics have a glut of guys at SF. Oh, I almost forgot about that Gordon Hayward guy.
Markelle Fultz
He's good. He was the #1 pick for a reason. Next. Seriously, he can break down a defender with his dribble and ability to change directions. His shot is butter, from both spot-ups and off-the-dribble. This was a cute segment done by ESPN's Sport Science:
I don't need to go too deep into Fultz. He's as good as advertised.
Dwayne Bacon
The 6′ 7″ 220 pound shooting guard from Florida State has been balling this summer. Against the Magic, he put up 29 points on 11-for-20 from the field. His jumper looks nice but I'm not sure about his range from deep. He's an excellent mid-range shooter though. He's also a strong finisher at the rim. Bacon doesn't seem uber-athletic, but he's built and gets to his spot.
Sindarius Thornwell
You all know that in "Jerry West I Trust," so my opinions on Thornwell are obviously biased. With that said, he did ball out in the NCAA Tournament. Watching him play against the Lakers in the Summer League, I was impressed. He's very physical and likes to attack the rim. He did have a strong post up in overtime of that game. The jumper is the question, as how deep is his range? He looked fine in the mid-range.
Brice Johnson
Last year's first-round pick by the Clippers, Johnson is 6′ 10″ 230 pounds. He's very agile for a big man, as he displayed gorgeous spin moves driving down the lane against the Lakers. He blocked some shots, so he was a presence on the defensive side of the ball. He's a little light, so bigger forwards will probably eat him up. With that said, he showed a bevy of offensive moves. Jumpers from the free throw line, fade away J's to his off hand from the post, and explosive dunks. With Blake Griffin undergoing toe surgery and possibly missing the start of the season, Johnson could be in line for more minutes.
Lonzo Ball
Ball had a terrible Summer League debut, but bounced back in his second game to record a triple-double. He did work off the ball at times to catch and shoot jumpers, but most of the time the ball was in his hands. It's all about his court vision and passing ability.
So lovely. That's why he's in LA. To get everyone involved and feed them for easy looks. Where Ball is going to have the biggest impact is in transition, even after made buckets. Big men that don't run back are going to give up cheapies to hustling Lakers bigs. Ball's ability will open up the floor, as everyone will be more apt to cut and run because he has the capacity to drop dimes. The pace the Lakers play at makes his fantasy prospects tantalizing. He's going to fill the stat sheet. How many minutes is Walton going to give him?
Brandon Ingram
I was super impressed with Ingram. He's still skinny, but it looks like he's put on some weight. He was super aggressive and was making tough contested shots. Shot the three. Check. Post up. Check. Mid-range game. Check. Break defenders down with dribble. Check. Finish at the rim. Check. Run the break and drop dimes. Check. As a Lakers fan, I had doubts about Ingram. I'm all-in now and will probably be higher than most when I put out my rankings. Check out this sequence:
I just had an "accident" in my pants.
De'Aaron Fox
Meep meep.
So quick. So fast. While his speed was impressive, the most encouraging thing for Fox in the Summer League has been his jumper. His pull-up and step-back J's have been money. Can he knock it down consistently? Also, what about the range? It was all mid-range or attacking the rim. He's going to need to expand a little to keep defenders from sagging. With that said, he may be able to break down defenders that lay off anyways.
Wayne Selden
The 6′ 5″ 230 pound, second-year guard out of Kansas dropped 28 points on the Wizards on Saturday. The jumper would make Dave Hopla proud. He's a big, strong guard so he doesn't blow by anyone. He does get to his spot, though, and is proficient in pick and roll.
Dennis Smith Jr.
My boo. If you listened to the most recent podcast, you'd know the love I have for Smith. If you haven't listened, what are you waiting for?
Get this man in the dunk contest… RT @dallasmavs … pic.twitter.com/Cj0yLbvhIS

— Andy Bailey (@AndrewDBailey) July 8, 2017
While that is amazing and makes my shorts uncomfortable, this is more enjoyable to watch:
DSJ with the give and go pic.twitter.com/UKqhg5XAhz

— Michael Gallagher (@MikeSGallagher) July 8, 2017
I won't mess up the DSJ section with my babbling. I'll just let the videos speak for themselves.
John Collins
The 6′ 10″ 235 pound PF out of Wake Forest looks really good. He is very agile and explosive at the rim. What's most impressive is his mid-range game. He has nice form on his jumper and is able to face up defenders and splash 18-footers in their face. I did not see many back-to-the-basket moves, though. Viz and I both talked about how Collins could be in line for major usage this season. If he does, the skill-set looks more than capable of putting up production.
Those are the guys that stood out to me over the past week. If you want impressions on anyone else, just ask in the comments section.