So as numerous comments have suggested over the years, I sometimes act as your fantasy therapist.  "WHY ARE ALL MY GUYS HURT?!"  But this morning, I'm using Razzball Hoops to therap-ize.  You guys are going to help therap-ize me…  Usually weekends are either "good", "bad", or "relaxing".  That's 99% of weekends.  Good = fun things happened, yay!  Relaxing = you didn't do much, and you're recharged for another work week.  Bad = things cut into the relaxing…  But for me, it ran the gamut!  I've mentioned a few times that the wife and I moved (yay!), we love the house (yay!), but ran into a bajillion little things and aren't nearly as unpacked as we want (boo!) and missing a box that still hasn't been found ($%&%!).  Then we have to rush Saturday night to get to Charlotte to be ready to tailgate for the Panthers game.  Tailgating was sick, but then I started to feel a little iffy during the game…  At least we were true fans and didn't leave early to beat traffic in the 2nd half of that bludgeoning!  And I was able to snap the best picture I've ever seen of the Charlotte skyline: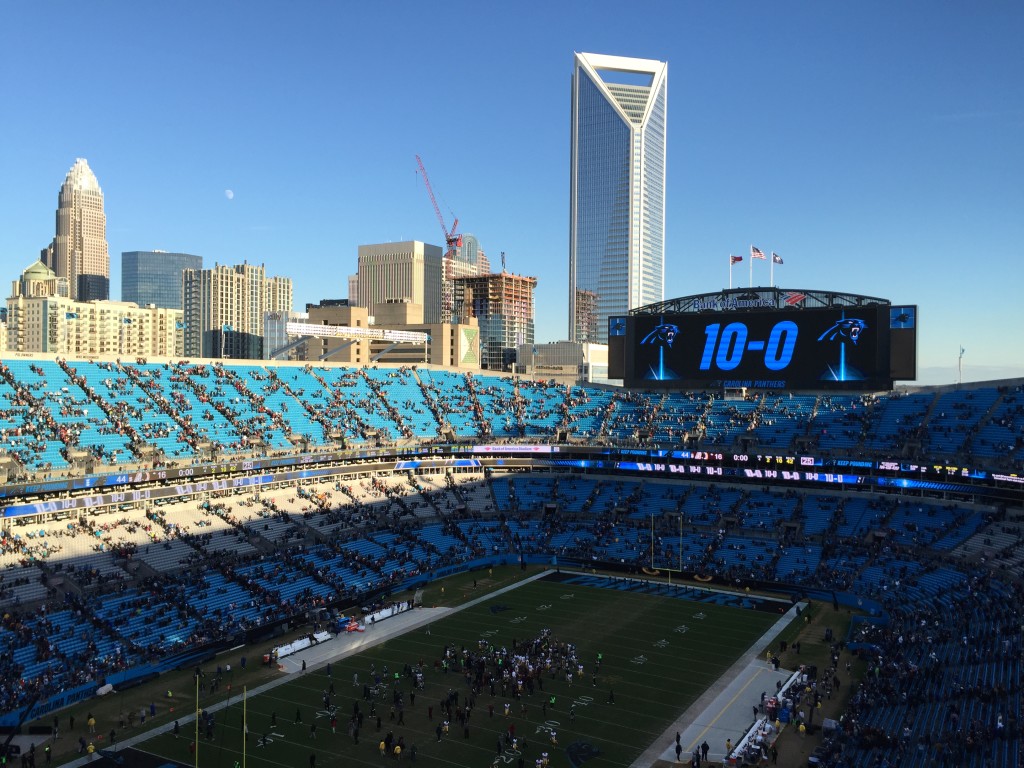 There's your pinnacle!  Then I feel atrocious in a few hours of stop and go traffic, finally start feeling better, then get a tire blowout on the interstate and barely made it back last night…  What a range of emotions!  Anyway, long story short, I'm whiny, not feeling great, and the worst of all – didn't watch as much hoops as I wanted to this weekend.  #RealLifeProblems!  So I apologize to the weekend commenters, getting to you guys now, and for a slightly shorter Monday Daily Notes that's out later than usual.  But we've got a shortened Thanksgiving week to preview anyway!  Oh yeah, I guess I'll stick with the usual daily notes format and tie this into fantasy – this article title could work for Nikola Jokic too!  Went nuts on the Spurs last Wednesday for a breakout, but then played 18 starting minutes worth of feeling sick, getting a flat tire, and losing an important box when moving Friday against the Suns.  Mike Malone even called out his guys!  "Lunch will not be served today due to lack of hustle!"  But then Jock Itch looked like a different player against the Warriors, going 11/11/2/2/1 in 27 minutes, while also helping us as a realtor and finding our house, helping the Panthers get to 10-0, and saving several stranded puppies in a well.  He's a 20 year old on a young team, he's going to go through a lot of ups and downs, but I say he's worth a look even in 12ers.  If you don't have anyone good to drop, I wouldn't do anything rash though.  He's at 19% owned in Yahoo and snatched up in all my RCLs, but might be worth a look on your leagues' wires.  Here's what else went down over the weekend in fantasy hoops action, plus The 7 Ahead for Week 5:
Jonas Valanciunas – The Luminescent Lithuanian broke his bulb!  Yikes, tough one for owners as he broke his hand and will miss 6 weeks.  Without an IL, eesh I guess you probably have to hold in 10 or 12ers.  Shallower leagues you probably need production.  In his stead, Luis Scola should get a few more touches and Bismack Biyombo shifts to the starting center, and went 6/14/0/0/0 against the Clippers in 31 minutes.  ReboundNOF!  He should filter in some swats, but doesn't do much else and is a historically bad FT shooter.  12ers in desperate need of a big could make the add now, and any deeper I actually think he should be owned, as it's his spot for a long time.
Marcus Smart – Hurt something called a "tibfib" joint, which makes it sound like the Celtics medical staff is Olde English.  Going to be out the next couple of weeks, so he's a drop for me in 10/12 redraft leagues…  Obviously Isaiah Thomas gets a bump along with Avery Bradley, with Bradley playing a whopping 40 minutes Sunday (on a Brad Stevens team?!?!!?) for 27/4/1/2/1 and 7 treys in a loss to the Nets.  Bradley is still at only 68% owned, so be sure he's scooped up in all your leagues.
LaMarcus Aldridge – HOW DO YOU LET THE TERRIBLE PELICANS BEAT YOU, SPURS?!  Sorry, had to vent…  LA rolled his ankle early on Friday night, but was able to return.  Maybe he shouldn't have…  Then sat against the Grizz.  Less worried long-term, more worried about Pop going slow.  David West wasn't great in that spot-start v. MEM, but worth a short-term look in deepers.
Ryan Anderson – Finally held to under 30 Pts!  The Suns bottled him up for 29 last night…  14 treys the past 3 games, but if there's one thing you can count on, it's the Pelicans medical staff effing something up.  I'm selling so high right now, that the haul I'd bring in will make me feel like The Wolf of Wall St.
Ish Smith – Goes 17/4/13 Friday then an unreal 17/9/8/3/1 in a shocking win against the Suns yesterday.  HOW DO YOU LET THE TERRIBLE PELICANS BEAT YOU, SUNS?!  It looked like it was fading off, but I guess this Ish is still going on…  Should be owned in all leagues while hot, but if you can sell for much I would.
Kristaps Porzingis – RIIIIIIIIIIIIIIIDICULOUS!  Kinda a blah Friday, but 24/14/2/0/7 in one of the best lines from the weekend Saturday against the Rox with a pair of treys.  36 minutes too!  So much for that tight minutes cap to start the season…
Brandon Knight – Continued a sick 3-game streak with a 38/11/6/2/1 Friday night with 6 treys, but it was @DEN…  Then as shooters do, finally got cold Sunday against… THE PELICANS?!  WTF KNIGHT?!  THE PELICANS ARE AWFUL!!!!!!  Knight owners are feeling great after this past week though…
Gary Harris – Had his best game on Friday scoring 20 Pts, and was decent enough against the Warriors Sunday for 12/3/3/1/0.  At least a trey and 12+ PTS in 4 straight, and they want him to run with that starting SG role.  That said, I don't think he's particularly special.  ThrAGNOF streamer/4-game wk weekly play to me.
Will Barton – Still rather own Barton, but he's going to have bumps.  Had an awful Wednesday against the Spurs, but then back-to-back usable games over the weekend, despite the unsurprising drop in treys.
Blake Griffin – Because I have to.
Ed Davis – Got 31 minutes outta nowhere for 17/15 and a block on Friday night, but then went back to his deep-league only 9/3/3 kinda line.  Not too much to rely on here, other than big man spot starts.
Rudy Gay – Hurt his shoulder last Thursday, but it sounds like he'll be back soon.  Even though they didn't start with him, Omri Casspi still got 32 minutes Saturday night of 11/11/2/1/0 with a trey.  SPOILER ALERT!  I think he's a weekly flier-play this week (see below).
Jordan Hill – Continues to be shockingly not bad, but his 20/11/1/2/1 9-10 FG game against the Bucks on Saturday had a lot of junky stats in there.  Not reading too much into it.
Robert Covington – The Lord Covington finally looked like the Rob-Cov of old for 21/6/0/2/1 Saturday night, with 3 treys, only 1 TO, and 6-7 FT.  Gave him 13-14 FT over the weekend, even though Friday was a little blah otherwise.  With all the injuries and knee setbacks, he's still at only 68% owned.  Fix this!
Tristan Thompson – With Timofey Mozgov using his Healthcare.Mozgov for his shoulder the next 2 weeks, Thompson slid into the starting lineup Saturday and played 40 minutes!  40!  Went 9/16/5/0/2, but did have 2 TO and 1-2 FT – neither hurt you really in this one, but they are knocks on his game.  Uh oh Slim, I bet you're gulping at this point, I actually think he's… ughhh… can't do it… uggghhhh…  must-own in 12ers…  NNNNNNNNNNNOOOOOOOOOOOOOOOO!!!!!!!!!!
The 7 Ahead
5-game week: n/a
2-game weeks: Chicago Bulls, Portland Trailblazers
Off day: Thursday (Thanksgiving)
Weekly League Streamers (by Y! ownership percent/games this week): Jeremy Lamb (31%/4), Jose Calderon (38%/4), Jerami Grant (10%/4), Omri Casspi (10%/4)
Stream day: n/a
Overall Thoughts: Wow, a ton of 4-game weeks for there being a full day off!  Even with the holiday on Thursday, it's still a pretty normal schedule week.  Yet again the Bulls get a 2-gamer, and other than Damian Lillard, I don't think you consider any Blazers in weekly.  With Wed/Fri/Sat/Sun so full, it's going to be tough to actively stream one spot – as I mention on Saturday's blurb, if your SAT/SUN isn't full, there are three teams on b2bs to utilize streamers if you're in limited moves leagues like the RCLs.  For my streamers, Calderon is getting more minutes and playing boring-but-decent ball, with the Knicks with wins.  With Gay, I think they take slow plus the Kings have a Fri/Sat b2b, so Casspi should get run this week.
Monday: Only OKC and PHO head into the week on the second leg of back-to-backs after playing yesterday, but I have a feeling Kevin Durant isn't back yet tonight.  He's a risky play in weekly, as OKC only play 3 which would be 2 even if he only misses Monday.  He's off a pretty slow game, but Tyler Johnson is always a good streamer of mine, and the Heat should play some smaller lineups against the Knicks.  No teams start b2bs.
Tuesday: ATL, BOS, DAL, LAC, MEM and WAS head into back-to-backs, still a little worried on those Hawks vets and of course the Mavs vets.  Be careful with those guys, and Zach Randolph might miss one as well with a sore knee that cost him Saturday night.  Even though he looks fine, Chris Paul might get limited minutes if they're spanking the Nugs.
Wednesday: No teams going into back-to-backs obviously with Thursday off, and all but 6 teams are going.  Everyone should have a full lineup.  Boston plays the awful Sixers, so that rotation could get every player involved for B-Rad, a little worried about the usable C's in that game.  ATL goes @MIN which is actually fairly interesting after the Wolves shocked the Hawks in Atlanta, and Jeff Teague got away with a cheap shot on Nemanja Bjelica.
Thursday: EAT DAT TURKEY!
Friday: Whew, it's a hectic weekend of NBA action!  Friday is just as full as Wednesday with only 6 off, and ATL, CLE, DEN, GSW, NO, SAC, SA and WAS all head into b2bs.  If there's any game Ty Lawson is going to do anything, it's Fri night hosting the Sixers.  DEN hosts SAS, so it could be a light game for the Spurs rotation, especially if Aldridge is still a little hobbly.
Saturday: BKN, LAL & TOR wrap up the b2bs.  In RCL leagues where moves have to be made the day before, I'm looking at these teams for Sat/Sun streaming stacks.  But before you add those streamers, both SAT and SUN are pretty full, so be sure they make your line-up both days, and if not, consider 1-game better options.  Rondae Hollis-Jefferson is a perfect streamer for REB/STL, Lou Williams can chip in some ThrAGNOF stats, and Scola and Biyombo as mentioned above should get some big man stats with JV out.
Sunday: We wrap up with BOS, DET, HOU, LAC, and MIL heading into b2bs, so be sure any of your questionable guys are going Sunday and not getting sat to play Monday instead.  Dwight Howard is going to be evaluated this week to see if he can play in b2bs, but pending that, SUN or MON could be a DNP, so watch that at the end of this week.  Also keep an eye on Clint Capela if you pick up Dwight news and need a Sunday big (he was awesome Saturday for 16/14/1/1/0).  IND goes @LAL, in what should be a heavy-paced game.  A lot of ThrAGNOFs could be used there.  I'd try to avoid everything that is [email protected]  Bluch!

Thanks for stopping by everyone, sorry again this weekend recap is a smidge shorter than your standard Monday Daily Notes, but as always, comment away on your thoughts from the weekend!  Thanks again for letting me get therap-ized by you guys in Razzball Nation for once, and let's have a big Week 5!