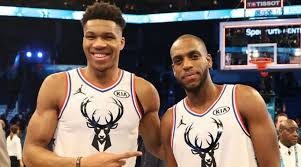 Projected Record for 2020-21: 53-19, 1st in the Eastern Conference
Previous Record in 2019-20: 57-16, 1st in the Eastern Conference
Bucks fans, rejoice. On December 15th, Giannis Antetokounmpo signed a five-year/$228 million super-max contract extension to remain with the Milwaukee Bucks. He even broke the news himself on Twitter which was an undoubted baller move that received mixed responses. Some people, like myself, cried tears of joy because of the loyalty he showed to a small market and the commitment to the franchise that drafted him, while others went on to trash him and the Bucks, saying that he will never win a championship with this team. However, what remains to be seen is if this retooled team (shout out to my new favorite player Bobby Portis) has what it takes to take the Bucks to the promised land. Let's break it down.
Here is a breakdown of the Bucks offseason departures/acquisitions, as well as the projected depth chart and players to watch for your fantasy team with ADP:
ACQUISITIONS- (PG) Jrue Holiday (PG) D.J. Augustin (SG) Bryn Forbes (SG) Sam Merrill (SG, Two Way) Jaylen Adams (SG) Nik Stauskas (SF) Torrey Craig (SF) Jordan Nwora (SF, Two-Way) Mamadi Diakite (PF) Bobby Portis
DEPARTURES- (PG) Eric Bledsoe (PG) George Hill (PG) Frank Mason III (SG) Wesley Matthews, (SF) Kyle Korver (SF) Sterling Brown,(PF) Ersan Ilyasova (PF) Marvin Williams (C) Robin Lopez
Projected Depth Chart
Point Guard- Jrue Holiday, D.J. Augustin, Jaylen Adams*
Shooting Guard- Donte DiVincenzo, Bryn Forbes, Sam Merrill, Nik Stauskas
Small Forward- Khris Middleton, Torrey Craig, Pat Connaughton, Jordan Nwora, Thanasis Antetokounmpo
Power Forward- Giannis Antetokounmpo, D.J. Wilson, Mamadi Diakite*
Center- Brook Lopez, Bobby Portis
Fantasy Watch (12 Team Leagues)
Giannis Antetokounmpo (1st Round ADP, PF/C), Jrue Holiday (3rd Round ADP, PG/SG), Khris Middleton (4th Round ADP, SF/PF), Brook Lopez (7th Round ADP, C), Donte DiVincenzo (10th Round ADP, PG/SG), Bobby Portis (12th Round ADP, PF/C)
OUTLOOK
A quick recap on the Bucks 2019-20 season shows that they desperately needed to make some changes. They had the overall best regular-season record at 57-16, and led the league in Defensive Rating (102.9, meaning they held teams to that point total per 100 possessions), led the NBA in offensive pace, and fielded a top 8 offense, which all sounds pretty good and is the reason that they were favorites to win the Eastern Conference and at times, were even chosen by experts to win the whole shebang. Did I even mention that they have the 2x reigning MVP and DPOY on the roster? That's great, but the Bucks have not been able to reach the NBA Finals due to roster construction, some schematic issues, and even struggles from the MVP himself. The team did retain Mike Budenholzer so we can expect more of the same for now, but the retooled roster will make a difference.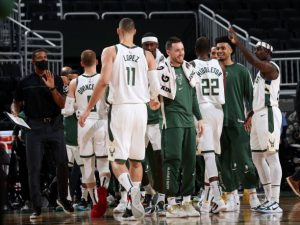 We can see that the team has made significant changes at point guard, and added some depth at the wings and center. This roster has the ability to be more flexible and athletic, but can provide some quality shooting and remain stout on the defensive end. The major upgrade was swapping out Bledsoe for Jrue Holiday, a more accurate catch and shoot 3pt shooter (Bledsoe 26.4% vs. Holiday 36.4%), and a slight upgrade at the defensive end. Many players in the league have praised Holiday as underrated and one of, if not the best defensive guards in the league.
The replacement of George Hill with D.J. Augustin provides the Bucks with a playmaker and facilitator off the bench, who could even start some games. D.J. had an assist to turnover ratio of 3.0, which ranked 19th in the NBA last season. Additionally, he is a career 38% shooter from beyond the arc and has shown up in big moments during the playoffs. Rounding out the major additions are Torrey Craig, a veteran wing with a strong defensive reputation. Here's a good hype tape to get an understanding of what his role will be. Bryn Forbes, a former Gregg Popovich starter that shoots a career 40% from 3, could see some spot starts when the Bucks need extra shooting. He is undersized at 6' 2″ and struggles defensively going through screens, but with the stacked defense from the Bucks starting lineup this will be masked. Bobby Portis is a solid backup big who can score and run like hell on a fast break. He should definitely have some games with decent scoring outputs.
In terms of how these players fit on the team, the Budenholzer scheme is alive and well so I do not expect the new guys to impact the performance of Giannis, Middleton, DiVincenzo, or Lopez. The new roster is younger and more athletic, and the defensive prowess of the roster is still among the best in the NBA, meaning that the NBA leading pace should continue and a lot of offensive opportunities will be available for the guys. The point guard position for the Bucks will most likely remain at a lower usage rate. Jrue Holiday is highly desirable in fantasy due to his defensive potential, and his efficiency and steals/blocks will increase in this system. D.J. Augustin will have similar usage to George Hill (22 minutes per game) and I would also expect his efficiency to go up. Donte DiVincenzo is currently the favorite to start at shooting guard and his output and minutes will remain consistent, but in some cases, he may come off the bench for Bryn Forbes or Torrey Craig in situational matchups. The small forward belongs to Khris Middleton with his output remaining very similar, and the backup minutes will be divided based on the performance of each player throughout the season. I will go deeper into the power forward position in a moment, and as for the 5, Brook Lopez should continue providing strong blocks and 3s since he is so crucial to the system.
Some player specific observations to note are the potential improvement for Giannis Antetokounmpo's free throw percentages after improving his shooting motion, the D.J. Wilson redemption tour since he is in the final year of his contract and is turning heads in the preseason thus far, and the development of Jordan Nwora. I want to take this opportunity to highlight the power forward position for the Bucks. Although this is Giannis' primary position, his minutes have been modest at 30.4 per game last season and I expect this to continue, if not decrease further as the team looks to prepare for a playoff run. Wilson and Nwora will divide the remainder of the minutes and if Giannis plays at the 5 more or gets load management, these are ideal handcuffs.
Overall, I expect the Bucks to work out the kinks in the regular season while they work to build chemistry and practice adjustments for the playoffs. The team could certainly use some depth and size at each position, so a mid-season trade or signing is certainly not out of the question. Now that Giannis signed his extension, a huge sigh of relief can be taken by the whole organization and they will be very focused on winning. The Bucks are very fantasy-friendly and will continue to provide value to your team. Also, Bucks in 6.