The Philadelphia 76ers are a peculiar bunch. As much as I hate to say it, because they proved me oh so wrong, I was really high on this team and even had them going to the NBA Finals. But, alas, Kawhi Leonard hit an unforgettable bounce shot that left Joel Embiid in tears and my predictions in shambles. The Process had hit a brick wall. I was always one to trust the process and that can factor into all walks of life, but this off-season, the Sixers brought in the guy to, perhaps, finally complete the process. This individual is quite possibly their biggest addition so far and it isn't even on court. This great addition comes in the form of Daryl Morey.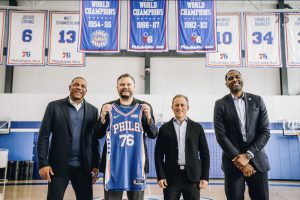 With Morey at the helm, change is imminent in Philadelphia and we have already started to see that change with the additions of Danny Green and Seth Curry through trades to inject some much needed shooting, as  this team is centered around two-time All-Star Ben Simmons and three time All-Star Joel Embiid. Now, there are also questions surrounding that All-Star duo. Many say that Ben and Joel do not mesh well together and, even though that might be true, Morey will not just blow it up and trade one of them before they take the court again together. So fear not Philly fans, I expect that the next time your team takes the court, Simmons will be your starting point guard with Embiid starting at center. Unless, of course…. James Harden arrives, which probably won't happen, but you never know.
Furthermore, the organization has moved on from coach Brett Brown and brought in a former champion in Doc Rivers almost immediately after being let go by the Los Angeles Clippers. The arrival of Doc could be one of the biggest question marks going forward. Will he be the catalyst in getting the Sixers over the hump or will we see more of what happened in the implosion of the Clippers last season? But what is Doc working with here, and what are we looking at for our fantasy teams? 
All things 76ers begin with Ben Simmons and Joel Embiid. They are the heads of the table in Philly. At least, for a little while longer.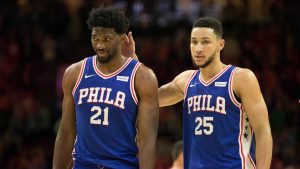 Last season, we saw Ben Simmons average 16.4 points, 8 assists, almost 8 rebounds, and 2.1 steals. He also posted shooting splits of 58% from the field and around 62% from the free throw line. A similar stat line should be expected since he's an excellent defender and has the potential to triple-double on any given night. However, he does have his negatives, which are free throw shooting and three pointers, but that just isn't Ben even though he has been incrementally improving from the line season by season. 
What can we expect from Joel Embiid now? More of the same and another All-Star caliber season. Last season, he averaged 23 points, 11.6 rebounds, 3 assists, 0.9 steals, and 1.3 blocks with shooting splits of .477/.331/.807. Embiid should be poised to once again average a double-double with 20+ points minimum. He is arguably the best player on the team and is considered one of the best centers in the league, which translates into the fantasy world as well. 
Philly's third gun, Tobias Harris, is also someone worthy of having a look at. Last season, he posted averages of around 20 points coupled with almost 7 rebounds, while shooting 47% from the field. A respectable statline for playing third fiddle to Simmons & Embiid. However, Tobias can be inconsistent from a production standpoint.
The addition of Dwight Howard could also prove to be a good move by Morey, as he  is more than capable of backing up Embiid and coming in to play defense and provide energy on the glass.
Matisse Thybulle is also an integral part in the Sixers rotation due to his valuable defense. Thybulle is the kind of player that will keep improving every year.
The 76ers also had an interesting draft night, bringing in the likes of Tyrese Maxey, Isaiah Joe, and Paul Reed. Maxey is the one with the most value, as he will definitely get minutes and could be useful since he has that defensive tenacity that can help the team and the creativity around the rim which allows him to be a great finisher. You shouldn't rush to bring him into your teams, but he is for sure someone to keep an eye on. 
Overall, the Philadelphia 76ers will be a contender, at least in the East, and we should see them be a top seed off the back of the production of their two All-Stars with solid contributions from the role players like Tobias Harris, Danny Green, and Seth Curry. Danny Green is coming off a championship season with the Los Angeles Lakers, then got traded to the OKC Thunder and ended up in Philly. During his time with the Lakers last season, Green put up an average of 8 points with around 3 rebounds. His main role, however, is three-point shooting and that was his downfall in the post-season. He was crucified because of his slump, especially in the Finals, by Lakers fans, but I do believe it is an outlier. Green is a great shooter, 40% from 3 throughout his career to be. He is also a good defender, which will provide a minutes floor. Green's role will be to sink shots and be a defensive stopper. 
Morey also acquired Seth Curry from the Dallas Mavericks, in a trade which sent Josh Richardson and a pick over to join Luka and KP. This was an excellent trade for both sides as Curry, arguably one of the best 3-point shooters in the league, arrives to a team that requires the spacing he provides, while Richardson heads off to Dallas to give much needed size to complement Luka and defend multiple positions. Now, last season Curry averaged around 12.5 points with close to 2 assists on almost 50% shooting from the field and 45% from downtown. It is evident to see that Curry is a scorer and, most importantly, an elite shooter. We will see nights when he catches absolute fire and torches opponents. It won't be every night, but he will have standout games and be a big part of any success Philly intends on having this season.
Shake Milton is also another interesting piece in this Philly jigsaw puzzle, as he did have a couple of remarkable performances when nobody expected it. Last season, he dropped 27 on the Hawks shooting 58% from the field. He had also given the works and put up an astounding 39 against the Clippers on 70% shooting! However, in this performance, both Embiid & Simmons were missing, so he clearly had to jetpack solo. Will we see more of this? I think so. He won't be dropping 20+ on a nightly basis, but he will have these stand alone games and step up when Simmons is inactive. Overall, he had averages of 9.4 points and 2.6 assists on 48.4% shooting from the field. He will be a steady off-the-bench resource for Philly and a solid shooter, but don't be surprised if there are some stinkers here and there.
The 76ers have the pieces for success with new leadership in Morey and Rivers to make another run in the postseason. Maybe this is the year they get over that hump. We'll have to wait and see.