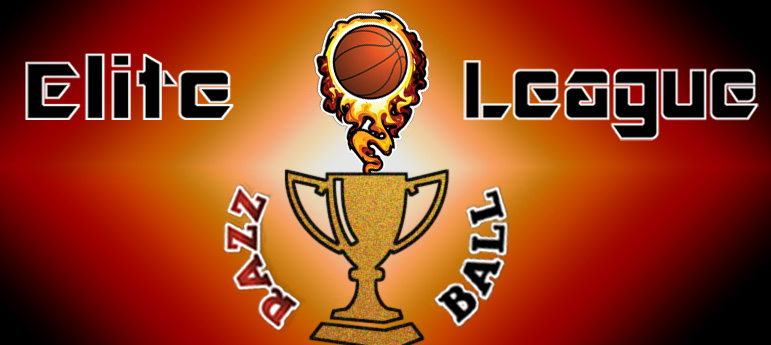 With the season here tomorrow, it's been a busy offseason getting our dynasty chess pieces lined up for a run at the REL golden jersey!  The race for the most coveted prize in all of fantasy basketball's dynasty leagues (no hyperbole there!) begins now!  Well, maybe it's not the most coveted, but it's the most priceless!  Hard to believe I care more about this free league than leagues I pay for…  But we talk about the REL here on hoops and on the Pod more than any other, because deep leagues is where it's at!
If you missed the live Podcast during the draft, give 'er a listen here!  With the draft now complete and the first round of FAABing in the books, it's time to start analyzing the league!  Here's how owners are feeling about their drafts for our first REL update of the 2016-17 Fantasy Basketball Season:
RAZZBALL ELITE LEAGUE STANDINGS
1
I Ain't No Jok(ic)
0-0-0
Waiver Adds Past Week:
FAAB Remaining:
$95
Malik Beasley Den – PG $5
As the returning champion for this league I feel the need to say how awesome this league really is. Easily my favourite league in any sport. Hands down. I also wanted to point out that I'm the returning champion, but mostly this opener is just about how awesome this league is, haha.

Most of my team is coming back for another go-round this year. The only guys that I didn't keep were guys that were just too expensive for me for the most part, though oddly they basically all went for more money this year then they cost last season. Gone are Ibaka, Batum, Rose, and Jordan Hamilton. Ibaka and Batum will be missed. Rose seems like a not very good person so I won't shed any tears there. As for Hamilton, I don't think he's in the NBA this season so he won't be missed at all. Replacing them are Tyreke Evans ($13), Omar Casspi ($6), Papa Giorgio ($4), and now Malik Beasley ($1). Obviously losing Batum/Ibaka is going to hurt, there's no denying that, but I really only had them for the end of the season last year so it's hard to compare. If I look at my starting rosters between 15/16 and 16/17 I think this year is better, which is saying something. My young guys should be better and get more playing time. My vets are in their primes for the most part so they aren't falling off a cliff this year unless something odd happens. The only issue is injuries. Which is definitely an issue.

Khris Middleton is out for a long time, who knows if he plays at all this year. Nerlens Noel just decided to have surgery on his knee the day after our draft and is out for 4-6 weeks. Then there is Tyreke Evans who's out until December at the earliest. I knew Middleton was gone and figured I could still deal with one more long term injury if I had to (in addition to my stash of Papa Giorgio), and since point guard is impossible to get I couldn't pass on Tyreke at $13 in the draft to fill that spot. Of course, I didn't know Noel had knee problems at that point. Now it's gonna be tough to deal with. We'll see how the first few weeks go, but I could be putting Papa Giorgio on the block for some "right now" production if things get dicey. We'll see.

The draft is something I commented on in the REL Draft recap post, but I'll say it again. I was surprised how reasonable almost all of the prices were. Rookies weren't crazy expensive, stars were somewhat reasonable, and helpful vets were plentiful. Of course I only had $24 for 3 spots so my perspective may be skewed there. Overall I was happy with the draft. I got my PG that I needed. I got some 3s where I was weak. I got some more upsidey youth at a cheap price. Speaking of which, Malik Beasley at $1 could be very nice. The kid has a sweet stroke from pretty much anywhere and if not for injuries probably would have been drafter even higher than he was in the NBA draft. The only real downside is that he is on the Nuggets who seem to have multiple young studs at every position, except maybe PG. Gary Harris is injured though, as is Mudiay so it's possible he gets some playing time to start the year. He did get in a pre-season game the other day that Mike Malone said would be similar to the rotations they plan to use in the regular season, so there's that.

Overall I like my team for this year, of that I'm sure. I think if I can hang tough through injuries early on I can have a shot to make the playoffs and then challenge for another title. I've got lots of guys that I'm really excited to see play this season like Aaron Gordon, Schroder, Jokic, Jonas, Oladipo, and of course Paul George is pretty good. I'm even hoping that at some point this season the 76ers will come to their senses and trade Nerlens Noel, but I'm not holding my breathe on that one.

It's finally time so bring on my favourite league. I'm sure everyone will bring their A game trying to knock off the defending REL champion so I know this won't be easy!

2
Slim – Razzball
0-0-0
Waiver Adds Past Week:
FAAB Remaining:
$100
Justin Holiday NY – SG,SF $0
It's that time once again, the time I'm sure you've been waiting for all year.  Time to check in on Slim's (You are allowed to use 3rd person if you've won the league before) REL team.  Easiest way to do this thang is to separate the squad into 3 categories: Guards only, Wings, and Bigs.

Guards – Predraft my PGs were devastated by injuries.  Fortunately my workhorse and overall top player is Damian Lillard $36-26 (keeper price – age), but after that things go downhill in a hurry.  Reggie Jackson $14-26 is out for a while and I let Beverley (inj), Smart (inj), and Burks (inj) go back to the FA pool and I lost Larkin to Europe.  Ouch.  Gary Harris $4-22 rounds out the group but that means I went into the draft with only 3 players at guard only and 2 of them are injured to start the year.  Obviously this was my biggest point of emphasis in the draft.  There weren't too many PGs available and I was more than willing to overpay.  Kris Dunn $35-22 was #1 on my list and I had him projected to go for over $40, also my biggest (non-punt) deficiency is steals and Dunn was by far the best available.  I feel like this could not have gone better.  I needed another PG on draft day and went for the highest upside in assists, Sergio Rodriguez $2-30.  I know right, a 30 year old?!?!  I know I know, but the sixers paid him $8M to play this year so I figured his role was pretty secure.  I wanted Temple and/or Galloway as well but neither offered much in the way of assists and neither has much of a chance at a starting role, even though they both got paid too.

Wings – Aaaaand back to my injuries, Hayward $22-26 injured, Richardson $1-23 injured.  Marcus Morris $1-27 isn't and for another year will be one of my most underrated players.  In a league that puts so much value on minutes Marcus is pure gold.  Prior to the draft I traded Henson to JB and received Oubre $15-20 and another $1 keeper (a big I'll get to in a minute).  I had an excess of quality bigs and Oubre has looked amazing, I think this trade is going to work out just fine in the end.  The only wing I released prior to the draft was Justin Holiday $1-27 but I added him back in the 1st round of waivers for $0 FAAB so no loss there, oh and if you've been paying attention I have 4 SG eligible players (besides Holiday) and they are all currently injured.  I just need a warm body out there right now and his career per36s of 1.7/1.7/0.8 3s/stl/blk still has me salivating at the possibilities, Holiday is also a sneaky source of assists with a career per36 of 2.7, all he needs now are the minutes.  I did draft a wing however, Juancho Hernangomez $6-21, maybe he should count as a big but he has SF eligibility so I'll need to play him there with my SFs needing to play SG when healthy.  I really like how Juancho has looked in summer and preseason (and I enjoy saying his name way too much) and although he may not get minutes out of the gate I do believe it's just a matter of time.  I may wind up trading him for a vet later in the year but that's only if he can't get into the rotation.  I really want to try to hold onto him though after I traded Lyles away last year in a similar circumstance and price.

Bigs – It feels like I've been waiting for years to say this, henceforth this year shall forever be known as, 'The year of Slim's Bigs'.  Obvious where to start this one – The Poison Geese $28-21 is my #2 player, Adams $11-23 is looking like a breakout candidate with 30+ minutes, oh and some guy named Nurkic $16-22 that I don't think we've talked about yet on razzball.  What upside?  Rounding them out I also have JaMychal Green $1-26 who I FAABd late last year, Dwight Powell $1-25 who was the other piece of the Oubre trade, and I held onto Nene $1-34 for a few extra big man stats.  I'm not planning on any more than 20ish minutes from Nene but his 20 minutes last year weren't all that bad for this league, although truth be told he's currently my 18th man and I already unsuccessfully tried to drop him for a waiver pickup.  I added another big on draft day, Nicholson $4-26 because I didn't have enough 26 year olds, but really because he finished last year strong and looks to be the 1st big off the bench for Washington, and like Sergio he got paid so he should play.

As for a trade block, I'm only looking for low end deals right now and PGs are completely untouchable.  I have an excess of bigs so losing Nene or Nicholson for a SG eligible player would be nice and PG/SG would be ideal.  I'm not looking for much, 18 or so minutes but they will have to be better than the couple of guys available on waivers which right now is a pretty good looking group of names – James Ennis, Nelson, Festus to name a few just to piss off someone who thinks they are getting them for $0 FAAB next weak.  Got to spend it to win it!

3
HateUsCauseTheyAnus
0-0-0
Waiver Adds Past Week:
FAAB Remaining:
$100
n/a
4
JB Gilpin – Razzball
0-0-0
Waiver Adds Past Week:
FAAB Remaining:
$100
James Johnson Mia – SF,PF $0
Woooo, we're back baby!

After a heart-breaking loss in the semis by .001 FG%, it was time to re-tool and re-fuel for a 2016-17 run at the gold jersey.  I aggressively traded all the assets I wasn't keeping and consolidated other values.  Here's what Slingin' David Stearns (baseball reference to my Brew Crew GM!) did through the offseason:

Traded Carmelo Anthony ($40), Brandon Knight ($15), Clint Capela ($1) and get Russell Westbrook ($59) and Matt Barnes ($2).  Obviously a biggie.  Melo wasn't a keeper for me, and with an uber-low TO line-up, Knight had to go for Westbrook anyway.  I'm pretty good at FT, so Capela was a little expendable.  Now I have two top-10 players (Westbrook & Kawhi mmmmmm) and an elite PG to pair with IT2/3.  This one made me feel sexy.

Traded Kelly Oubre ($15) and Dwight Powell ($1) for John Henson ($12).  No Capela meant I had anemic blocks.  This might not work right away, but once the Bucks break the Moose loose, it should fit my needs.  Losing Oubre hurt, but I don't need 3-n-D guys and needed to make a little more room in the budget, even though it was nominal.

Traded Monta Ellis ($23) for Miles Plumlee ($1).  Couldn't keep Ellis anyway, and gives me the non-Monroe Bucks centers.  And more blocks.  Was a perfect, mutually beneficial trade with Niko-cola, who had $ to spare.

Then to the draft, where it was a sinfully boring ride.  $9 to spend on 3 spots.  Unlike last year where I had $20 or so and spent all I could on Oubre, I decided to get boring vets.  I'm in win-now mode, and there's no reason for me to get a rookie to stash.  But I did end up getting one, nabbing Timothe Luwawu for $5.  I still like this kid's upside, but as mentioned above with Oubre, I don't really have a 3-n-D need.  I ended up dropping him for James Johnson, who can help boost my BLK.  Wish I had known he would go undrafted, or else I could've used that $5 bill in the auction somewhere else.  I wrapped up getting one of my main targets – don't laugh – Luis Scola for only $3.  He's gonna play!  And can chip in boards and maybe half a block.  Finally I nabbed Jeff Withey for a buck as another blocks source.  Dude was 12er must-own while Gobert was out!  And Favors ailing can only help.  These 3 guys last year averaged a combined 2.0 BLK/game.  Not too shabby for the category I needed the most help in.

Final thoughts on roster:  Absolutely love this team, best I've felt going into a year yet.  FG% – meh, I have a lot of 3s though.  Likely to be a 50/50 cat.  FT% – Feel strong here, only bad FT shooters are low-volume. 3PTM – Losing Knight hurt, but I'm pretty strong. Pts – Adding Westbrook gives me 3 guys that averaged over 21 PPG last year.  Nasty for a 20er.  Reb – While I lack great names up front, Westbrook/Crowder/Kawhi/Deng will all help fill in, feeling pretty good.  Ast – Westbrook mmmmmm.  Stl – Be shocked if I lost this more than 1 or 2 times all year.  Elite.  Blk – Roughest cat, but if Henson can get to 1.9 again, it won't be that bad.  TO – Westbrook hurts, but besides IT2/3 (2.7) and LaVine (1.9), I have no other guys over 1.6 from last year.  Likely a win against the deeper teams/playoff contenders.

Let's do dis!

5
Yappers
0-0-0
Waiver Adds Past Week:
FAAB Remaining:
$100
n/a
My favorite league is back.

So far we have done dropping of players whose contracts were not renewed and the draft. Oh yes and one round of FAAB that I was not a player in.

So to be concise: Contracts not renewed – Deron Williams (was $20 now $15), Jose Calderon ($8, $2), Mike Dunleavy ($1, undrafted), Markel Brown, ($1, undrafted), and the toughest cut, Mario Chalmers, ($1, $1).

So that left $91 for four players. I wanted 2 of the 4 in the top tier. So added – Marc Gasol ($43) and Nicholas Batum ($42). This was more than planned by about $10, but there is this pesky little law of supply and demand that overrides my prices. I had hoped for about $12 left at this point, which would get me one second unit player of significance, but with $4 left, I figured I would wait and snipe off $2 players that I thought would at least have regular playing time. So welcome to Yappers Corey Brewer and Greivis Vasquez (but I sort of wish one of these were a big).

I figure the team as it stands now will be one of the 3-4 teams competing for the final playoff spot. Our weakness is that we are carrying 4 players from the 2015 draft whose playing time is shall I say uncertain. Last year I called these players projects and nabbed some of them after I made the "out of it" decision. One of these players (Sam Dekker) seems to be in their team's rotation (but that may be because Donietas Motiejunas is unsigned). The other three (Jordan Mickey, Chris McCullough, and Jarrell Martin) are best case garbage time types for now. At some point this season I will make a definite in/out decision and will move accordingly. If the decision out, Mark Gasol and Nicholas Batum (and maybe Pau Gasol) will be on the block. If in, players who are not in the rotation will be addressed.

6
Martyball – IFBL
0-0-0
Waiver Adds Past Week:
FAAB Remaining:
$100
n/a
7
High as Greg Kite
0-0-0
Waiver Adds Past Week:
FAAB Remaining:
$92
Kevon Looney GS – PF $5, Aaron Brooks Ind – PG $3
Year three in the REL, and after rebuilding for the first two years, I'm hoping to finally make waves this season. Through draft (Harden @ $55) and trade (Curry @ $70 and Whiteside @ $1), I've defaulted into a stars and scrubs strategy. While I'm using up about 63% of the budget on 3 guys, those three guys happen to be the #1, 2 and 8 Razzball-ranked guys. And with an average cost of $42/pp, I'm getting them collectively at a major discount. These three give me per game averages of 49.8%/77.2%/2.4/25.5/8.2/4.9/1.5/1.4/yada yada turnovers based on Slim's projections. If there was a player out there with those averages, they're instantly a top 5 guy, so I feel pretty good that's spread over three spots. Solid, solid start in every category but turnovers. The trick of course was to fill up the remaining 14 roster spots for $74, but with a plethora of $1 rotation guys, I think I've been able to do that. If the Big Three can stay healthy, I'm liking my chances. Here's a look at the roster.

PG- Curry (Age 28- $70): I love to dominate at least one category in any H2H fantasy sport- and he makes the decision to build the roster around 3 PT shooters easy. Curry dominated the category last year- he was 46% higher than anyone else in per game threes. His output has been trending up each year, but of course there will be some impact with Durant. I'm anticipating a slight decline in 3s, but I think points stay relatively close and assists go up.

PG- Jennings (27- $16): While $16 is a bit steep for him based on recent performance and likely role, I needed a PG and didn't want to risk not being able to get an upgrade at the auction (or even end up worse off). So I kept him to make sure I had a solid #2 PG. Think he's in a good situation in NY, even behind Rose (although I think at some point we'll see them both on the court together). If/when Rose gets hurt, Jennings will get some major minutes and could put give me huge ASTs. He's still only 27, incentivized with a one year deal, and he was a top-20 PG just two years ago. I'm buying.

SG- Harden (27- $55): Given LBJ just went for over $70, my $55 buy of Harden seems like a steal two years later. Love the PG eligibility now- that really helps me out depth-wise with Jack being released, and Payne's injuries. He's my pick to lead the NBA in assists, and if the preseason is a good indicator of what's to come, he could be the #1 overall guy.

SG- Bogdanovich (27- $1): Looked really good in the Olympics, and was solid down the stretch last year. Hoping for 12 pts, some threes and not draining FG%, although the optimist in me sees him cracking the starting lineup and averaging 18-20 during the second half while the Nets try to salvage 15 wins.

SF- Covington (25- $1): This man dances a mean juju. I hope Stauskas lost a bet or something- man that video's embarrassing. Picked Roco up as a free agent two years back, and he's been an anchor in 3 PT and ST since. The sub-40% shooting hurts, but not enough to kill the category for me.

SF- TJ Warren (23- $1): I'm high on Warren- good ratios and solid contributor in points. One of the best cutters in the game, gonna keep those points flowing. Load up on guards and bigs and get some scoring from your wings. Warren fits the bill, and is looking to be a good $1 draft pick if he can stay on the court- which of course is something he couldn't do either of his first two seasons.

PF- Ryan Anderson (28- $14): This guy could be my Joe Barry Carroll if the straight-up trade for Embiid last year doesn't pan out my way. Figured Embiiiiiiiiiiiid was an injury risk, and had the opportunity to get a complementary 3 PT contributor to shore up that category so I bit. History could blush at the memory, especially if Anderson gets hurt, but playing in D'Antoni's system gives me some optimism Ryno shells out 20 pts/6 boards and 2+ 3PT. Poor FG%, elite FT% balance out.

PF- Bobby Portis (21- $7): I think Crazy Eyes is primed to work his way into the starting five as soon as later this year. The Bulls are throwing Robin Lopez and Taj Gibson out there? Doesn't exactly strike fear in your opponent. Also great move canning the best coach in the NBA for Fred Hoiberg. Yeesh. Back to Portis- great rebounder, scores, some steals/blocks. Hopefully the FG% improves- shot over 50% both years at Arkansas so there is hope. Long-term, I think he projects to a double-double guy and could potentially hit a steal/block per game.

C- Whiteside (27- $1): Two years ago I traded Tony Parker as an end-of-year rental in exchange for Jae Crowder ($1). Flipped Crowder the next year to JB as part of a package (including $1 Capela and Dwight Powell) for Whiteside ($1). Basically I traded Tony Parker for Whiteside. So there. Wins me blocks most weeks, and anchors my rebounds and FG%. His per game blocks last year were 57% higher than anyone else in the league, and he was second in the league in rebound percentage (behind only Drummond). I think he's gonna be an absolute beast with the extra run this year and very well could end up a top-5 guy.

C- Okafor (20- $25): He averaged 17/7 as a rook in his Age 19 season, and he's one of the most gifted post-guys in this generation. I believe talents always wins out, so I'm not overly concerned with the crowded frontcourt right now. FT % for him and Whiteside worry me a bit, but they both far exceeded expectations in that area last year, so I'm just hoping for a repeat.

UT- Payne (21- $3): A future starting PG somewhere in the making, let's hope that foot heals and its not an issue. Maybe the walking boot will fix his shot a bit and he shoots closer to 44-45% this year (shot 46% his senior year at Murray St.).

UT- W Johnson (28- $1): Nothing flashy here, gives me some 3's and steals and occasional blocks. Doesn't hurt me too bad in ratios.

B- Muscala (25- $1): Very happy to get him for $1 at the auction. Went in looking for a decent-ratio PF, and Muscala hit the mark pretty well. Injury issues down in Atlanta could give him some serious run.

B- Willy Hernangomez (22- $1): Been tracking this guy since he was drafted, so I was happy to snag him at the FA deadline last year. Got the call over the pond, and looks to potentially be in the rotation in NY with his buddy Kristaps. Great passer, fun player to watch. Seems slow on defense, so that could be his Achilles (or I guess his Achilles could be his Achilles).

B- D Lee (33- $1): Another unsexy guy, but useful rebounds/pts/FG% for $1. Lee's another FA pickup, along with Bogdanovich, Covington, W Johnson, Hernangomez, Jack, etc. Really helps the depth being able to fill 4-5 spots with rotation guys at $1.

B/IR- Jack (32- $1): Wahhhhhhhhh! Hoping he gets back and hooks up with a new team soon. In my IR spot at the moment- makes it easier to hold him and see what plays out. Averaged around 7 assists per game last year- not expecting that obviously, but if he can give me 3-5 wherever he ends up I'm happy.

B- Looney ($1): Had him last year as a FA pickup ($1). Threw him back in the draft pool and kept Dinwiddie over him. After we declared keepers, ChiTown proceeds to trade for MCW, and Looney proceeds to work his way into the GS rotation. The guy's rebounding percentages are unreal even if his hips are made of marshmallows. Have to imagine the Warriors are going to give him run while they know he's healthy. Also thinking they're hoping he can counter Tristan Thompson on the boards down the road if they meet again in the finals. Speaking of the finals, just have to say Draymond getting suspended during the finals was just complete horsesh*t and I lost a ton of respect for Silver with that decision. If it was the regular season, fine, suspend the guy. But Lebron baited him, and IT'S THE NBA FINALS- you do not take one the best players off the court unless its so over the top you have no other option. For some perspective, Ralph Sampson got a zero game suspension for throwing punches at Jerry Sichting during a bench-clearing brawl back in the 86 finals. Greg Kite is still mad about this.

B- A Brooks ($1): Boring FAAB pickup to fill Jack's IR spot. Just looking for a backup PG who can fill in, and I think he's the guy in Indiana this year to back up Teague. Already hurt, with mentions of him missing the opener, so I'll be quick to cut bait if the injury lingers. If healthy, can add a 3 per game, some points and not completely terrible FG%.

Really enjoy the opportunity to be in this league full of experts and true basketball fans—definitely my favorite league. If my core plays well, and injuries don't derail me, I think I'm gonna have a shot at this thing. Good luck everyone!

8
Hard-N-Tha-Paint
0-0-0
Waiver Adds Past Week:
FAAB Remaining:
$100
n/a
9
Scurry to the Left
0-0-0
Waiver Adds Past Week:
FAAB Remaining:
$100
n/a
10
Niko-Cola
0-0-0
Waiver Adds Past Week:
FAAB Remaining:
$100
Nik Stauskas Phi – SG $0
Niko-cola came into this season licking our wounds from a disappointing third season. We were very active pre draft in securing production for good prices considering inflation. Each year we see players get thrown back and then get drafted for $5-$10 more as a result of the aforementioned inflation. Knowing this we wanted to try and target some of the guys whose owners have soured on their performance, but would go for about the same amount in the draft if not more. We thought this would help with our roster construction and targets during the draft.

Here is where we started:

$1 Barton, Tyler Johnson, Vonleh, McDaniels.
$3 Crabbe
$5 Mirotic
$7 Tristan Thompson
$9 Otto Porter

The Trades

We made two trades that added a lot of salary, but should be assured production something we lacked a bit. We traded JB our $1 Miles Plumlee for $23 Monta Ellis. Scoring has always been a challenge for us and Monta should help. The second we traded $1 TJ McConnell and $4 Evan Turner for $37 Kevin Love. Same play different names this strategy seemed to offer some comfort going into the draft.

Now the draft! Personally I think this is the most anticipated event of the whole fall. The only competition is The Walking Dead premiere and now that we know how that turned out I like our draft better. Our goals were as follows:

Point Guard
Blocks
Scoring
Don't overspend on players late
Have a flexible roster spot for the hot free agents

Buddy Hield $32 it's a big price tag but he should have every opportunity to play in the walker filled Pelicans roster.

Elfrid Payton $29 post hype player and we think it's a great deal. Has anyone every said what is good for player development is Scott Skiles. Frank Vogel alone is a 5 win swing at coach and should be great in the locker room. We are looking for the realization of the hype from previous seasons.

Jakob Poeltl $17 looking better with the Sullinger news. This was our last buy and had $23 left to spend and probably would have gone all the way.

Zach Randolph $11 eh cheap production expect to see him redrafted next year.

Roy Hubert $7 super happy with this buy. He does not have to do much to earn that $7 for next year as well. The Hornets need him to protect the rim and so do we!

Joe Johnson and Alec Burks $5 each. Burks will sit on our IR providing us so,e roster flexibility early to jump on the hot adds. Joe Johnson deal production and the Jazz need someone to take the last shot why not Steady Joe?

Overall we were ecstatic with our draft. Discussing afterwards we thought this was our best showing to date. Now we will see if we were right in our picks and they yield a championship run. My co owner and I are off to Vegas to submit some NBA bets, enjoy the scenery and celebrate a wedding. Good luck to all of the owners and everyone else tipping off their season.

Cheers!

11
Heat Apologist
0-0-0
Waiver Adds Past Week:
FAAB Remaining:
$91
Walter Tavares Atl – C $9
We're finally here, the day before the season commences. I limited myself to three leagues this year – an RCL, a yahoo 250 and REL. I admit my draft prep was rushed this year, with almost all of it done when keepers were finalized. I knew who I was definitely not keeping, was on the fence about 4 players, and finally decided to keep them all, with Joffrey getting the final roster spot. I would enter the draft with $48 for 3 players. I have the luxury of having three starting top 20 PG, quite a luxury when there are 40-60 point guard spots to be played nightly. My wings are solid with Butler and Parsons (eventually leading that group), but my bigs are weak. Zeller, Olynyk, Sullinger, Joffrey, and KOQ. Tobias is my best big man and I am hoping for a big year from him. Plan A was Ibaka for ~$35, a $10-12 big, and a waiver player. But Ibaka had to go nuts the week leading up and he went for over my max bid. Plan B was to go with young/rookie bigs. Target one was Chriss, but he too had a phenomenal week and I was sure he was climbing to the $35-40 range. When guards like Murray and Dunn went for $35, I began to have hope he would be affordable. Then a Zubac level player and a waiver player. I was very happy to land Chriss for $28, allowing me to get two $10 players. Valentine is not a need, and he is ancient compared to Chriss, but I couldn't let him pass, and nabbed him for $7. Worse case scenario, he will be an attractive trade piece if my team comes together. With $13 left, I had one target in Siakam. I need boards and blocks, and more importantly, as I commented during the draft, I needed Sullinger insurance. Sure enough, Sullinger will miss some time and Siakam looks to be taking on a larger roll. I wasn't sure the Raptor fans would let him slide to me, but I was glad I was able to spend my last $13 on him. Apparently, I have become Toronto south, with Powell, Sullinger and Siakam.

With the first FAAB period, I moved Zeller to IL and looked to add another big. I was happy to see big Edy was available, and after some internal deliberation settled on $9. Being behind Howard and Tiago is a good place to be. Even in limited minutes, he should get a block a game. Per 36, he had 3 a game last year.

I have a high risk, high reward team, with "injury prone" players like Bledsoe and Butler along with currently injured Parsons (but not for long.. I just have to keep telling myself), Zeller, Sullinger, Olynyk and suspended Collison. If I can survive the first few weeks without getting bombed, and, like every team, remain or get healthy, I realistically believe I can contend for the playoffs.

12
Kap's Team
0-0-0
Waiver Adds Past Week:
FAAB Remaining:
$100
n/a
13
Hardenoutherr4apimp
0-0-0
Waiver Adds Past Week:
FAAB Remaining:
$100
n/a
14
Hoopus Alleyoopus
0-0-0
Waiver Adds Past Week:
FAAB Remaining:
$100
n/a
15
Pete Nice – Razzball
0-0-0
Waiver Adds Past Week:
FAAB Remaining:
$100
Jordan McRae Cle – SG $0
16
Foreign Affairs
0-0-0
Waiver Adds Past Week:
FAAB Remaining:
$100
n/a
Year 2 begins for my team and while it was abit abit of a bumpy road in year 1with some mistakes I like were my team is positioned right now going forward. In last years draft I had a middle of the road team so I went for a mixture of youth Mudiay$31 Willie Cauley Stien$20 MKG $4 and old vets Dirk $22, Kobe $15, Z-BO $21 and David….uhhh.. Lee $10…. to try and still be competitive but building for the future. After quickly realizing the best I could do was be mediocre I went into full rebuild mode which I'm still currently in, aiming to get younger and to get cheaper so that when my young stars are ready to compete I have the room to go after top of the line vets in that a future draft to make a run.

So I kept

PG`s D'Angelo Russell $30 Emmanuel Mudiay $31
SG's Jordan Clarkson $1 Andrew Wiggins $38
SF Michael Kidd Gilchrest $4
PF Dario (Game of Thrones) Saric $2 Derrick Williams $1
C Gorgui Dieng $1 Joel The Process Embiid $11
Util Austin Rivers $1 Sean Kilpatrick $1
I absolutely love this collection of guys going forward, Embiid went "Look at me, I am the Captain now" on this roster, sorry Russell, after what he showed in the pre-season and if he becomes the kind of player I think he can be I'll have a big to rival Towns for best big in fantasy in the next few years. Gorgui is a good running mate with Embiid because he's good at % and low on to's and he's already proven in REL that he's still valuable at $1 when getting his minutes cut, thanks Sam Mitchell, which I hope will not happen under Thibs.

Russell, Mudiay, Wiggins and Clarkson have my team in a great spot at guard going forward, Russell looks primed to make a massive leap now that Byron Tank Commander Scott isn't there to throw him under the bus all year, though he didn't exactly help himself at times eh Nick Young. Im annoyed with this whole Clarkson at 6th man or maybe starting sg sometimes thing going on but I think he'll be better then last season since he was better without Kobe and at his $1 price unless he's being benched it's hard for him not to be better than the waver wire every week in a league this deep. Wiggins and Mudiay are on the lower given there cost and production last year so I'm hoping for big things this year otherwise there going to end up as players i'll be looking to move before next draft.

MKG and Dario are big question marks for me since one missed almost all of last year to injuries and needs to show that improved shooting that was talked about if he's going to be an important piece moving forward, and Dario wasn't here last year. Thanks to some bad Sixers luck breaking in my favour I get to watch Dario with a full complement of minutes so i'll get a good idea what he's like as a player at the nba level.

Derrick Williams is here still for the hope that he can take the opportunity opened up with Bosh/Deng/Joe Johnson/Wade gone from Miami and use it to establish himself as a starter level player in the nba. Austin Rivers is kept around because his competition for 6th man is Raymond Felton and Jamal Crawford and Doc says he'll start at sf in some matchups, plus Paul has a player option after this season so if he chooses to leave he's the heir apparent. While the Nets are a mess on the wing and Kilpatrick was a good pickup from the wire for me to end last year so I felt i'll keep him around and see how he does this year, he's most likely to get dropped if he falls out of the rotation and someone pops up on the wire

I Let go of
$3 Iman Shumpert (absolutely useless last year)
$1 Joe Young (didn't make enough improvements in summer league and pre-season)
$1 Jodie Meeks $1 Quincy Pondexter (both still recovering from injury in crowded rotations)
$1 Lucas Nogueira (Gained by IR spot being used thus extra player needing to be let go and Raptors don't seem excited about him)
$1 Donatas Montijunas (back issues still…..still isn't signing his nba contract don't got time for this)
$1 Tony Snell (******************** drop him because he wasn't going to play on the Bulls then gets traded like 2 days later where he'll probably start for the Bucks, He went for $16 this draft though and he's clearly just a filler for Khris Middleton so that helps alleviate how upset this made me since he would have been an excellent trade piece)

I had $79 for one SF spot and five bench spots heading into the draft.

After feeling like I wasted my money last draft I was very cautious this time around. Probably far too cautious since I had $33 unspent at the end of the draft lol. But I'm glad I didn't let myself over pay on some players in the last few rounds because of that extra space, I'll just use it on a player I don't want to miss next year ala Slim and his $35 Kris Dunn.

I felt that my team needed to improve in frontcourt depth and this year had a lot of young options there so I felt I could do that for a good price while right now 6 of the projected top 7 for next years draft are guards/wings so I can target that next year.
My draft was
Dragan Bender $22: I've been very high on him since my initial look over of this years draft back in Febuary. And he was my number 1 target entering this draft. I'm actually glad he has had a terrible summer league and pre-season because I think that helped lower his price unlike $28 Sabonis 🙁 He's the youngest player in the NBA and thus his body doesn't look ready yet so they've been having him sit out on the perimeter alot which I think is why he's struggling so much. I didn't draft him for this season though and my hopes is he can turn into a junior version of the Poison Goose.

Ivica Zubac $15 Rode the pine almost all of pre-season but that summer league 10-7 and 2.6 blks on 64% and 81% shooting in 23.2 minutes has me all in on Zubac. The news from the Lakers has been promising with his teammates excited about him and Walton admitting that he would have liked to play Zubac more but he wanted to focus on getting "prized free agent signing" Mozgov and Black comfortable with the team. I don't buy the idea either of those two are the future for the Lakers so I wasn't out on a cheap center that can block and hit his free throws.

Skal Labissiere $5 The Kings suck..looking up info about Skal on the Kings is digging threw a pile of Rudy Gay/ Cousins/Mclemore trade rumors and attempts to explain Ty Lawson M.I.A's I expect the King to eventually just stop this charade and start over and that will be Willie and Skal in the frontcourt and I think they complement each other well. Skal was terrible in college last year but in terms of talent he was in the ranked in the Simmons and Ingram tier coming out of highschool. He seems like a really good kid who understands what happened last year and is motivated to prove he isn't already a bust. For $5 I think it's a good roll of the dice for someone who's fantasy game to me looks like it can be Ibaka's

Kay Felder $1 I have no idea how no one bid on this rookie when I put him up. I didn't want a pg this draft but i'll take Felder at this price, Coach Lue has said he already won the backup pg job, Delly and Mo Williams are gone, Kyrie is not a bastion of health and GM Lebron likes him. In a league this deep those kind of minutes at this price is very valuable.

Glenn Robinson III $2 I needed one more sf coming out of this draft and since I stupidly let $28 Jaylen Brown go here's my consolation, he's played well this pre-season and seems to have earned a spot in the rotation, plus it sounds like C.J. Miles isn't playing anytime soon so Im hoping he'll keep it up and turn into a trade asset this year (Sean Kilpatrick+Glenn Robinson anyone?)

Ante Zizic $1 Finishing off my draft is round 2 of my Dario Saric overseas holding strategy. I saw yahoo was going to let him be drafted so I built my late round draft strategy on nominating guys other people would want, thanks guys for bidding, so I could get as many people out as possible before putting him up in hopes no one still bidding would want a draft and stash. I think Ante comes over next year Amir will be gone and Kelly Olynyk isn't very threatening. He's 19 and averaging 21-9 and 1.7 blocks on 70% and 82% shooting right now in the Adriatic league in 33 minutes with low fouls. That's the exact kind big I want on my team and well worth the wait.

Im happy with my draft though I wish I had been more aggressive earlier. I'm pretty sure my team will be outside the top 12 this year given I only got 16th last year because of my middle of the pack start, but if Russell, Wiggins, Mudiay, Clarkson, MKG, Derrick Williams and Dieng all make solid leaps this year and Embiid continues at this pace I could turn into a real tough matchup towards the end of the season teams fighting for the playoffs, I think I'll be to far back to make the playoffs though but will have to see how my team handles those first few weeks of the season.

17
Cigar Smoking Monkey
0-0-0
Waiver Adds Past Week:
FAAB Remaining:
$100
n/a
18
The Nature Boy
0-0-0
Waiver Adds Past Week:
FAAB Remaining:
$100
n/a
19
No Glove No Love
0-0-0
Waiver Adds Past Week:
FAAB Remaining:
$98
Justin Hamilton Bkn – PF,C $2
20
The Chosen Ones
0-0-0
Waiver Adds Past Week:
FAAB Remaining:
$100
n/a
Well here I am at the start of my second year in the REL. I feel much more prepared this year than last. The league is so crazy deep just getting familiar with the expanded player pool has taken a while. I still need to work on team building and values for a league this deep but one step at a time.My draft went ok. I only had 4 spots open and 81 dollars to spend. I told myself to be aggressive early but for some reason I passed on what I think will be some nice values. I ended up with Jamal Murray (36), Wade Baldwin (13), Solomon Hill (6), and Justin Anderson (24). I wanted to get either Dunn or Murray coming out of the draft. I had Dunn ahead of Murray and was disappointed that I had to pay 1 buck more for Murray than Dunn's price. I do like that both of my rookies shot the ball well in college. In today's space and pace game shooting helps keep you on the floor. I will need Baldwin to develop in the next few years since point guard is my weakest position. I liked the 6 dollar cost on Hill. He should play a lot so that price should be good for a few years. I had some computer issues during a couple picks in the middle of the auction and missed out on a couple guys I really liked. Once I got it settled I went and got Anderson. It is an overpay but I only had one spot left and quite a bit of money. I think he will have a good year let's hope it's a 24 dollar good year.

As for my keepers I like my young core of guys in Parker (38), Griffin (24), Booker (12), Lyles (6), Len (1), and Nance (1). I also have a couple of guys in a show me year in Hezonja (15) and Kaminsky (11). The balance of my keepers are cheap guys who should be getting good minutes this year with Waiters (7), Beasley (1), Moore (1), and Leuer (1). I also have Richaud Holmes as a 1 dollar keeper. He's a guy who need a trade, maybe 2 to really help his value but I think if he get's to play he will become a valuable guy.

I've already put Len, Waiters, Kaminsky, and Beasley "on the block". My team is could use a point guard but I know I'm still rebuilding this year so I won't be in a big hurry.

Good luck everyone.