Nate McMillan played 18 minutes before leaving with an as-yet unidentified leg injury. Frankly, I think it hasn't been identified because it doesn't exist. I think Mac wanted attention and Lord knows he wasn't going to get it on the Supersonics – the best team that no one really wants to watch. This won't affect the Sonics a fraction as much as it will affect McMillan owners. He'll miss anywhere between 1-4 weeks depending on what the injury is. Either way, if you haven't pushed away your Apple IIe to go pick Xavier McDaniel off the waiver wire only to stop dead in your track to realize that you still need your computer to pick X-Man off waivers – you should go do that now.
Let's keep the cattle drive a-ramblin'. Here's what other fantasy basketball happenings happened in fantasy basketball last night:
Kevin Edwards – I've mistyped his name as "Kelvin" three times in the last week. Some names choose the people they belong to, not the other way around. I've already made the sign, "We measure our Heat in Kelvins," and that sign is too great to start calling him Kevin now.  Anyway, Kelvin is averaging 32 mpg/17.5 pts/ 3.5 rbd/ 2.5 ast, after franchise's first two games.
Kelly Tripucka – The Hornets gained their first franchise victory last night as Hell'n'Kelly scored 24 points, which is about what one assumed they were getting from the only known quantity on the expansion franchise. Still, it's a little unsettling for Tripucka owners that thought he'd be eating at a table for one all season, that rookie Rex Chapman scored 16 points in 27 minutes Tuesday. Chapman strung together a nice handful of games in the last five days and anything that makes Tripucka's hair stand even further on end is okay by me.
Kurt Rambis – 17/14 last night. He's shot over .750 from the floor in two of his first three games and scored at least 16 points in two of the last three also. As it's becoming clear I have no idea what kind of talent is on the Hornets roster, I can only say the situation in Charlotte is worth watching. Or not. See if I care.
Ken Norman – Checked in for 34 minutes and ended with 15/15, and two blocks. No one whose name started with anything other than K was allowed to play basketball last night.
Quintin Dailey – 18 points in 23 minutes. Man, if Dailey could find 36 minutes per game, he'd be averaging 22/0/5 so far this season. Remember this if Norm Nixon goes down for any extended time. If "ifs" and "buts" were candy and nuts, we'd all have … something, something. Let's assume "we'd all have Quintin Dailey on our fantasy teams."
Johnny Newman – J-New has scored 19, 19, 35 in his first three games of his junior year. This would be one helluva denouement if this were Newman's last season; as it appears his career is just about to get huge, call it his J-Newement.
Reggie Miller – The skinny sophomore has scored at least 19 points in every game so far and swished at least a three in his last two. He's averaging over 33 mpg so far. Can you guess how many other second-year players can say that? None. Eat it with a spork.
Wayman Tisdale – 24 pts in 24 minutes from the bench. Rostering him wouldn't kill you, but give him the skunk-eye if you do. Just in case.
Moses Malone – 18/22, with 4 blocks. He's like Rain Man. He also shot .286 from the floor, which is like the hat water burning baby.
Roy Tarpley – You can either have the Roy Tarpley that pounds in a 13/12 double-double, with a trio of steals and a pair of blocks or you can have the Roy Tarpley that doesn't commit 6 turnovers and five fouls. But you cannot have both.
Joe Barry Carroll – Fuzz Barry Carroll scored at least 19 in two of his first three, double-doubled in two as well. After averaging just 13 ppg last season, I'm guessin' J.B. is O.K.
Kareem Abdul-Jabbar – He's missed double-digit points in two of his first three games, while shooting .440 and averaging just 25 mpg. Orlando Woolridge did a lot of the cleanup duty, thanks to Kareem making him look good by comparison. Cap's been making teammates look good for years … it just didn't used to be at his own expense.
L I N E   O F   T H E   N I G H T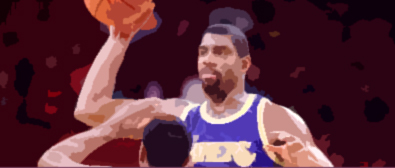 .625/ 1.000/ 0 3ptm/ 22 pts/ 7 rbd/ 18 ast/ 2 stl/0 blk/4 tov
Magic Johnson – They say he tried last night. Honestly, I don't know that he did. Otherwise, he would have made his one three-point attempt.