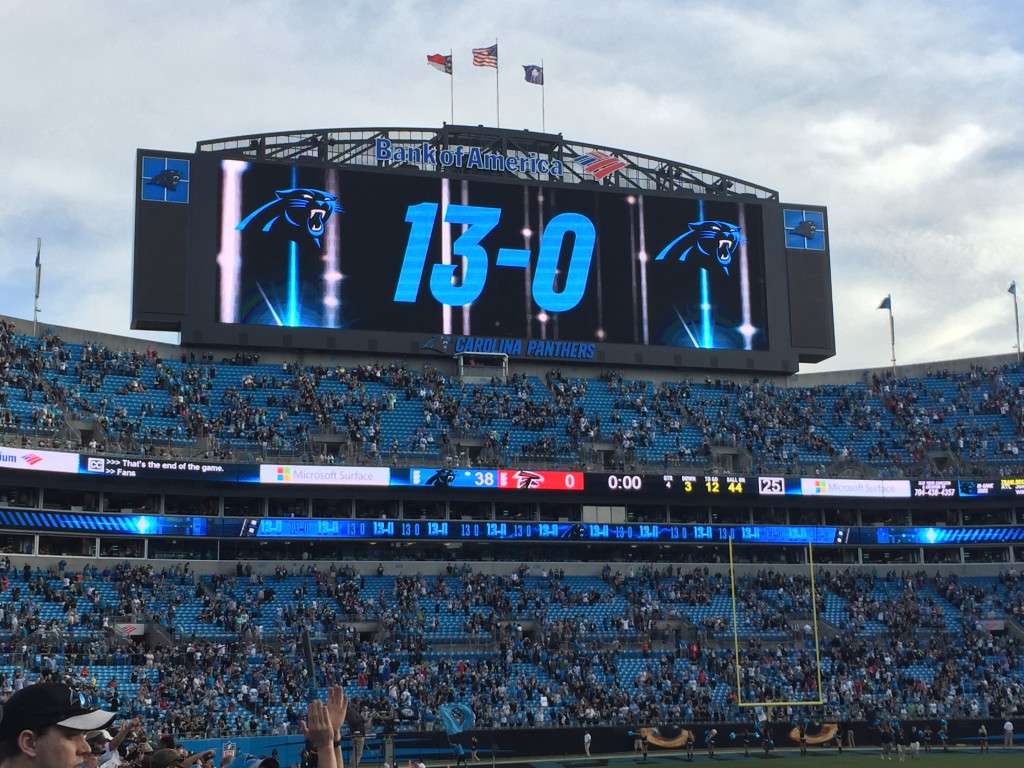 Woooooooooooo!  I don't need to say much more than that, other than what about this weather here on the East Coast over the weekend?!  I got friggin' sunburnt!  At a football game in mid-December!
While we continue to watch history for the Panthers franchise, we witnessed history come to an end Saturday night, with the Warriors losing at Milwaukee to move to 24-1.  Those fans wearing the 24-1 shirts were ballsy!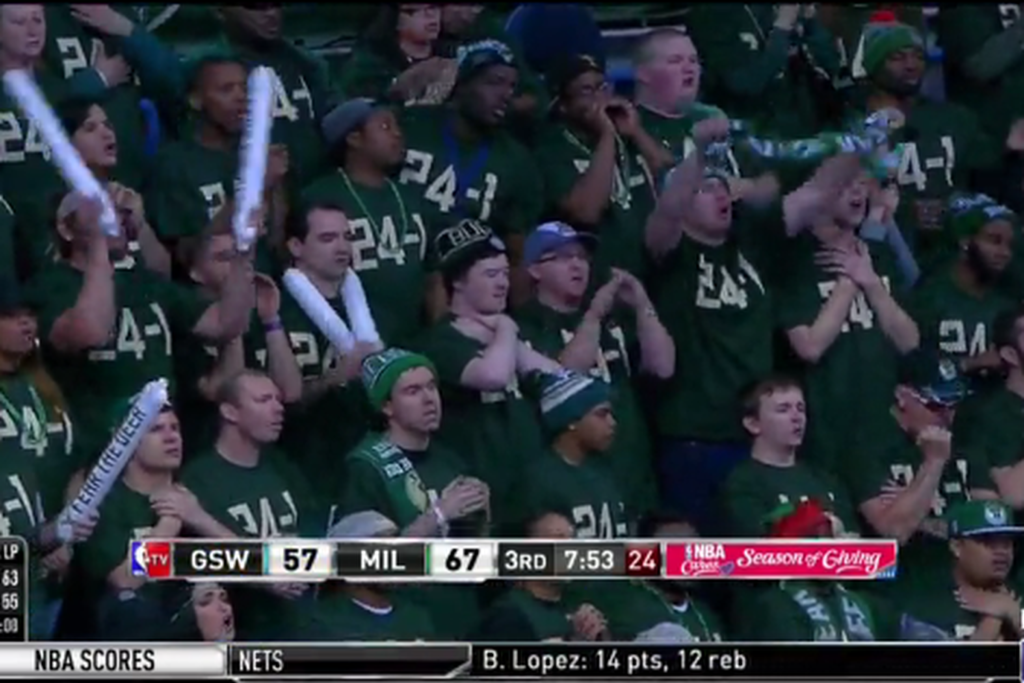 Most of them don't look like they have undershirts, they would be pretty stupid-looking if they lost!  Now I'm no fan of the Warriors (look at their paltry .960 win % vs. my Panthers 1.000! – and I don't mean that to sound like I'm not a fan, I don't really have a big home-team fandom), so during this whole streak and its impact on real-life NBA, I've been more obsessed with the fantasy stuff.  Ya know, Stephen Curry's 3s and Draymond Green being a PF deity.  In that 2OT triller against the Celtics, DrayDray went 24/11/8/5/5 in just an epic 2.5 rainbow performance.  Approached a triple-rainbow!  According to Rotoworld (a site that's awesome for being able to pull research in the history books vs. my lack of even properly communicating which team won a game sometimes…), first 5×5 since Nicolas Batum in 2012 and only the third player to go 20/10 + 5×5 in the past 40 years after Hakeem the Dream and Derrick the Knee.  I'm a little jaded with DC since I used to be a big Hornets fan the first time around, and he was terrible and fat.  Then hurt his knee (yet again!) on that dumb Pros vs. Joes show (hilarious though!  hurting it against average joes!), but sadly I could only find the promo.  Anyway, #OccupyDraymondGreen has pulled yet another article-lead with his multi-cat game, and didn't even come down too hard in the Saturday loss for 24/11/5/1/1, given a fluky 6 TO.  At 13.9/8./7.0 and still improving every season, maybe he can go full Oscar Robinson and give us a season of the O face.  Speaking of Os, 13-0!!!!!!!!!!!  Man, what a weekend…  Here's what else went down in fantasy hoops action, plus The 7 Ahead for week 8:
Monta Ellis – Broke out of his Slim-coffin (he buried him Kill Bill style), for 24/4/6/6/0 against Slim's Heat (irony!) with 4 treys.  11/1/3/2/1 coming back down against the Pistons, but only 24 mins in that one in a blowout.  I expect him to get back on the moped this week.
Iman Shumpert – Returned for the Cavs, and surprisingly wasn't rusty at all going 14/3/0 on 5-7 shooting with a pair of treys.  Not really that interested in him though, other than haircut tips.
Aaron Gordon – Woooooo, finally minutes!  And, ummmmm, yeahhhhh…  6/4/2/0/0 in a ridiculous 31 minutes, playing some junk time of a blowout.  THIS IS WHERE YOU WERE SUPPOSED TO SHINE!  All his points were on a pair of treys which was nice, but the 3 TO was naughty.  He's getting coal in his stocking.
Kendall Marshall – Picked up a start in his season debut against the Pistons, going 5/1/6 with a trey in 16 minutes.  Tony Wroten sat that game with his knee maintenance, but also sat last night.  And just to keep the musical chairs frustrating (Brett Brown plays it to Taylor Swift songs), T.J. McConnell started Sunday and only played 12 minutes.  Yeah, you want none of this.  If you're thinking about adding one of these schlubs, shake it off.
Nerlens Noel – Needs to be better about shaking off injuries, that's for sure!  I keed, he took an elbow and it scratched his cornea and had to go to the hospital.  Yikes.  No way he's playing tonight, so if you're considering an early week stream, Jerami Grant should get back into the starting 5.  How many minutes he plays is up to Brett Brown's dart board.
Kelly Olynyk – Boooooo, so I knew I added him in a couple RCLs early Saturday morning, but it was for Sunday's slates and not that epic game against the Warriors!  I was kinda hoping I had added him Friday…  28/6/3/3/1 with no TO in 37 minutes, shooting 11-21 with 3 treys.  Then after his ascension, fell completely back down to Earth for 8/4/0/0/0 against the Hornets.  Olynyk of Nazareth needs better sandals.
Isaiah Thomas – Ridiculous.  Slim – thanks for talking him out of my top 50!  Back-to-back dubdubs and dimebags, going 18/6/10 against the Warriors then 21/5/13 against the Hornets.  Saucy pizza.
Evan Turner – The bench played some crazy-good minutes almost beating the Warriors, with Miss Turner going a rainbow 13/9/6/2/2.  Ello, Poppet!  But like Olynyk, back down to Earth (yet not as hard a fall) for 10/2/3/1/0 against the Hornets.  Meh, I know he's been usuable the past 7, but I've never been a big fan.  Once Marcus Smart is back, it'll squeeze out even more value.
Tyreke Evans – Reke is killing it!  I wonder if he's actually Theon Greyjoy, and got conditioned to be awesome at basketball…  27/7/4 and 22/3/8 over the weekend, hitting a combined 7 treys and shooting a combined 50% from the field.  Maybe his knee surgery actually worked, and the Pels med staff did something right!
Nikola Jokic – Had a nice 19/6/4/1/0 line against the Wolves with a trey, showing his wasted potential in a bench role.  Especially frustrating after Malone said he had "earned a starting job", only to bench him the next game.  I still can't get behind any Nugs C…
Emmanuel Mudiay – The rook been kankled…  Played only 12 minutes against the Wolves, and apparently it was bothering him before the game.  Way to make your prized rookie play hurt in a tanking year, Nugs!  Jameer Nelson shined off the bench, playing 37 minutes and going 20/6/7/1/0 with 4 treys.  Likely starting tonight and worth a look, even with some risk of being Beverley'd.
Jon Leuer – Continues to be fringe-usable, with 13/8/0/1/0 and 12/3/4/2/0 over the weekend with Markieff Morris getting DNPs.  Leuer also doing it mad efficiently, shooting 12-17 FG in those games with only 2 combined TO.  Both of those stats were Kieff bugaboos.  They really need to have him bugaboo-ing another team…
C.J. McCollum – Yeah, yeah, yeah, had a great Friday, but his steals binge ended with a 22/3/1 ThrAGNOF game against the Knicks with only one trey.
Meyers Leonard – At least my slamming of THIS Blazer is looking right!  You guys ready to move on from this one yet?!
Danny Green – Ugh, speaking of moving on, looks like Green is in the drop zone.  I had a commenter in Summer yell at me for NOT having him top-50.  Ouch, that woulda hurt!  If you don't have any other stashes, I might hold on, but even in 12ers I think it's OK to let go…
D'Angelo Russell – Had a nice Friday for 24/6/6/2/0 with 5 treys, playing well with Jordan Clarkson on the shelf.  But got Beverley'd against the Rox, going 12/0/4/3/0 on only 5-14 shooting.  Still, D'Angelo is playing better than I thought.  Clarkson is likely to miss a few more with his kankle, so D should get a few more games to make Avon proud.
Jarrett Jack – "Wahhhhhhh, I'm doing just fine, yet all anyone wants to do it talk about how sexy Shane Larkin is!  I'm Jarrett Jack!"  Well, Larkin got poked in the eye, so Jack three-stooged his way to the big minutes for 16/5/11/1/0 against the Clips, with a trey and 7-9 FT.  Jack's been fine, despite a lot of people's immense hatred.
Kentavious Caldwell-Pope – I had to rub my eyes to be sure I was seeing this one right!  Oh man, I'm ready for a week-long vision quest with my addiction spiking like this!  18/7/8/4/1 on 5-12 FG (2-5 3PTM 6-6 FT) in his best overall game as a pro.  Unfortunately, it was against the Lakers…  Fine, I'll cut down my dosage a little bit…  NEVERMIND, I'M BURNING THROUGH IT ALL, WHO ARE YOU TO TELL ME WHAT I CAN AND CAN'T DO!!!!!!!!
Aaron Brooks – Got hot against the terrible Pelicans, scoring 15 4th quarter points but not doing much else.  He's actually scored 9+ Pts in 7 of the past 9.  More deep league usability than I thought…
Terrence Jones – Well, got the Lakers on the slate, and was a decent 9/9/1/0/3 with a trey in 23 bench minutes.  JB can suck my Bickerstaff!  Clint Capela was also solid, going 11/10/1/2/1, but that awful 1-4 FT…  If you want clarity in this situation, Clear Eyes is awesome!  All the advice I have…
Bradley Beal – Ohhhhhh boy.  And you know, I just talked up how I underranked him, but completely forgot a big argument for my low rank was the injury concerns.  Diagnosed with the "beginnings" of a stress fracture in the leg again, and will miss at least two weeks and face minutes restrictions when back.  It's been speculated he's out until January, so really there's not much you can do but hold and hope for the best.  Last time this happened he was back and was fine, but with this being the third stretch out with the issue (I think…?), you have to be concerned.
Otto Porter – Got hot getting some extra shots with Beal down, going 28/6/3/1/1 on 11-18 FG (4-8 3PTM 2-2 FT).  Porter should be a stout player while Beal is a pumpkin spiced seasonal…  All the beer I could work in right there!
John Wall – He's awesome.  Why I got a comment slamming him I have no idea…
Raymond Felton – Whoa, what in the hey happened here?!  Last Monday I said he had the most unlikely dubdub of the weekend, then this past weekend he tripdubs!  10/11/11 in a loss against the Wiz.  Actually staying usable for 12ers for the time being!
Giannis Antetokounmpo – Speaking of tripdubs!  11/12/10/1/4 to out-Draymond Green for PF-awesomeness in the Bucks win.  Had that little lull at the end of November, but back on track.
Kristaps Porzingis – Yeesh, the added pressure of being The Poison Goose is making him loose his poison-ness!  0/3/0/2/0 on 0-6 shooting against the Blazers in 19 minutes, but I'm not too worried.  Bumps for the youngun.  I expect him to get back on track if you want to float some buy lows.
Zach LaVine – Wolves looked pretty bad at the Suns, minus LaVine carrying the offense for 28/2/2/1/0 on 10-19 FG (3-4 3PTM 5-5 FT).  Looks like he played virtually no minutes with Ricky Rubio.  I'd like them to go back and try that LaVine at the 2 again…
Matt Barnes – Woooooo, stream of the week for me!  Added him in a couple of RCLs and got a 13/13/4/2/1 line with three treys.  Interestingly, it was as a starter and the Grizzlies are going to apparently play Zach Randolph off the bench for a while, even though he's played pretty well for fantasy.  However in real-life ball, hasn't been able to guard the stretch-4s as well.  Maybe this opens up some pace for the Grizzlies, and Barnes is definitely in the 12er consideration range now.
Alec Burks – We've been sticking with it all year – Burks is must own.  Now your starting PG (about friggin' time!), Burks went 21/5/3/1/0 on 8-22 FG (2-3 3PTM 3-6 FT).  The missed FT seem fluky and you'd like a better FG%, but only 1 TO and that's a solid part of his game.  Raul Neto, ya know, the guy starting but barely playing got a DNP, so hopefully this sticks for Burks – either way, must-own.
The 7 Ahead
5-game week: n/a
2-game weeks: Golden State Warriors
Weekly League Streamers (by Y! ownership percent/games this week): Dennis Schroder (14%/4), Mario Chalmers (12%/4), O.J. Mayo (28%/4), Cory Joseph (13%/4)
Stream days: Tuesday, Thursday
Overall Thoughts: Another week with no 5-gamers, and another week where I'm too lazy to change it to all the 4-game teams haha…  But alas, almost all teams are on 3 or 4 game weeks, with only the Warriors on a sorely needed two game week.  No way you can bench Curry in weekly, you're probably leaving in Dray, but the rest seem like bench candidates.  Apparently I only like guards this week as streams, but they were the names that popped out to me.  Schrodes gets the Sixers and a nice Sunday situation as detailed below, Chalmers plays WAS @CHI @DAL IND for a slate with some pace and a lot of guard play, Mayo remains a streamer for me since he's still playing due to injuries but has a nice slate, and Cojo remains a nice 4-game streamer with a solid slate.  Should be a nice week in weekly for your guard stats with those guys widely available.
Monday: A very heavy Monday kicks off the week, with 6 of the 8 teams playing last night playing the second leg of a back to back (MEM, MIA, PHI, PHO, TOR, UTA).  Keep an eye on the vets/banged up guys there.  DEN and HOU head into b2bs; Dwight Howard played through a DNP last week but with fewer minutes, so monitor his PT.  As mentioned above, Jameer is getting a start and should give a few stats even if he's Beverley'd, [email protected] should be an awesome matchup of the FT-punt titans, and you gotta love your Bulls with PHI coming into town off the b2b – but wouldn't be surprised if the minutes are cut a little short.
Tuesday: Uncommon short-slate Tuesday, with only 8 teams in action – [email protected], [email protected], [email protected], and [email protected]  BOS, MIL, MIN are all heading into b2bs, so if you're early streaming, watch out for some potential lower minutes from those guys.  LaVine off the hot game gets a saucy matchup, and with the Wolves on the b2b, I wouldn't be surprised if he got unleashed again.  It's not really a "revenge" game, but Omri Casspi vs. his former Rockets could get a look, especially since he's playing 40 mins every game.  Then finally your streamable Bucks are all worth a look, specifically Mayo as a weekly pick for me as well.
Wednesday: Back to the full slate, CHA and OKC are your only teams heading into b2bs.  Not too much to worry about with streaming with only 6 teams off, so you're riding your studs and keeping your streaming spots warm until the big stream day of the week:
Thursday: Very light 3-game Thursday.  We've got [email protected], [email protected] and [email protected]  Only TOR is heading into a b2b, but I don't think there's much to worry about there.  Starting in LA, you've gotta love your Rockets there.  As mentioned above, Tjones didn't distinguish himself that much in the LA matchup over the weekend, but I might try him again.  Patrick Beverley needs to be owned in most leagues, but if he's somehow out there, you gotta love the matchup.  I hope Dwight gets booed…  Not too much in the [email protected] game, I don't think your usual big man stream of Steven Adams pays off much, maybe you roll with Dion Waiters and hope he gets hot vs. his former team.  Finally in Charlotte, I just have a feeling this could be a nice Jeremy Lin game.  The Raps will be playing their usual big mins for Cojo, but I see it benefiting Lin and his awful slicked-back haircut more.
Friday: Again we're back with the monster slate with only 6 teams off, so you're loading back up with your studs.  CHA, IND, LAC, MEM and NYK head into b2bs, so if you have some tough line-up decisions, maybe you leave out vets from those teams.  GSW gets a revenge game hosting the Bucks.  Over/under a 25 point win?
Saturday: Well, I guess Saturday might actually be a bigger stream day than Thursday.  5 games on the slate, with no teams heading into b2bs.  So no Sat/Sun stack streams this week.  Keep an eye on the rest of his week, but Aaron Brooks had that hot game and goes against the Knicks who like to play a lot of guards, maybe he's worth a ThrAGNOF stream.  You'd think [email protected] effectively kills Pacers streams, but with Randolph off the bench, maybe your Pacers do just fine.  LAL is @OKC, here is your big Waiters game.  I bet even D.J. Augustin in deeper leagues would be worth a gamble.  [email protected] should be a lot of fun.
Sunday: We wrap up the week with a little bit of an unusual 7-game Sunday slate, so you're really streaming heavy over the weekend.  ATL, BKN, MIN, ORL, PHO, POR, and SAC are all heading into b2bs, so double check your vets and weigh potential lower-minutes from your guys on those teams.  I like Dennis Schroder at ORL to get some run with the b2b in mind, and any of your ancillary Cavs deserve a look hosting the Sixers.  Tristan Thompson is a nice dubdub threat.  [email protected] is an atrocious game but should get some nice stats, and I just have a feeling Gerald Green and Tyler Johnson (if healthy with that shoulder sprain) have biguns at home hosting the Blazers in a blowout.
I hope everyone had a great weekend and a solid week 7!  Time to bear down, prep your teams for a busy week 8, and try to not let the stress of holiday shopping eat into your fantasy hoops time…  Good luck in week 8, Razzball Nation!