So when I approached JB about returning to the Razzball fold, my first suggestion was to do something on wing players. As any veteran fantasy hoops junkie knows, the dudes with the SG/SF designation are superly dooperly useful. Most teams have multiple non-PG and non-PF slots, plus you have the UTIL slots. Old-timers have some fond memories of crazy Latrell Sprewell, a member of the Wing Hall of Fame, and conveniently forgetting how he choked P.J. Carlesimo so you didn't feel bad about clicking him into your lineup.
Anyway, some other ideas were floated to JB, but he wouldn't give up on the wings. I began to wonder if his obsession with the concept had anything to do with basketball.
It started with an email where JB confessed to being hungry for wings, then continued with mentions of wing sauce, wing hotness, wing bones, wing grease on hairy chests, wing-covered women's underwear, and then finally an email in 200-point type that said "ME LIKE WINGS" with this image attached: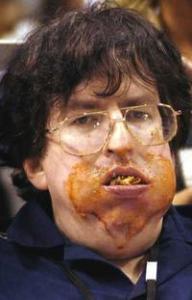 Finally, I got the memo, so here we are.
James Harden – The King Wing said he felt like he was in "mid-season form" heading into 2014-2015, which sounded bad at first. Was he gassed already? Did he find Slick Watts in his beard? Naw, he was just feelin' real good is all, which became evident when he effortlessly dropped 32 on the Lakers on opening night, including six dimes and 15-16 (!!!) from the charity stripe. He followed that up with two games where he continued to score but also tinkled all over the stat sheet with boards, assists and even a few blocks. This is especially scary, since over the course of his career, Harden doesn't start heating up until around February. He's Three Mile Island.
Kyle Korver – Ten years ago, when the Sixers drafted Kyle Korver, there were questions about whether he would even survive in the NBA. Watching dweeby Kyle launch bombs while A.I. was at the peak of his powers was just ridonc. Flash forward a decade, and Iverson is playing the Vegas circuit (sorry) while Korver is starting at shooting guard for the Hawks. And doing so as much more than a three-point specialist. Even still, his value will fluctuate depending on real-life needs. If the Hawks start to gel and don't need Korver to try and get 20 – which they shouldn't – his fantasy value will go down. Sell high on this hot wing.
C.J. Miles – The Pacers have got to be experiencing a big ol' case of the eff-its. No Paul George, no David West,  no C.J. Watson, no George Hill, Roy Hibbert is still there, so what's the point? None of this matters to C.J. Miles, who fires shots like an Al Swearengen henchman on dope. This is good news for those in five-CAT leagues that don't count percentages, because C.J. will get you points and three's and a steal here and there as long as he's starting. But his FG percentage will be abysmal – in his first three games he had 38 points on 42 FG attempts – and he doesn't shoot FTs well enough to be a tasty wing. Frozen honey barbecue wing.
Evan Turner – (In Drunk Uncle Voice) "So I'm a draft bust, OK? I'm not NBA Y2K material, OK? I'll never be Snookie of the Year … That's not me." That's not anybody. But what Turner is, at the moment at least, is a poor man's Andre Iguodala. He can get you 10 points, a handful of assists and rebounds, maybe a steal or possibly (but not likely) a block. Someone gets hurt, however, and he's a store brand Andre Iguodala. And, no, that's still not very good for fantasy, but he's not a bad wing to have in a deepish league. He's weird, like a Pineapple Thai Wing.
Kyle Singler – Wacky Stan Van Gundy is starting this third-year goof because, well, because he's Stan Van Gundy. As such he's going to get some minutes, and he's going to get some shots, because no one is going to guard him. How many he makes is anyone's guess. Hooters wing, a little undone.

Joe Johnson – There comes a time in every fantasy draft where you just have to draft a guy who you do not want to draft. If Joe Johnson is sitting there in the mid-to-late rounds, and you're hard up for a SG/SF type of guy, you have to take him. On Saturday night, you were feeling pretty good about that, as J.J. poured in 34 points along with 8 rebounds and 6 assists in Detroit. I'm pretty sure this was after a reporter asked Johnson about retiring, and he wasn't exactly poo-pooing the idea. The Nets will be rancid this year, especially with Brook Lopez out (again), but Johnson will get his points and three's. Three-day old wing – still good, but still three days old.
Kawhi Leonard – You heard it here last: The 2014 Finals MVP won't sign long-term with the Spurs and is testing the market in the offseason. Many experts are saying this means he's going to have a big season in a contract year. It's just one game, but 6 points and 8 boards (Friday against the Suns) ain't the best start. I'm most worried about the fact that Sugar K always seems to have this bored look about him, like he's being forced to do this somehow. Makes me wonder if he's got the goods to turn on the juice and be the bomb-biggity for the whole season. Non-drum stick wing.
Lance Stephenson – There's a lot of hype going around for a guy who's famous for feeling up LeBron (And getting in fights with teammates and other players. And beating people up. But anyway.). It's not like there's a Big Three-type stat share going on in Charlotte, but does anyone see Lance stealing any buckets from Kemba Walker or Big Al Jefferson? He'll get the hustle stats – at least when he's not being benched like he was on Saturday – and as long as he's cool with that things will keep, er, buzzing. Otherwise, Stephenson might put on some Luther Vandross and try and give Steve Clifford a hickey. Steakhouse wing.
Andrew Wiggins – Right now he's just a SF, but it's only a matter of time before he gets the SG designation. At least I think it is? This is what Yahoo says about position eligibility for fantasy hoops: "There are no set criteria (minimum number of games, minutes at a new position, etc.) for position eligibility. A new position will be added when our data provider determines that a player's primary position has changed, or he is logging sufficient playing time at a secondary position to warrant adding that position to their eligibility." Uh, OK. Either way, he'll be getting some big minutes soon enough, and will produce at that time, so yeah I'd try and trade for him as he struggles early on. Spicy Cajun Wing.
Mike Dunleavy – He's 30 percent owned in Yahoo. These Neanderthals realize it's 2014 right? They know this isn't Mike Sr., right? Wait, what? Tom Thibodeau is starting Dunleavy over Taj Gibson and Doug McDermott? Er, ah, nevermind. I mean, he did almost have a triple-double the other night, but even Alexey Shved can have a big night this early in the season when the dust hasn't quite settled with rotations. At least you ESPN ballers have your senses about you – he's 2 percent owned over there. Turd-flavored wing.