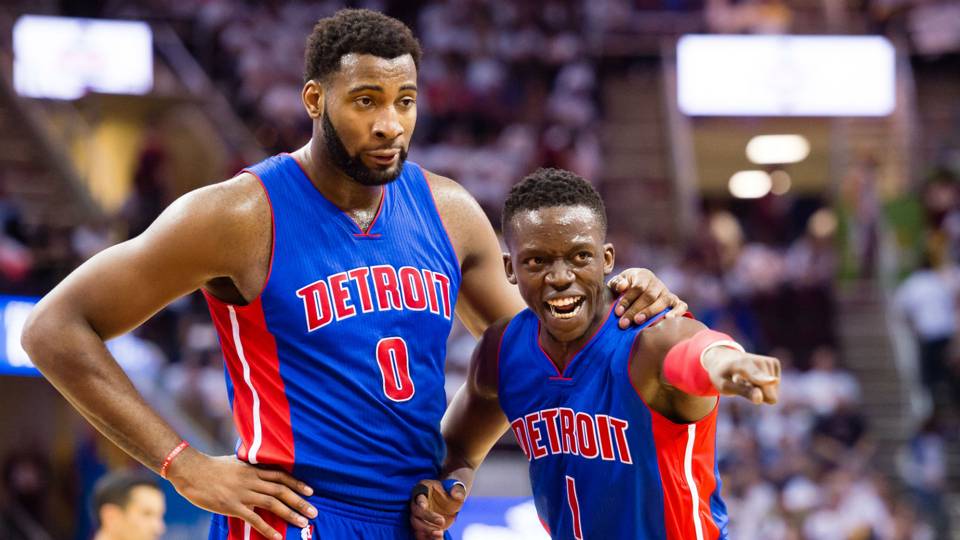 Sorry Andre, but there is breaking news: Joel Embiid will have surgery to fix an orbital bone fracture and will miss at least 2 games but could be out as much as 4 weeks. I would wait to hear something more sound before dropping him, but it definitely makes Richaun Holmes a nice pick-up. Ok, back to your regularly scheduled recap:
Andre "Beast Mode" Drummond had his old school ground and pound game working last night as he led the Pistons to an 11 point win over the playoff-bound Washington Wizards. Even without Blake Griffin, who went through warm-ups but could not play and is now headed for an MRI on his injured ankle, the Pistons were able to blow the game wide-open in the 3rd quarter mostly because of Drummond's pure dominance in the paint.
Andre put the beat down on Marcin Gortat and Ian Mahinmi to the tune of 0/24/23/4/0/1 with only 1 turnover in 37 minutes. Drummond shot 10-16 from the floor and 4-7 from the line, which is the type of efficiency spoiled fantasy owners have come to expect from Mr. Drummond this season. The free-throw shooting still isn't Curry-esque, but it has become strong enough to elevate Drummond to the elite fantasy player level.
Besides the lesson in classic center play that Drummond gave the Wizards, here is what else I saw last night:
Pistons over the Wizards: 103 – 92
Reggie Bullock: 2/14/1/3/1/0 – Bullock had been offering enough other stats to shake the THRAGNOF label, but he embraced his inner THRAGNOFness last night. If you need threes and points, keep running him out there.
Anthony Tolliver: 1/14/2/2/1/1 – I could almost copy and paste the stat lines when Tolliver gets as many minutes as Bullock.
Reggie Jackson: 0/13/2/8/0/0 – The 8 assists are really nice, but the o'fer from deep hurts his value. Nevertheless, R-Jax is a sight-for-sore-eyes if you have been waiting on his point guard stats.
Bradley Beal: 1/15/5/1/2/0 – Beal had been putting up some nice assist numbers with John Wall out, but he just didn't have it going last night. Speaking of Wall, he looks to be on track to return Saturday. He will probably sit on Sunday and could be rested on back-to-backs for the remainder of the season.
Markieff Morris: 1/11/6/5/1/4 – A nice full line from Kieffer Twin Brotherson, even with the rough shooting night.
Tomas Satoransky: 1/11/5/6/1/0 – Say goodnightsky to his fantasy value when John Wall comes back.
Marcin Gortat: 0/10/12/3/1/0 – A double-double yes, but what this line does not show is how badly he got worked in the paint by Drummond. Fortunately for fantasy owners, there aren't negative points for embarrassment.
Kelly Oubre: 0/14/4/3/1/1 – Solid line, but you have Oubre for threes most likely.
Heat over the Bulls: 103 – 92
Josh Richardson: 1/22/5/3/0/2 – It's been a rollercoaster season for Son's boy J-Rich, but he found his touch around mid-season and has been a fantasy beast ever since. He is leading the new breed of point-shooting-wings.
Goran Dragic: 1/17/5/5/1/0 – The Dragon burned the Bulls worse than a group of Lannisters.
Justise Winslow: 1/13/9/2/1/1 – James Johnson (0/2/8/2/0/2) had a slow game so that's when Winslow usually shines. JJ has not had many slow games lately though, so stick with Johnson over Justise.
Hassan Whiteside: 0/8/7/4/1/2 – Not good when your fantasy line looks like someone's ATM pin.
David Nwaba: 1/15/7/4/0/1 – I'm a fan, but you know the Bulls lost when Nwaba was their leading scorer.
Noah Vonleh: 1/14/13/1/2/0 – The Bulls' starting lineup is literally five back-ups. When The Markksman can't play, put in Vonleh.
Robin Lopez: 0/13/6/1/0/3 – If we could only figure out when RoLo is going to show-show.
Bobby Portis: 0/13/16/0/2/1 – Can't hate on this line, besides, I don't want to get punched in the face.
Spurs over the Thunder: 103 – 99
LaMarcus Aldridge: 1/25/11/2/0/2 – The Thunder could be dangerous in the playoffs, but only if they make it, and the Spurs and L.A. are helping to keep them out.
Patty Mills: 3/14/1/1/1/0 – How do you say "THRAGNOF" in Australian? It would probably be something like, "Dats a THRAGGER there mate."
Dejounte Murray: 0/7/8/7/5/1 – This dude has more singles than the BeeGees.
Pau Gasol: 0/6/12/3/0/1 – If you own Pau, you probably didn't need a nice rebounding night.
Paul George: 3/26/7/6/4/0 – The Lakers are going to be so good next season.
Russell Westbrook: 0/19/11/5/3/1 – These 2 lines and they lost! The Spurs are showing that a team full of superstars is not necessarily the key to winning in today's NBA. Gotta love Pop.
Steven Adams: 0/10/13/1/0/0 – The Thunder needed Adams' D, but the Thunder from Down Under left his D in his other thong.
Corey Brewer: 1/14/2/3/2/0 – Brewer really wants to stay off the waiver wire.
Carmelo Anthony: 3/9/3/2/2/1 – Ohhhhhh, here's why they lost.
Pacers over the Kings: 106 – 103
Victor Oladipo: 2/24/5/2/3/1 – MVPipo!
Bojan Bogdanovic: 2/25/0/0/0/0 – That is the way to THRAGNOF my friend! That's a THRAGGER!
Thaddeus Young: 1/18/8/1/1/0 – Thad's the way you do it.
Myles Turner: 1/9/3/5/1/2 – Has any player had a stranger season than Turner? Not the statement owners who drafted him early wanted to be reading at this point in the season.
Darren Collison: 0/8/9/3/3/1 – A Rondo-esque line.
Bogdan Bogdanovic: 4/21/3/4/1/0 – A fuller line than the other Bog, but this Bog got the loss.
Willie Cauley-Stein: 0/19/7/5/0/1 – Nice line from WCS, but it is hard to know when he is going to go off, just like with our next player:
Skal Labissiere: 0/2/3/2/0/0 – I have been pushing Skal as a pick-up since before the All-Star break, and before tonight he was making me look smart. I wouldn't worry too much about tonight, though, as I think he comes back strong next time out and the Kings seem committed to giving the young guys minutes.
Buddy Hield: 4/20/7/4/0/0 – Buddy is shaping up to be a nice semi-sleeper pick next season.
Bucks over the Warriors: 116 – 107
Giannis Antetokounmpo: 2/32/4/5/2/0 – Everyone wanted to see Giannis vs KD, but the refs decided Durant was getting a little too chatty and that the fans can go F themselves, so they tossed him after picking up 2 techs before halftime. Blah. But another awesome game from Freak.
Khris Middleton: 3/23/3/2/2/0 – Killed the Warriors with his shooting and is finishing a great season strong.
Eric Bledsoe: 1/20/3/6/3/1 – When Freak and Khris and Eric Bledsoe What? having it going like this they are scary.
Jabari Parker: 2/14/7/3/0/0 – Helping fantasy teams in just 25 minutes a night. I don't know when his restriction will be lifted, but when it is, watch out. Unfortunately that may not be until the playoffs.
John Henson: 0/4/5/5/1/2 – Has been a pretty consistent fantasy center, but he just couldn't get his shot to fall last night.
Quinn Cook: 5/30/4/3/0/0 – Cook is helping win a lot of fantasy leagues right now. Unbelievable that this guy is a 2-way player!
Patrick McCaw: 2/12/3/3/1/0 – When McCaw is the 2nd leading scorer, Warriors lose. Not a coincidence.
Kevin Durant: 1/10/3/6/0/0 – Owners got KD back and the refs tossed him before halftime. Tech-happens.
Draymond Green: 1/11/5/6/2/1 – The Warriors are getting healthy and Dray looked good tonight. Hopefully he can stay on the court.
Kevin Looney: 0/8/4/1/2/3 – Looney is putting up the stats we all thought we would be getting from Jordan Bell (0/0/3/2/1/0). If you need defensive stats, Looney is almost a sure thing for 2 steals and 2 blocks minimum.