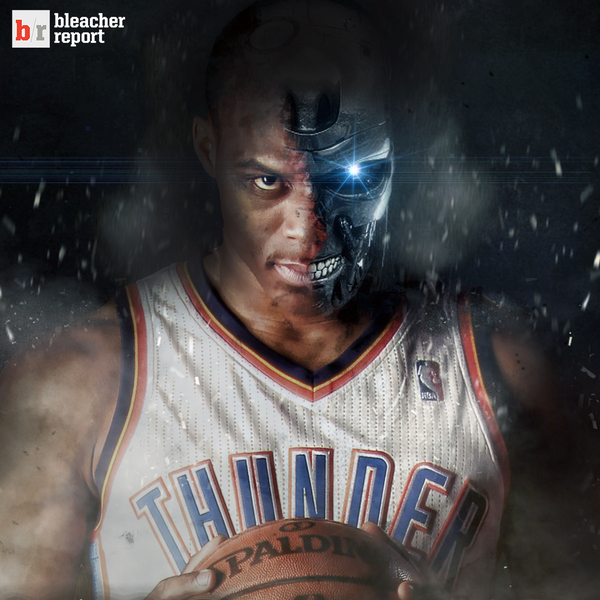 Rusell Westbrook continued his dominating ways against the Raptors, and the Thunder steamrolled them tonight.  123-102 was the final score, and the Thunder outscored the Raps by 17 in the third quarter. OKC has moved into 6th place in the west, and there's a decent possibility that they could lock up home court, since they're only 3.5 games back of the 4th seeded Jazz squad.  At any rate, let's get back to Westy.  He finished with 24/10/16/1/0, and oh yeah, he only had 2 TOs.  Plus, he hit 4-8 from deep! Did I mention that he did it in only 28 minutes?  Oklahoma City had 7 players in double digits, and they seem primed for a solid playoff push.
Victor Oladipo – 23/5/2/0/0. Some of his peripherals are down, but his shooting from deep has been great since the move.  3-3 tonight.
Serge Ibaka – 10 points, 3 boards, and 1 block… This was some pretty sad revenge.
DeMar DeRozan – 22/3/3/0/0 DeRozan shot 8-14 from the field, but this line is still very underwhelming. I'm sure he'll bounce back though.
Rudy Gobert – Holy stifle!  20/19/1/2/2 wasn't enough to earn the win, but his fantasy owners have to be loving it.  10-13 from the field, and only went 0-1 at the line as well.  Damn he good.
LeBron James – Led the way for the Cavs with 33/10/6/2/1.  It amuses me that the King is a dark horse candidate for MVP this year.
Mike Conley – The Griz are starting to look formidable again, partially thanks to the great play of Conley.  22/4/12/1/0 tonight in a solid win against the Hawks.
Marc Gasol – A magnificent triple double with 18 points, 10 boards, and 10 assists.  Plus, Gasol threw in a couple treys as well.
Taurean Prince – The Hawks had 6 players in double digits, but Taurean stole the show with a 16/6/1/0/4 line.  Atlanta just didn't have enough to get past the Griz though.
Brook Lopez – He has been on an offensive role lately, and tonight was actually pretty average. 24/6/3/0/1.  The lack of peripherals is irksome, but honestly, I'm just surprised he's healthy.
Rondae Hollis-Jefferson – Had a night with 20/10/0/0/1. He has extremely strange lines for a wing.  His stat lines remind me of MKG.
Kyle O'Quinn – The Knicks got rolled by the lowly Nets, but KOQ got a chance to shine, and shine he did, with a 23/8/3/1/1 in only 26 minutes. I'd love to see him get 30+ minutes consistently.
Garry Harris – 20/2/4/0/0 on only 6-9 shooting.  Some steals would be nice, but it's hard to get more efficient.
Will Barton – Barton went absolutely crazy this game, nailing 7 treys in the process. 35/5/3/1/0.  I think this is a one-off, but still impressive to say the least!
Nikola Jokic – Joker managed a 17/14/11 triple double in 30 mins.  This is starting to become par for the course for him.
Austin Rivers – 17/1/1/0/0. Bleh.  He did hit 3 treys though, so he's looking thragnofish.
J.J. Redick – 22/5/1/2/0 Speaking of thragnof… Redick actually had a decent line to go along with his 4-6 from downtown.
That's it for your stacked Thursday night!  Outside of the super late Magic/Warriors game, but honestly, I doubt that that was competitive anyway haha.
Make sure to include your league size and format with questions, and always stay Razzy!