Welcome back to DFS Dunks, playoff edition. It's me, cousin Timmy, coming at you with the best plays to win your DFS contests tonight. We have a three-game slate of  Western Conference matchups. All three series are in Game Three so we'll see a home-court shift.  Luka Doncic is questionable to play after missing the first two games vs. the Jazz. The Mavericks showed us they don't need Luka to win, with a massive scoring effort from Jalen Brunson. Utah and Dallas are tied 1-1 as are Memphis and Minnesota. Golden State has a 2-0 lead on Denver and it doesn't look good for the Nuggets. An important difference in playoff DFS is minutes. Teams really tighten up rotations but can make major shifts after each game depending on matchups.  Ok, you ready for some playoff DFS? Let's get to my favorite plays of the night.
If you're new to this article, I break down tonight's three-game playoff slate and give you my starting five for both FanDuel and DraftKings.  These will be my core plays (guys I'll be playing in my lineups with my money) for hitting the cash line.  Due to all the protocols, injury management, and general rest of players a lot can change from now until tip-off.  There's a good chance I'll use a player or two not listed here so make sure to follow me on Twitter for any important player swaps closer to lock.  At the end of the article, I'll have a pool of three to five players I like that you can use to fill in the rest of your lineups. It's important to have a process in DFS so let's review the strategies I use.
Want the best tools and projections to help dominate your league? Check out the Stocktonator, the byproduct of Rudy and machine making love. Click HERE for a FREE 3-day trial.
Strategies
Focus on teams with high game totals and a high pace of play. Memphis @ Minnesota has the highest total of 237.5.  Using some Grizzlies and Timberwolves in our lineups is a good place to start.
Select players who play a lot of minutes, have high usage rates, and/or produce a high FP/M (fantasy points per minute).
NBA may be the toughest DFS sport to play for a few reasons. Number one is time. Throughout the season players will get ruled out for rest, injury, or health and safety protocols. This tends to happen shortly before lock or even after lock as we experienced in the past. It's imperative that you make yourself available for the 15 minutes before lock or you may lose some money for a simple user error.   
OK now that you know the basics, it's time for tonight's slam dunks.
Tonight's three-game playoff slate (totals courtesy of DraftKings Sportsbook):
| | | | |
| --- | --- | --- | --- |
| Game | MEM @ MIN | DAL @ UTA | GSW @ DEN |
| Time | 7:30 PM ET | 9:00 PM ET | 10:00 PM ET |
| Total | 237.5 | 208.5 | 223 |
The Starting Five
Jordan Poole, PG, GSW (DK $8100, FD $7200)
There is something about the thin air in Denver that Poole loves. In two games this season Poole shot 60% in Denver, recording seven assists in each of those games.  Even with Draymond and Curry back, Poole has solidified his role as a go-to threat and has moved himself ahead of Thompson as the number two scoring option behind Steph (IMO). Poole is averaging 29.5 points on 14.5 FGA per game this series. Both prices are enticing while his FanDuel price should garner high ownership numbers. Play him safely in cash and GPPs.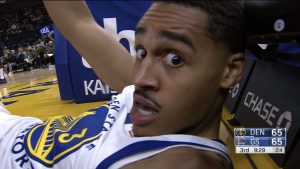 Donavan Mitchell, SG, UTA (DK $8400, FD $9000)
Mitchell will be one of the highest owned players tonight on DraftKings as his price is a little low compared to his playoff value. It's hard to fade someone who is averaging 29.5 FGA in two games. The offense runs through Mitchell, shown by his 38.5% usage rate in the playoffs. He's played over 40 minutes in each game and that's not going to change. Both of these game have been close so the chance of a blowout is unlikely. In Game One, Mitchell didn't shoot great (33%) but he got to the line 11 times to mitigate that. Good signs of consistent play.
Dillon Brooks, SG/SF, MEM (DK $6100, FD $5100) 
Brooks is too cheap on FanDuel tonight according to his minute projection. Brooks played 35 minutes in game one. In Game Two he didn't play in the fourth quarter because of blowout only playing 25 minutes while going 0-for-5 from three. I expect Brooks to play 32-35 minutes tonight and take about 15 shots. For $5100, this is great value in a high scoring game.
Jaden McDaniels, SF/PF,  (DK $3600, FD $4400) 
We saw the Grizzlies go small in game two taking Steven Adams out of the rotation after two minutes into the game. This forced the T-Wolves to go small to matchup and cut down Vanderbilt's minutes, giving way to Jaden McDaniels and Taurean Prince. McDaniels has played 20+ minutes in each game and could play more tonight. Prince is slightly cheaper but McDaniels has the higher ceiling with the rebounding ability. We will need some value on small slate and finding it in the highest game total environment is ideal.
Jaren Jackson Jr., PF/C,  MEM (DK $6300, FD $6600)

We just mentioned the Grizzlies going small and that means JJJ will play the five with Adams off the court. This season, JJJ is averaging 44 DraftKings points per 36 with Adams off the floor. JJJ took seven threes in game two and should be in the 5-7 range again tonight. His minutes are always in question because of his inability to avoid fouls but, in the right situation, he could play upwards of 28-30 minutes. His ability to block 3-4 shots every night creates a high ceiling we don't want to miss out on.
Reserves:
Ja Morant, PG, MEM (DK $9800, FD $9900) 
Nikola Jokic, C, DEN (DK $11200, FD $11400)
Draymond Green, PF/C, GSW (DK $6700, FD $6700)
Brandon Clarke, PF/ C, MEM (DK $4700, FD $5000)
Jalen Brunson, PG/SG, DAL (DK $8000, FD $8000) 
Good luck!
– Cousin Timmy (@TimmySperos)