Welcome back to DFS Dunks! I love Thursdays because I seem to do well when I write this article.  Last week I finished 3rd of 1,800 entries in the DraftKings $2 Elbow Shot. The prize? $100! When you 50x your entry fee you sleep pretty well. It's important to stay humble though because if you don't, you can lose your money real fast. I discussed this on the Son Pod this week. You can listen to it here.  When you do hit big, go and celebrate the moment because it may be a while before it happens again. Have a beer or six, buy yourself a jersey, do something, but remember to manage your bankroll when then next slate comes around. Ok, let's keep the momentum going and get to tonight's analysis.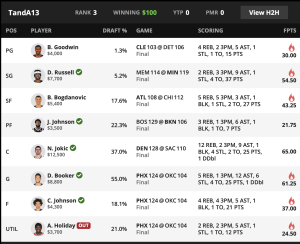 If you're new to this article, I break down tonight's seven-game NBA slate and give you my starting five for both FanDuel and DraftKings.  These will be my core plays (guys I'll be playing in my lineups with my money) for hitting the cash line.  Due to all the protocols, injury management, and general rest of players a lot can change from now until tip-off.  There's a good chance I'll use a player or two not listed here so make sure to follow me on Twitter for any important player swaps closer to lock.  At the end of the article, I'll have a pool of three to five players I like that you can use to fill in the rest of your lineups. It's important to have a process in DFS so let's review the strategies I use.
Want the best tools and projections to help dominate your league? Check out the Stocktonator, the byproduct of Rudy and machine making love. Click HERE for a FREE 3-day trial.
Strategies
Focus on teams with high game totals and a high pace of play. On tonight's slate, San Antonio runs at the fourth-fastest pace while their opponent Sacramento is seventh-fastest in the league. This game has the highest total of the night at 241.  Using some Spurs and Kings in our lineups is a good place to start.
Select players who play a lot of minutes, have high usage rates, and/or produce a high FP/M (fantasy points per minute).
NBA may be the toughest DFS sport to play for a few reasons. Number one is time. Throughout the season players will get ruled out for rest, injury, or health and safety protocols. This tends to happen shortly before lock or even after lock as we experienced in the past. It's imperative that you make yourself available for the 15 minutes before lock or you may lose some money for a simple user error.   
OK now that you know the basics, it's time for tonight's slam dunks.
Tonight's seven-game slate (totals courtesy of DraftKings Sportsbook):
| | | | | | | | |
| --- | --- | --- | --- | --- | --- | --- | --- |
| Game | CHI @ ATL | MIA @ BKN | MEM @ BOS | DET @ TOR | GSW @ DAL | SAC @ SAS | LAL @ LAC |
| Time | 7:00 PM ET | 7:30 PM ET | 7:30 PM ET | 7:30 PM ET | 8:30 PM ET | 8:30 PM ET | 10:00 PM ET |
| Total | 231.5 | 222 | 224 | 218 | 220 | 241 | 220 |
The Starting Five
Dejounte Murray, PG, SAS (DK $10600, FD $9600) 
Murray is having a breakout season and is a threat for a triple-double every night. He's averaging 1.45 FM/P with a 26% usage rate.  The Spurs vs. Kings has the highest total of the night as both teams rank in the top-10 in pace of play.  The Kings have the second-worst defensive rating in the league and surrender 52.5 fantasy points a game to combo guards, also second-worst.  Murray is averaging 48.4 DraftKings points in two games vs. the Kings this season.  I like him more than Luka and Steph tonight.
Bogdan Bogdanovic, SG/SF, ATL (DK $6000, FD $6700)
Since John Collins went down, Bogdan is the guy who's absorbed his fantasy production. Without Collins, Bogdan is averaging 1.15 FP/M and 8.6 more fantasy points per game than his season average. Over the last four games he's averaging 37.7 DraftKings points per game.  This game has the second-highest total on the night at 231.5, making Bogdan a great mid-tier play.
Malik Monk, SG/SF, LAL (DK $4700, FD $4900)
Man, the Lakers are struggling now but after a few games of going big with Dwight Howard, Monk played 39 minutes vs. Dallas on his way to 31 DraftKings points. He was only 5-for-17 from the field so there is room for improvement tonight vs. the Clippers in the battle for LA. Monk is averaging .88 FP/M without Anthony Davis playing.  With Westbrook struggling and Davis out, the Lakers have no offense besides LeBron so Monk will need to take his fare share of shots tonight. He is good value at this price range, assuming he's in the starting lineup again.
Grant Williams, SF/PF, BOS (DK $4600, FD $4900) 
Grant Williams has propelled himself into meaningful minutes in Boston by shooting 44% from deep this season. He's a scrappy hustle guy with a low usage rate of 13.5% but he does have upside. Jaylen Brown is not playing tonight after he rolled his ankle early last game. Grant Williams played the entire fourth quarter showing that the Celtics trust him out there to make plays. He's played 26+ minutes in eight straight games and should be in line for the same against a really good Memphis team. I'm not expecting him to get 35 fantasy points but I believe 28 is well in reach here.
Domantas Sabonis, PF/C, SAC (DK $9700, FD $9200)
Sabonis is a double-double machine. He's doubled-up five games in a row and in eight of his last 10. The Spurs give up 51.1 points in the paint per game, third worst in the league. Sabonis is top-10 in the league with 12.7 PIP per game. Two stats that work well together.  Sabonis is averaging 1.51 FP/M in his last four games and is at 1.3 for the season. This game has huge potential and I think Sabonis will be under owned because the slate has a lot of expensive stars on it.
Reserves:
Jakob Poeltl, C, SAS (DK $7500, FD $8000) 
Jayson Tatum, SF/PF, BOS (DK $1000, FD $9400)
Gabe Vincent, PG, MIA (DK $4500, FD $4900)
Clint Capela, C, ATL (DK $5900, FD $6400)
Keldon Johnson, SF/PF, SAS (DK $5800, FD $5900) 
Injury news to watch: 
Before you go, do me a favor and leave a comment or question today. Much appreciated.
– Cousin Timmy
@TimmySperos