Good morning! I'm still sweating from last night's 13-game slate. Heading into the fourth quarter of the Denver vs. Clippers game I thought first place was locked-up in two GPPs. I was ready to go to bed a relaxed, happy man, and what happened? Overtime! I had a few pieces from that game, but not the right combo to take it home. Nikola Jokic almost hit the century mark recording 93 Draftkings points! I had him. I also had Will Barton but needed Aaron Gordon. Gosh I really don't like Aaron Gordon. One of the most frustrating DFS players ever. Anyway, I finished in 6th place out of 1,500 entries good for 35x my entry fee. A nice little profit. On to tonight!
If you're new to this article, I break down tonight's three-game NBA slate and give you my starting five for both FanDuel and Draftkings.  These will be my core plays (guys I'll be playing in my lineups with my money) for hitting the cash line in 50/50s and double-up contests.  If you're looking for GPP winning plays you'll have to follow me on Twitter (@TimmySperos) and then we can talk (mostly because at the time I write this article ownership projections are not out yet and a lot can change from now until tip-off). At the end of the article, I'll have a pool of three to five players I like that you can use to fill in the rest of your lineups. It's important to have a process in DFS so let's review the strategies you should be thinking about.
Want the best tools and projections to help dominate your league? Check out the Stocktonator, the byproduct of Rudy and machine making love. Click HERE for a FREE 3-day trial.
Strategies
Focus on teams with high game totals and a high pace of play. On tonight's slate, the Suns play at a pace of 100.13 possessions per game, fastest on the slate.  The spread for their game vs. the Mavericks is only 3.5 points so this is good game to attack.
Select players who play a lot of minutes, have high usage rates, and/or produce a high FP/M (fantasy points per minute).
NBA may be the toughest DFS sport to play for a few reasons. Number one is time. Throughout the season players will get ruled out for rest, injury, or health and safety protocols. This tends to happen shortly before lock or even after lock as we experienced in the past. It's imperative that you make yourself available for the 15 minutes before lock or you may lose some money for a simple user error.   
OK now that you know the basics, it's time for tonight's slam dunks.
Tonight's three-game slate: 
| | | | |
| --- | --- | --- | --- |
| Game | NOP @ NYK | PHX @ DAL | IND @ GSW |
| Time | 7:30 PM ET | 7:30 PM ET | 10:00 PM ET |
| Total | 209.5 | 215.5 | 217.5 |
The Starting Five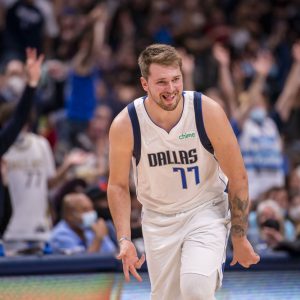 Luka Doncic, PG, DAL (DK $10400, FD $10900)
Luka had a not-so-hot start to the season but recently is back on track. On the second leg of a back-t0-back, I don't see his minutes being affected. Phoenix plays at the sixth-fasted pace in the league and gives up 53 fantasy points a game to combo guards (sixth-worst). They do have the second-best defensive rating in the league but Luka has the tools to carve them up. He's recored 65+ fantasy points on both FanDuel and Draftkings in his last two games and is averaging 1.4 FP/M on the season. Steph Curry is the only other play tonight in this price range and I think Luka outscores him by 15.
Torrey Craig, SG/SF, IND (DK $3800, FD $3500)
Not someone I would think to play in DFS as he's known as a defender with a low FP/M of .74 and a 13.5 usage rate but this is 2022 and we've seen crazier things. What's important here is that Myles Turner is out for the Pacers and Craig was the one who got his minutes as they moved Sabonis to center.  31 minutes for Craig in last night's lost to the Lakers. He produced 28 fantasy points on 2-for-12 shooting at minimum price. Pretty good. His price hasn't changed and if we get 25 minutes or more he is a solid value here.
Josh Hart, SG/SF, NOP (DK $6300, FD $6500)

Hart has played at least 33 minutes in each of the Pels last 10 games. He's averaging .92 FP/M on the season with a 17% usage rate. He's in a pace-down spot here vs. the Knicks but he has that 15-rebound upside. New Orleans played the Knicks earlier this season and Hart had 16 points to go along with eight rebounds and two assists. No defensive stats in that game which is unusual for him. That should change tonight and I think he hits 30 fantasy points easy. He is one of the safer plays on tonight's short slate.
Julius Randle, PF/C, NYK (DK $9100, FD $8700) 
Randle recorded 60 fantasy points in Tuesday's loss to the Timberwolves.  He averages 35.6 minutes per game and has the highest usage on the team at 26.7%. His points per game and shooting percentage are both down from last season but some things I liked from his last outing were the free-throw attempts (11) and defensive stats (4 blocks + 2 steals).  New Orleans ranks 24th vs. versatile big-men giving Randle a good chance to surpass 40 fantasy points tonight.
Kristaps Porzingis, PF/C, DAL (DK $7600, FD $8500) 
Jonas Valanciunas is going to be popular tonight because he's too cheap for his normal production ($7.3K/$7.7K) but I don't like his matchup vs. the Knicks.  I like KP tonight in a pace-up spot vs. the Suns who will play without Deandre Ayton. Porzingis will get the likes of JaVale McGee and Bismack Biyombo defending him on the perimeter, a win, win for him. The "Unicorn" as he's commonly known, averages 1.3 FP/M on the season. His price on Draftkings is very appealing and his duel eligibility on FanDuel allows us to play around with different lineup combinations.
Other guys on my radar:
Before you go, do me a favor and leave a comment or question today. Much appreciated.
– Cousin Timmy
@TimmySperos