Welcome back! Another wild week of protocols is behind us and it's time to prepare our New Year's resolutions. It's important to set specific, attainable goals and not just say you want to win the milly-maker. I'll go first. My resolution is to take one night off from playing DFS every week to mentally reset. Lucky for you, that night isn't tonight. A common resolution is to lose weight or go to the gym, but those are too general and they typically don't last. So if you're having trouble thinking of something I'll help you out: resolve to sharpen your DFS skills! There's no better way to do that than reading this article every Thursday. Let's smash 2022!
If you're new to this article, I break down tonight's four-game NBA slate and give you my starting five for both FanDuel and Draftkings.  These will be my core plays (guys I'll be playing in my lineups with my money) for hitting the cash line in 50/50s and double-up contests.  If you're looking for GPP winning plays you'll have to follow me on Twitter (@TimmySperos) and then we can talk. At the end of the article, I'll have a pool of three to five players I like that you can use to fill in the rest of your lineups. It's important to have a process in DFS so let's review the strategies you should be thinking about.
Want the best tools and projections to help dominate your league? Check out the Stocktonator, the byproduct of Rudy and machine making love. Click HERE for a FREE 3-day trial.
Strategies
Focus on teams with high game totals and a high pace of play. On tonight's slate, the Bucks play at a pace of 99.8 possessions per game (ninth-fastest) while the Magic are bottom-five in defensive rating. A nice game for Bucks players to smash if the price is right.
Select players from high game totals who play a lot of minutes and have high usage rates or FPP (fantasy points per minute). Over time, when comparing two players with similar salaries, choose minutes over a hot hand. It's the correct thing to do.
NBA may be the toughest DFS sport to play for a few reasons. Number one is time. Throughout the season players will get ruled out for rest, injury, or health and safety protocols. This tends to happen shortly before lock or even after lock as we experienced in the past. It's imperative that you make yourself available for the 15 minutes before lock or you may lose some money for a simple user error.   
OK now that you know the basics, it's time for tonight's slam dunks.
Tonight's four-game slate: 
| | | | | |
| --- | --- | --- | --- | --- |
| Game | PHI @ BKN | MIL @ ORL | CLE @ WAS | GSW @ DEN |
| Time | 7:00 PM ET | 7:00 PM ET | 7:00 PM ET | 9:30 PM ET |
| Total | 222 | 217.5 | 211 | 214 |
The Starting Five
RJ Hampton, PG/SG, ORL, (DK $3900, FD $5300)
The Magic and Bucks just played two days ago in a lopsided victory for Milwaukee. Starting point guard Hassani Gravett left the game after only 19 minutes of action. The Magic were already thin at the guard position and tonight it's even worse. The only active guards as of now are Tim Frazier, Gary Harris, and RJ Hampton. Hampton is the most talented of the bunch and this season with the current actives he averages 1.01 fantasy points per minute up from .85 with the normal starters active. He could be in line for 35 minutes tonight and, as of now, is the best value on the slate.
Will Barton, SG/SF, DEN (DK $5700, FD $5500)
Denver is without Jamal Murray and Michael Porter for the season and tonight Monte Morris, Austin Rivers, and Aaron Gordon are all questionable. This game is a rematch from Tuesday (89-86, DEN) when Barton recorded 36.5 Draftkings points. He played 35 minutes and had a 23% usage rate, second-best on the team only behind Jokic. Barton's price has come down $300 on Draftkings and he averages .94 fantasy points per minute this season with Monte Morris off the court. Shooting guard is thin tonight and I really like Barton as a mid-range raw-points guy. The duel position eligibility on FanDuel is nice too.
Franz Wagner, SF/PF, MIL (DK $7000, FD $7100) 
Another guy here who's price has come down a bit.  On Tuesday, we saw Franz get the biggest usage bump on the team (+7.5%). On his way to 56 Draftkings points he had a 31.4% usage rate in 38 minutes of action. We already discussed how Orlando will have no guards tonight and I only see this usage rate going up. He shot 60% from the field in the last game, which will be tough to duplicate, but he got to the free-throw line 10 times! If he can do that again, he could be a slate breaker for the second game in a row.
Kevin Love, SF/PF, CLE (DK $6700, FD $7000)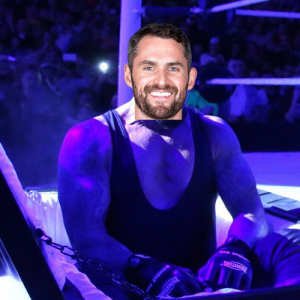 Que the Undertaker gif. Kevin Love is back from the dead. For the first time all season Kevin Love eclipsed the 30-minute mark! Love has been a fantasy point per minute beast this season at 1.34 with a 24% usage. It's a small sample size but in 35 minutes this season with Garland and Rubio off the court, Love has a 33% usage rate and is averaging 1.43 FP/M. He has four double-doubles, and five games of 20 points or more in just 20.5 minutes per game. With the amount of missing guys for the Cavs, I would love for Love to play another 30 minutes tonight.
Daniel Gafford, C, WAS (DK $5000, FD $5200) 
This one is simple. The Cavs give up the sixth most fantasy points to post bigs. Their best interior defender, Jarrett Allen, is out tonight. Thomas Bryant hasn't played all season and Gafford's only competition for minutes has been Montrezl Harrell who will be sitting out tonight due to health and safety protocols. When Gafford was out we saw Harrell get all the minutes and when Harrell missed last game we saw Gafford get 37 minutes. I expect this trend to continue tonight and at 1.05 FP/M Gafford is a solid play with upside.
Other guys on my radar:
Joel Embiid, C,  PHI (DK $11000, FD $10800) 
Nikola Jokic, C, DEN (DK $11900, FD $11700)
Kevin Durant, SF/PF, BKN (DK $11200, FD $11800)
Isaac Okoro, SG, CLE (DK $4400, FD $4600)
Roster Guard, PG/SG, CLE, (DK $xxxx, FD $xxxx) – We don't know who yet, but the starting guard for Cleveland will be less than $4K on both sites and will be very nice value.
Feel free to hit me up on Twitter if you have any questions or need help with lineup building. Good luck tonight and I'll see you guys next week!
– Cousin Timmy
@TimmySperos