Welcome back to DFS Dunks, playoff edition. It's me, cousin Timmy, coming at you with the best plays to win your DFS contests tonight. We have a three-game slate this lovely Thursday. All three series are in Game Six. Phoenix, Philly, and Dallas are in the drivers seat with the chance to close out the series tonight. I think two of them do, more on that later. Devin Booker is OUT for the Suns tonight but could be ready for Game 7 if we get there. Donavan Mitchell is nursing a few injuries and the Jazz look like they are ready to join the bus to Cancun after getting blown out by 25 in Game 5. Finally, I think Toronto, even without Fred VanVleet has a good shot to take this series to a Game 7. Embiid is playing with a hurt thumb and had been minimized by Toronto with his usage rate dropping to 24% in Game 5. His usage rate for the season was 37.5%. Ok enough small talk, you ready for some playoff DFS? Let's get to my favorite plays of the night.
Want the best tools and projections to help dominate your league? Check out the Stocktonator, the byproduct of Rudy and machine making love. Click HERE for a FREE 3-day trial.
Strategies
Focus on teams with high game totals and a high pace of play. The Phoenix/New Orleans series plays at the fastest pace of the games today, with both teams running above 94 possessions per game. This game also has the highest total of the night at 214.5. Let's grab a few guys from here.
Select players who play a lot of minutes, have high usage rates, and/or produce a high FP/M (fantasy points per minute).
NBA may be the toughest DFS sport to play for a few reasons. Number one is time. Throughout the season players will get ruled out for rest, injury, or health and safety protocols. This tends to happen shortly before lock or even after lock as we experienced in the past. It's imperative that you make yourself available for the 15 minutes before lock or you may lose some money for a simple user error.   
OK now that you know the basics, it's time for tonight's slam dunks.
Tonight's three-game playoff slate (totals courtesy of DraftKings Sportsbook):
| | | | |
| --- | --- | --- | --- |
| Game | PHI @ TOR | PHO @ NO | DAL @ UTA |
| Time | 7:00 PM ET | 7:30 PM ET | 10:00 PM ET |
| Total | 209.5 | 214.5 | 210.5 |
The Starting Five
Luka Doncic, PG/SG, DAL (DK $1100, FD $11000)
With Embiid hobbled a bit, Luka is my top-tier option tonight.  He's healthy (or as healthy as you can been at this point in the season) and hungry for redemption from last season's first round exit to the Clippers. He averaged 37.5 points and 12.5 assists in two close out games in 2021 and lost both. I think he's determined to rid that narrative tonight. Utah has no answer for him. 70-point ceiling tonight.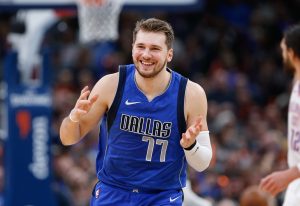 Tyrese Maxey, PG/SG, PHI (DK $6400, FD $5500) 
Maxey disappeared after some amazing performances in Games 1 and 2 but there is hope for a resurrection tonight.  Your boy Doc Rivers  said the Sixers need to find a way to get him the ball more (Doc lies a lot though). Harden has struggled and we already discussed Embiid, so it makes sense they want to get the ball back to the guy who scored a combined 61 points in the first two games. Whether he scores 30 or 10 tonight, he's too cheap for a guy that's going to play 40+ minutes with his ceiling. He's coming in at 50% ownership right now but he'll likely by closer to 70% on FanDuel. Consider this chalk a cheesesteak from Jim's on South Street, eat it with everyone else.
Scottie Barnes, SF/PF, TOR (DK $6200, FD $6500)
After missing Games 2 and 3 and only playing 25 minutes in Game 4, Barnes showed us he's back with a healthy 40 minutes in Game 5. The Raptors have all the momentum and I think they take this game at home in Toronto tonight. Barnes is great value at these prices with a double-double in reach and a high ceiling if he racks up some steals and blocks.
Cam Johnson, SF/PF, PHO (DK $4900, FD $4900) 
The last two games without Booker, Cam Johnson has averaged 34.2 minutes with a 70.4 EFG%. The Suns really struggled with Cam Payne on the floor because of his lack of shooting. A weak spot for New Orleans is defending the three, so if the Suns have any sense they'll keep Johnson on the floor in crunch time for the extra shooting.
Pascal Siakam, PF/C,  TOR (DK $9200, FD $9200)

What's not to like about Siakam? He's recorded 40+ fantasy points in every game but one and has played 40 minutes in every game. Without FVV on the floor this season, Siakam had a 28.2% usage rate, a two-point bump from when FVV plays. He controls the offense for the most part and has the tools for a triple-double. Philadelphia was worst in the league against versatile forwards this season and it shows. Siakam could hit a 60+ point ceiling tonight and I don't want to miss it.
Reserves:
Precious Achiuwa, PF/C, TOR (DK $4600, FD $4600) 
Jalen Brunson, PG/SG, DAL (DK $7200, FD $7600)
Brandon Ingram, SG/SF/PF, NO (DK $9000, FD $9000)
Deandre Ayton, C, PHO (DK $7900, FD $7900)
Herb Jones, PF, NO (DK $5100, FD $4700) 
Salary Savers: 
Larry Nance, Jose Alvarado, and Georges Niang
GOOD LUCK!
– Cousin Timmy (@TimmySperos)