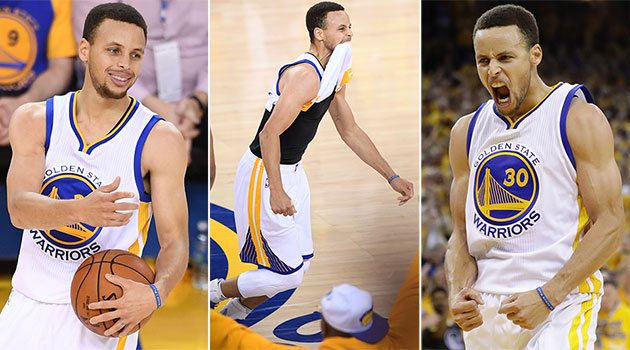 There were only two games on last night and since I grew up in the California Bay Area I will be making Stephen Curry the lead player in the recap. No, I am not a fair-weather Warriors fan. I grew up watching them through the '80s and '90s and early 2000s, where I learned to love the little things about a team and not just insignificant statistics like Wins and Losses.
Curry does deserve this honor, however. This is only Curry's third game back after a pretty long recovery from an ankle injury, and he has been nothing short of spectacular. While Curry was out, Kevin Durant moved himself into the MVP conversation and the Warriors only lost twice. Now it is Curry's turn to remind the world why he won back-to-back MVP awards and changed the Warriors from a fun, fast-paced team with amazing fans into arguably a Top 3 team of ALL-TIME (go ahead, argue with me).
Steph's juicy slash: 4/29/9/5/1/0 in 36 minutes. He hit 10-of-20 shots, including 4-of-10 from deep, and had only three turnovers. Yes, the Rockets did not have James Harden in this Warriors win, but the Dubs did not have Kevin Durant, so this win and performance were impressive nonetheless.
Here is what else I saw last night:
Want the best tools and projections to help dominate your league? Check out the Stocktonator, the byproduct of Rudy and machine making love. Click HERE for a FREE 3-day trial.
Klay Thompson: 6/28/3/4/0/0. Klay is as steady as they come. He was 11-for-20 from the floor, including his six 3-pointers in nine attempts. With only one turnover, Silent but Deadly showed why is so much more than just a THRAGNOF!
Draymond Green: 0/17/14/10/2/1. Dray became the Warriors all-time leader in triple-doubles. Yeah, he definitely messed around. When I broke the news to Draymond that he would not be the lead of my recap today he immediately kicked me in the balls. However, his reaction was as predictable as this joke, so I was prepared with a cup. Unfortunately it was a plastic red cup from my beer pong table and I am writing this recap from the emergency room. Live and learn.
Andre Iguodala: 0/10/2/8/2/1. Even as a starter, and even with KD out of the game, Iggy is still not fantasy relevant.
Jordan Bell: 0/0/0/0/0/1. Only six minutes. It appears that Bell will need ZaZa and/or Draymond to go down in order to have any fantasy value. If you have room, Bell makes a decent stash. If you see a better option on waivers, however, I would not blame you for moving on.
Chris Paul: 5/28/7/9/0/0. Paul was just awesome and with Harden out he even shot 10 3-pointers and connected on five of them! I guess that State Farm insurance claim he filed for his missing shot got paid off really quickly. Looks like all those stupid commercials in that ridiculous mustache have paid off.
Eric Gordon: 2/30/3/7/3/1. This Harden injury may kill Gordon's chances at Sixth Man of the Year, but it is good news for his fantasy owners since he is getting huge minutes. Hopefully the big minutes do not lead to an injury for the fragile Gordon, so looking to sell-high may not be such a bad idea.
Clint Capela: 0/15/10/0/0/1. More blocks would be nice, but DD (double-double) CC is still going to be on a ton of winning fantasy teams this season.
Gerald Green: 8/29/3/0/1/0. Holy crap go out and pick up Green right now! He played 33 minutes and took 15 3-pointers. He is bound to cool off and he is the definitive THRAGNOF!, but this is a hot streak you will want to ride.
The other game last night saw the Thunder continue to roll by beating the Clippers.
Paul George: 5/31/6/3/0/1. I had my doubts that George could thrive next to Westbrook, but I was definitely wrong. With Carmelo Anthony deciding that he should be the bigger man and take a step back offensively, it has allowed George to assume an even bigger offensive role. Enjoy the ride.
Russell Westbrook: 2/29/12/11/1/0. Westy messed around and the six turnovers are a little bit easier to swallow because of the really efficient shooting.
Carmelo Anthony: 3/22/4/2/0/0. Melo has become a bit of a THRAGNOF! lately, but owners have to be happy that him taking a step back still means pretty good offense on most nights.
Steven Adams: 0/12/9/2/1/1. Adams has definitely been one of this year's draft day steals. Whether this turns out to be a career year or not remains to be seen, but that is something owners do not need to worry about right now. He has also shown that he is not a sell-high, as his game is steady.
Terrance Ferguson: 3/11/1/2/0/0. Fergie and his lovely lady lumps just did not have his shot tonight. The good news is that he took 10 3-pointers (out of 12 total shots) and he played 31 minutes. I think that even once Abrines and Roberson are back, Fergie will still have a role because the Thunder need his offense. Grab Fergie in deep leagues and let's get retarded in here.
Blake Griffin: 2/24/9/7/0/0. Blake did what Blake does. Points, boards, and assists with no defensive stats. He attempted six 3-pointers, so on a team that needs offense, he is going to be huge.
DeAndre Jordan: 0/26/17/1/1/0. Zero blocks? Really DJ? I guess we can't be too mad since he hit 6 of 7 free throws, but still, zero blocks?
Lou Williams: 4/26/3/10/0/0. Williams is on fire right now and I would add him to the sell-high pile. Gallinari will be back at some point (at least for a few games) and/or he may be traded to a team with more weapons.