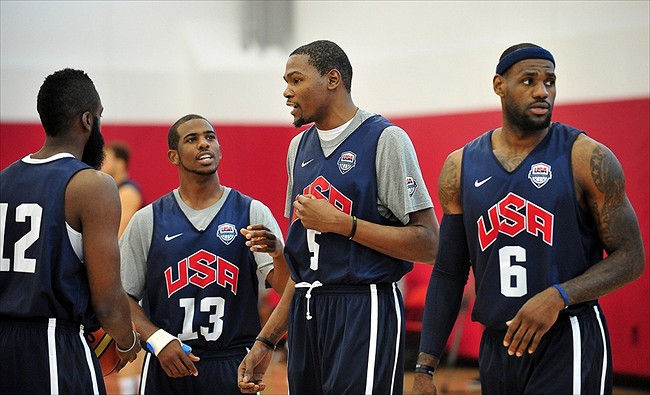 Twas a star studded evening
And all through the league
Not a player was stirring…
Because it was time to play defense and nobody #%*%#%@ wanted to!
Yeah, I'm looking at you Cavs, Rockets, Warriors, and J.R. Smith.
Anyway…. Outside of that cheesiness, it was a fairly interesting Thursday evening, but many of the games were just irksome.  It's ironic that the Utah/Miami game deserved to be on TNT over the Cavs and Clippers.  I don't think anyone would've guessed an LA blowout win after that 70 point dud in Indy, but that's pro sports for ya!  At any rate, let's get into it!  At this point, I'm not sure if I'll cover the whole Rockets – Warriors game, but I can already tell you that the winner scored over 120, and it was a race to see who could jack up more 3s.  It's entertaining, but it isn't basketball, in my humble opinion.
Mavericks at Hornets (7:00 pm EST) – Final Score: 87 – 97 Hornets Win
This game was incredibly ugly… The final score didn't reflect how truly bad this matchup was.  Frankly, the only player on the Mavericks that looked like an NBA player, was Deron Williams.  Everyone else was trying to tank, regardless of what Mark Cuban thinks.
Deron Williams – The big news was that he played almost 30 minutes.  A 14 point, 8 assist line, is ok, but it was great for this game.
Kemba Walker – 18/3/5/1/0 on 7-19 shooting.  An off game for how pathetic the matchup was.. He'll bounce back next game.
Michael Kidd-Gilchrist – 14 points, 3 boards, 2 assists and a block.  A lot of ill-advised shots, but he put up a serviceable line, and he's playing 33 minutes.  Solid back of the bench guy.  His jumper makes me die a little inside…
Jeremy Lamb – Down to 18 minutes and he still looks like garbage.
Milwaukee at Brooklyn (7:00 pm EST) – Final Score: 111 – 93 Guess who won!?
This just isn't a good night for basketball.  As I write this, I'm just hoping that the late game is as exciting as it can be.  As for this game, Milwaukee is good, the Nets suck, the sun rises in the east and sets in the west.  Oh, and Giannis Antetokounmpo is a descendant of the gods of Olympus.  Just in case you were wondering, or saw the family resemblance.
Alphabet – 23/8/8/4/2 in 29 minutes.  No turnovers.  There's not a lot I can say here that isn't expressed above.  All hail Giannis!
Jabari Parker – 22/3/2/1/0 A fairly empty scoring line, but it was a blowout.  He's a beast too.
John Henson – 12 points, 8 boards, 5 blocks.  They continue to run him out there against the bigger centers, and he capitalized tonight.  Congrats if you streamed him!
Randy Foye – As we all know, Foye is a defensive beast!  3 blocks to go along with 7 points, 6 boards, and a lone assist.  He's out there for his defense… Clearly…
Sean Kilpatrick – He continues to roll, with 14 points on 5 of 10 shooting.  The 6 boards and 4 assists are nice, but he also turned it over 6 times… Bleh.  They need Jeremy Lin back to handle the ball.
Orlando at Memphis (7:30 pm EST)  – Final Score: 94 – 95 Memphis Wins
The Griz were down 14 with 6 minutes remaining, but they managed to storm back and clinch a win with some clutch free throw shooting by Marc Gasol.  Gasol had a big game overall, but Andrew Harrison also strengthened his grip on the starting job while Mike Conley is out.
Evan Fournier – 28 points, 4 assists, with 3 treys.  Ultimate thragnof line right there.  Nice to see the high scoring on 11-14 shooting though.
Serge Ibaka – 11/8/0/0/4 – a bad line that was saved by the 4 blocks.  He is what he is at this point.
Nikola Vucevic – 18 points, 11 boards, with 3 blocks.  He had the 3 to clinch the game rim out, but still a great line.
Marc Gasol – The hero of the game put up 25 points, 2 boards, 3 assists, but he also had 5 blocks.  No idea where the boards went, but I'm sure most owners will take the 5 blocks and 8 of 8 from the line.  Oh, he also threw in a couple from deep and finished 8-14 from the field!
Andrew Harrison – I advised picking him up in the last WaiverWired column, but he has even exceeded my expectations so far.  11/4/8/0/1 this game on 50% shooting.  His leash continues to get longer.  Give him a look!
Troy Williams – Played 35 minutes, and had 3 steals, and two blocks.  That's great, but he also shot 2-13 from the field.  He really didn't look NBA ready this game.
Los Angeles Clippers at Cleveland (8:00 pm EST on TNT) – Final Score: 113 – 94 Clippers Win
This marquee matchup was a big let-down.  It was close through the first half, but the Clippers proceeded to blow the Cavs out in the second half.  I'm honestly not sure what to say about this game… The Cavs just continue to play lazy basketball, and they really need a veteran backup point guard.  Given the blowout, there were a lot of blah lines, so I have no idea who to highlight here.
JJ Redick – Played great, but he's still a higher end thragnof.  23 points, 4 treys, 9-13 shooting.  Dude can score.
Kyrie Irving –  A nearly empty 28 points on 8-19 shooting.  He'll come correct next game.
Lebron James – 16/5/5/2/0 Also had 5 TOs.  This is ugly for 33 minutes.  No need to worry.
Miami at Utah (9:00 pm EST) – Final Score: 111 – 110
Rudy Gobert got the best of Hassan Whiteside in this one, but the Heat got the last laugh.  A close game throughout, but Miami managed to squeak it out on the road.
Goran Dragic – 27/4/6/0/0 Hit 10-21 from the field.  It would've been nice to see a fuller line, but this is certainly a good outing for Dragic.
Wayne Ellington – The unexpected hero put up 17 points on 6-9 shooting with 3 treys.  Nothing else to speak of, outside of a steal, but he may be worth a thragnof look while JRich is out.  He also got 33 minutes.
Hassan Whiteside – 8 points, 10 boards, no blocks, 4-11 shooting.  He got stifled!
Luke Babbitt – Started, played 7 minutes, had 1 point, 1 steal, and 1 personal foul.  Must own.  Sarcasm.  Yay.
Gordon Hayward – Slim's golden boy balled out tonight, and put up 32 points, 7 assists, 3 boards, and 2 steals on 12-22 shooting.  He played 40 minutes and absolutely dominated the depleted wing of Miami.
Joe Johnson – The ghost of iso Joe rides again!  18/3/4/1/0 Damn Miami sucks on the wing right now…
Joe Ingles – 15/4/4 in 22 minutes.  When Ingles torches you, you know there's a problem.
Rudy Gobert – The stifle tower played great defense and finished with 6 points, 10 boards, and 3 blocks on 3-4 shooting, with no free throws attempted.  What more can you ask for?
Houston at Golden State (10:30 pm EST on TNT) – Halftime Score: 64 – 59 Houston leads (My 120 prediction looks quite safe, if not conservative)
I am now at the half way point of the highlight matchup of the evening, and it has certainly lived up to the billing.  Fast paced, lots of shots, lots of scoring, and lots of 3s.  I'm not sure it's good basketball, but hey, it's better than the first TNT game!
James Harden – 14/4/6/2/1 Through the first half… The man is a stat stuffing machine!
Ryan Anderson – Finally decided to get in on the action with 15 points and 3 treys at the half.
Eric Gordon – Also sizzling with 12 points through the first two quarters.
Kevin Durant – The best player in the league.  19 points on 6-9 shooting… 7-7 at the line.
Draymond Green – 10 points, 6 boards, 6 assists at the half.  He looks like he's in for an easy triple double.