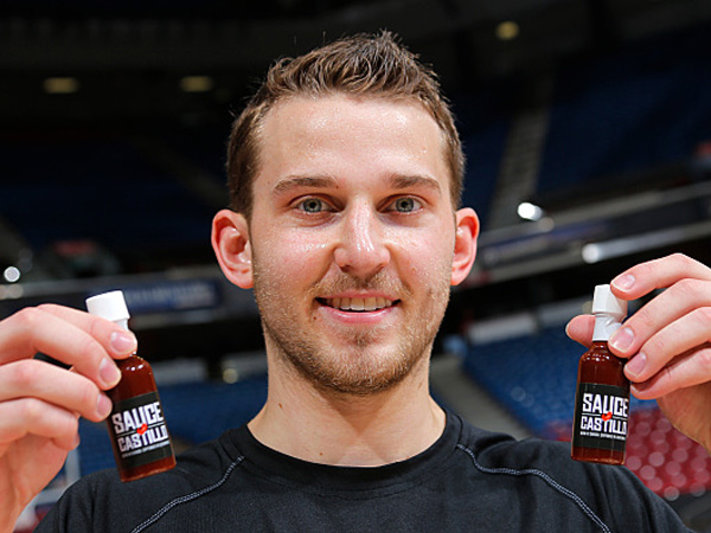 Wazzup Razzers!  It's good to be back.  I hope it's not inappropriate, but we need to get a little saucy starting out!  Nik Stauskas has hit 2+ treys in his last 8 games – this is fantastic news for anyone needing some help in points and threes.  Plus, he's only 14% owned!  He shoots a great percentage, and he won't hurt you anywhere.  Definitely a solid back of the bench piece.
Frank Kaminsky – PF/C – 44% –  His ownership is a little high at the moment, but if he's out there, you need to give him a look.  The tank won't blow you away in any particular category, but the out of position 3s are nice, and he contributes more boards and assists than some stretch bigs (lookin at you Ryan Anderson).
Ersan Ilyasova – SF/PF – 42% – I hate to mention him, but after watching some Sixer action, I have to recommend him.  Ersan definitely has his swagger back, and he has 3s in each of his last 12 games.  Very similar contribution to Frank the Tank actually.
Patrick Patterson – PF/C – 11% – Keeping up the bigs that shoot theme… I hate his guts, but he's been shooting well recently, so give him a look if you need those sweet out of position treys.  He also has been getting a fair amount of steals lately, so that's something I'd keep an eye on.
Josh Richardson – SG/SF – 45% – I'm not as high on him as certain members of this site… *cough* Slim *cough* He is certainly worth owning, although he is looking more and more like a thragnof, than the defensive juggernaut that he was projected to be.  Blocks are just hard to get from the wing.  He'll get you around a steal a game, with 2-3 from deep.  Possibly with some multi-cat bursts.
Marco Belinelli – SG/SF – 14% – Dude can shoot.  He's actually had some surprisingly big games though, and he certainly has a steady rotation role.  Give him 20+ mins and odds are, you'll get a couple threes.
*Not Thragnofs*
Troy Williams – SG/SF/PF – 6% – Not really sure about what you're going to get out of him, but the Griz are banged up at every position, so he should get great minutes.
Andrew Harrison – PG/SG – 7% – I don't like him, but he's the obvious beneficiary of Mike Conley being down for a couple months… Add at your own risk, but with minutes, there is upside.
That's it for today folks.  Leave your opinions below, and make sure to check me out in the Bird vs Bird debate series – posted every Thursday!