Happy 2017 to everyone!  Hopefully, you all had a good holiday break and enjoyed a great slate of games.  As for this segment, it's a new year but it's somewhat of the same old.  We continue where we left off.  In the last installment, we took a look at the best teams to target for marksmen shooting guards.  Let's hop on over to a very similar and often tagged with the same position eligibility–the SF or the wingmen.  Small forwards tend to be the defender against the opposing teams best back court player during key parts of a game.  Think Kawhi Leonard and Lebron James.  For most of us, the term wingman has a very different meaning but whether it's used for social events or basketball, they tend to have the backs of their teammate(s).
Here's the matchup grid for SFs.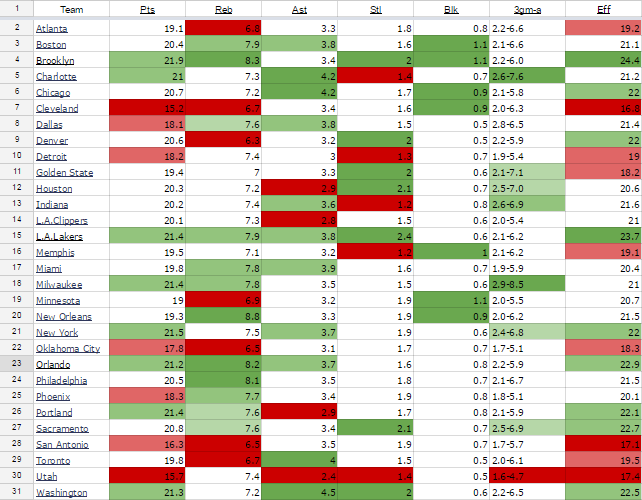 Summary:
If you're counting on your wingman especially on the offensive end, you better hope he isn't facing CLE, SAS or UTA.  Those 3 are the worst teams for a SF to go against.  OKC, TOR, GSW and HOU are the other teams that has had good success defending the opposing SF.
BKN is the best team for SFs to face.  LAL, ORL, SAC and WAS are the other teams favorable against opposing SFs.  I'm surprised to see CHI among this group with Jimmy Butler being a top tier defender as well as WAS with Otto Porter Jr. providing good size and length on the defensive end.
Ideas for some of the upcoming games:
If you feel like throwing the dice and need some scoring help, Richard Jefferson and the banged up CLE faces BKN with the Nets on the 2nd half of a b2b.
With Justise Winslow likely being out for the rest of the season, whoever you think gets a minutes bump with the Heat who is still on the wire, taking a flyer might not be a bad idea. MIA faces the LAL tomorrow but then will have to face the LAC on Sunday.  The LAC are a good defensive team but the anchor of that frontcourt defense is Chris Paul and he is still injured which puts a lot of pressure on Luc Richard Mbah a Moute.
Speaking of the LAL, they face the Magic on Sunday and if Aaron Gordon is still available and you are in need of a sprinkle of counting stats – rebs, stls, asts – you might want to grab him.  In addition, the Magic will go against the Rockets tomorrow and HOU allows opposing SFs a decent amount of 3 pt attempts.  Gordon has averaged 1.8 3s across the last 6 games (3 games of 0 or 1 made and 1 game of 4 made).   HOU is a also a good team to target for stls with the type of offense they run.
On the flip side, ORL is also a friendly matchup against SFs.  Luol Deng has looked tired the past couple of games but maybe he can summon some of his good ole all around game against ORL on Sunday.
If you're relying on Andrew Wiggins for scoring, he has a decent matchup vs WAS tomorrow but on a 2nd half of a b2b, his team faces the Jazz.
Lastly, I'm expecting a big, or at least a very nice all around game from Kawhi when the SAS face CHA on Saturday.  For anyone playing DFS, he should at least be a name to consider paying up for.
We'll wrap up this series with looking at the PF position next week.  Until then, good luck to your fantasy teams.