Not a Shia LaBeouf, fan so I've never even heard about this movie 'til now.  Well, what a difference a week makes.  We were analyzing trade impacts last week.  This week, we'll be looking at a few major injuries that has hit some top tier fantasy players.  Kyle Lowry, Kevin Durant, & Joel Embiid.  And due to Embiid being gone for the season, no more EmBIIIIID for him.
Let's start with the easy ones.  Lowry and Embiid.
Lowry injury:
–DeMar DeRozan, Serge Ibaka and Jonas Valanciunas: No brainer here.  All 3 will be owned so nothing much to do here.  Increase in usage for the 1st 2 and likely for JV as well but Casey is inconsistent with his minutes so not sure if his stats improve on a consistent basis.
–Cory Joseph: Replacing Lowry in the starting lineup. He will get the minutes.  He's not a per minute producer so even with the high minutes, ceiling isn't that high.  Assists are hard to come by and I think he is good for 4-6 assts/game as a starter on decent percentage and rebounds well for a PG.
–DeMarre Carroll/Norman Powell: Meh. Not much to see here.
Embiid injury:
–Jahlil Okafor: He's the on paper "obvious" choice but he's not a per minute producer and his minutes won't be elevated if he doesn't play decent defense. Maybe I'll take that back since PHI is tanking anyway.
–Richaun Holmes: No Nerlens Noel and no D Jahlil opens up more minutes for this high energy player.  He's likely owned in your standard league but if he isn't, he's worth the pick up.
–Dario Saric/Robert Covington: They're likely owned.
Durant Injury:
KD has only missed one game this season and his minutes were absorbed by the combination of Patrick McCaw, Ian Clark and James Michael McAdoo.  The minutes for the Big 3 was barely altered to eat up extra minutes but granted, that game was vs BKN.  Andre Iguodala's minutes stayed that same for that game.  The team just signed Matt Barnes and he's the close to obvious chose to eat up KD's minutes.  However, he's also turning 37 in a few days and I'm not sure he can play 35 minutes consistently.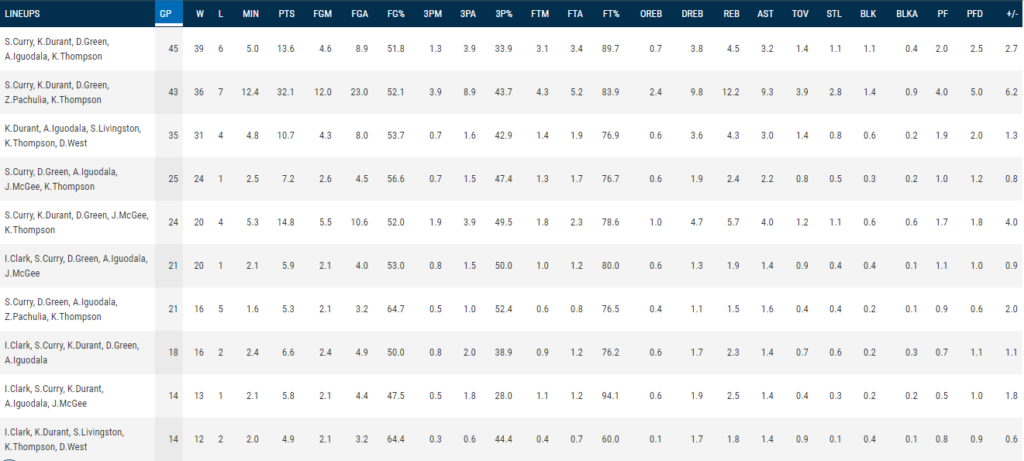 This are the lineups that has played the most games together this season.  You can see that on the 4th row, that's a KD-less lineup that has played in the most games together.  However, it's played an average of 2.5 minutes per game.  Will this lineup be played more minutes? It's certainly possible. Iggy would be the pick up in this scenario.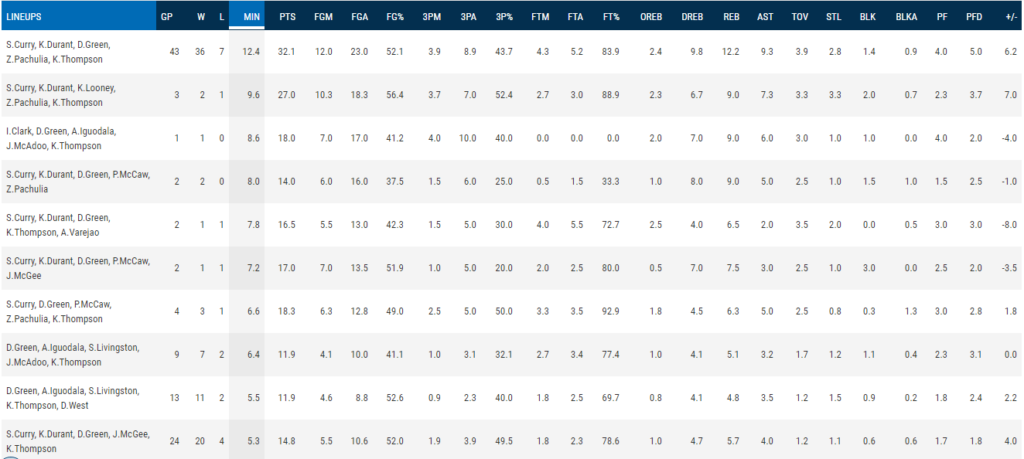 On this chart, I've sorted for the most minutes a lineup has played.  Highest KD-less lineup? 3rd row at 8.6 mpg. Problem is that lineup is a -4.  Next up is the 7th row from the top at 6.6 mpg.  And it's a +1.8.  Patrick McCaw would be the spec add based on this.
I have KD in 2 of my leagues and I totally went outside the norm and added Zaza Pachulia.  I figured I had no chance of winning the league without KD so what the heck, why not go with the non conventional choice.  I'm hoping against hope he pulls a mini Joakim Noah with some 8 to low double digit scoring, 5-7- boards and 3-4 assts.  Probably unlikely unless they play him major minutes.
My guess is it will be a patchwork of Barnes who should get nice open looks, Iggy, McCaw, Ian Clark, McAdoo and more minutes for the big 3.  Matchup and whoever is playing well will dictate who benefits.
As I've told JB, my calendar just opened up big time with this KD news.  Hopefully no one had to suffer through having to lose all 3 players.  If so, there's always next year (or keep fingers crossed and maybe a timely injury to opponents' top player)!!