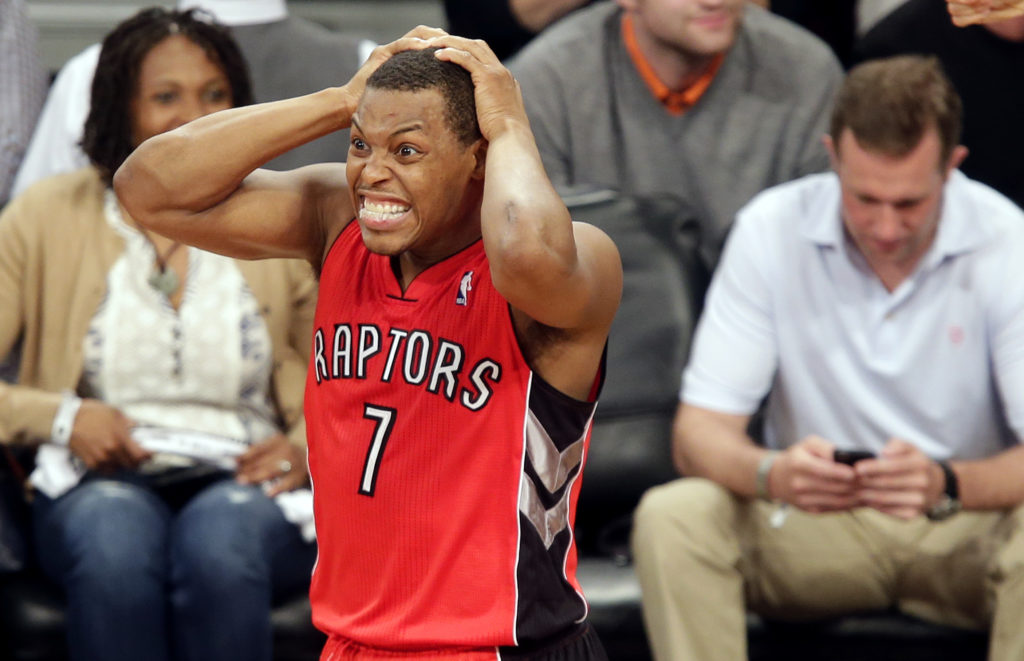 Draft season is now truly upon us with all sites having listed their official rankings for the fanatics, but how accurate those rankings are will well and truly depend on the structure of your league.  One of the many attractions to the fantasy sport of basketball is the many different strategies that can play out, and of course the variety of settings and types of leagues that can be afforded to those that take the time to be commissioner of one of our favorite past times.
One of the big minefields that I spend scrupulous hours changing my ranks is trying to balance the variety of categories.  The biggest minefield for me is turnovers.
There has been a lot of debate in and around the fantasy sports world about who is the true consensus number 1 pick is this year. Is it James Harden in a new uptempo Rockets system with better stretch options around him to open the court? Is it Russell Westbrook with what will be an insane usage rate with Kevin Durant out of town? Can Steph Curry and Kevin Durant co-exist on the same roster that also boasts Klay Thompson and Draymond Green, on a team likely to blow a lot of others out? It is these questions which make fantasy sports great again, and a small difference – like adding turnovers to a league – can make a significant change, especially when you factor in that both James Harden and Russell Westbrook led the league in turnovers last season (with 374 and 342 respectively).
In this article, I will be solely focused on the point guard position.  There is an argument in 9 cat leagues for a 'punt PG' strategy', and I'm looking at potential PGs who should receive a bump in value in turnover leagues. Now, low turnovers are only 1 part of the 9 categories, and balancing this against the efficiency of other stats is hugely important (no point owning a low turnover guy if he offers little elsewhere).  But I will make a case for some potential targets given your draft position and strategy:
In the table below, see the turnovers for each player, weighed against their assist/turnover and steal/turnover ratios.  Traditionally, if we are not punting PGs, these are the elusive stats we chase (of course other factors are important, but for the sake of simplicity let us focus on those):
*Table consists of PG players who averaged 20 minutes or more in 2015-16
Bump in value:
The Elite: Kyle Lowry, Toronto Raptors
If you fancy grabbing a PG early in a turnover league, then what about Kyle Lowry? Sitting entrenched in the bottom 3rd for turnover efficiency, Lowry offers you excellent across-the-board numbers excelling in treys, points, rebounds and steals,  as well in chipping in with those valuable blocks, all at the expense of just 2.8 turnovers per game. For efficiency, there are few better PGs than Lowry in turnover leagues.
Mid Tier: Mike Conley, Memphis Grizzlies
If you are going for a punt PG strategy passing on the elite PG, there are still plenty of options who show great efficiency. Mike Conley might not be the sexiest name heading into fantasy drafts this year, but in a turnover league, Mike Conley has excellent value.  He maintains low turnovers compared to those that see similar minutes around him, leading the league in assist/TO ratio among point guards. Now you are not going to get other elite stats outside of the steals department, and of course health is going to be a risk with the 28 year old, but there are worse options than the Grizzlies primary ball handler in turnover leagues.  He makes a for a fine selection in the right format.
The Bargain play: George Hill, Utah Jazz
George Hill has become a very un-sexy name in the world of fantasy basketball, which is not likely to change anytime soon. It is important to remember that the low turnover rate from last season is also a product of Paul George's penchant for handling the ball. Hill now finds a new home in Utah – a team full of players capable of handling the ball – so we shouldn't expect the turnover rate to rise dramatically. Let us also factor in the Jazz's need to add range, which should leave Hill with an excellent opportunity to contribute heavily in 3's. A good late play in both roto and turnover leagues, Hill should once again have the opportunity to produce solid production from a favorable draft spot.
Hit in value:
The Elite: Russell Westbrook, Oklahoma City Thunder
Now it is difficult to give too much of a hit on Russell Westbrook given the elite status, but the turnovers are enough for me to consider not drafting him where I would need to in a turnover league. An argument can be made that it will increase this season given a) the departure of Kevin Durant and a higher usage rate and b) the departure of Serge Ibaka and the lack of options for the Thunder to stretch the court. The counting stats are nice of course, but I for one am not a fan of punting a category with my first round selection, especially if it is a top-4 selection.
Mid Tier: Dennis Schroder, Atlanta Hawks
Schroder is a somewhat sexy pick this fall given the departure of Jeff Teague and the fact that the Hawks lack true primary ball handlers, but he is a pick I am steering away from in turnover leagues. There are so few players on the Hawk's roster capable of handling the ball, his turnovers will increase, and he had just a 1.91 assist to turnover ratio last year. I am all aboard the Schroder train in an 8 cat league, but for 9 cats I am avoiding.
Low End: Emmanuel Mudiay, Denver Nuggets
It is no secret that the Nuggets are one of my favorite teams to watch with all the young talent at their disposal, but I can not confess to being the biggest fan of Mudiay in any league, let alone 9 cat. Not only will you suffer in the turnovers department, but you are likely getting some brutal shooting stretches. With a TO/48 of 5.0 with an AST/TO rate of just 1.71, I will be leaving Mudiay at the back end of drafts for someone else to take.
You can find me on twitter @storytelling41