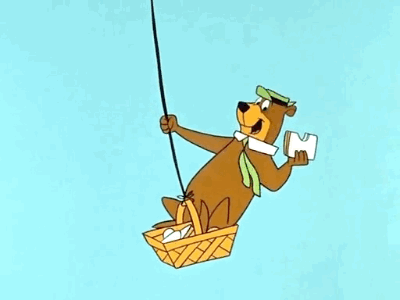 "Hey hey, Boo Boo!" I still know the exact tone of the voice from the cartoon saying that phrase. I'd imagine we all do. Yogi Bear wasn't just a cartoon. No, he was an icon. He was the answer to Jim Halpert's question: 'What kind of bear is best?' How could you miss that Dwight!?! Or is it JimDwight that missed it?
He's 'smarter than the average bear!' And the Mavs have clearly outplayed the rest of league, most notably the Cleveland LeBron's, but bringing Indiana product Yogi Ferrell up from the D-League to help their depleted roster. And in a flurry not seen since perhaps Linsanity, Yogi's taken off since joining the senior circuit. In his four game stint he's posting a 17.8/3.0/5.0/1.8 line with 3.3 3PG and only 1.5 TO per game, while shooting 44.4% from the field in his 38 mpg. He's revitalized the geriatric Mavericks and is helping push them towards the 8 seed. What did he get for his 32 point outburst with 9 threes on Friday? A 2 year deal at the league minimum. What do we get out of it? A legit waiver wire pickup that has averaged top 25 numbers in his four games. He should be swinging onto your roster faster than that gif up there…minus the sandwich.
Onto the 7 Ahead!
The 7 Ahead
5-game week: N/A

4-game weeks: CHI, CLE, DAL, DEN, DET, IND, MIA, MIN, NOR, NYK, PHI, PHO, SAC, SAS, TOR



2-game week: POR
Top Weekly Waiver Options (<40% owned in Y!/games this week):
And now a look at the daily rhythms of the NBA for this week!
Monday: 11 GAMES – Fresh off the Super Bowl the NBA comes in hot with just short of a dozen games. All of the attention shifts to basketball for the next few months (well, not all, but more…), and with two weeks left before the All-Star game we're officially crossing the halfway point. The Cavs recent skid just muddies the East even further, where there's an uprising in Washington attempting to stake a claim as a legit threat to their crown. When Cleveland visits Monday there may not be two teams in more opposite directions than them. Of all the stars, give me John Wall in this matchup who has led the Wiz to 16 straight home wins and 13 out of their last 15 overall. Sorry, King James…you're not on the throne Monday. It's ok, though; it will still be Cavs/Celtics in the Eastern Conference finals.

Tuesday: 3 GAMES – A strange downturn in games for Tuesday. This is the fewest games on a 'normal' night in a while, so get those streamers ready. Most intriguing matchup goes to Portland visiting Dallas. The Mavs are 10 games under .500, but just 2.5 back of the 8 seed. It's like the East of 2004-2013 all over again. Watch out for Yogi in this one…the Blazers can't stop anything.
Wednesday: 12 GAMES – Wednesday is quickly becoming my favorite day of the Winter. If Sunday reigns supreme for football, and Friday (?) for baseball, give me hump day for hoops. Twelve games grace the schedule once again this week, led by Miami at Milwaukee. If on Monday you saw two teams going opposite directions, this one's even worst. Last 10 games: Bucks are 1-9, Heat are 9-1. They're about to trade places in the standings, but it doesn't make sense. Other than the youth of Milwaukee tiring out at this point in the year, while the Heat's veteran presence is striding through the grind, I don't know. Either way, there are plenty of waiver options to look for in this matchup, and a litany of others. Here's to Wednesday!
Thursday: 5 GAMES – Again we alternate the heaviness of the game docket. With five on the schedule here's another stream day for you. With rest after playing Portland, the Jazz come to town to face the Dallas Yogis. This should be a great test to see how much he can really do against a top 3 defense in the league. Isaiah Thomas should go for 40 once more visiting the Blazers, while Russell Westbrook and LeBron James face off like two freight trains that are just super salty they're even on the tracks. It's gonna get ugly in this one.
Friday: 9 GAMES – Welp, another home game, another win for the Wizards; it's the most likely outcome when the host the Pacers. New York's incredible young Center will get to show his stuff against blossoming star Nikola Jokic. Oh, you thought I meant Kristaps Porzingis? Nope, not the unicorn this time, but, of course, Willy three names! After having the night off before he should easily get the minutes to post a double-double once again.
Saturday: 8 GAMES – I'm hoping Joel Embiid's knee is healthy by this point. I mean, for the sake of the future of the league I hope it's healthy real quick, but by this date, in particular. Don't you want to see Embiid toy with Hassan Whiteside, getting inside his immature head and making him fume like a brewing volcano? Yeah, Whiteside probably deserves a max deal, but he's about half the Center Embiid is. Yep, I said it. Any issues with that thought? Oh, and I almost forgot…the Warriors visit the Thunder again. Woohoo! This is basketball at its best when Westbrook's so pissed at Kevin Durant that he wills his way to a triple double.
Sunday: 4 GAMES – And to end the week DeMarcus Cousins and Anthony Davis play a huge, 'Hey, don't forget about us!' game. With all the talk of the next great Centers, and the unicorns entering the league, let's not forget that Boogie is the most talented offensive big man in the game, and Anthony Davis might very well be the absolute best all around. Seriously, look up the stats of the Pelicans players. It's the Davis and Holliday show, with nothing else. Put him on Washington with John Wall and Bradley Beal and they're the best team in the East. As a Hawks fan I'm really glad that isn't happening.
Now, DROP THOSE COMMENTS! And don't be afraid to send along any questions on trades, pickups or life! Good luck in Week 16!