My Charlotte Bobcats fandom reached it's peak during the 2006-2007 NBA season. My Bulls had been one of the worst teams in the NBA for nearly a decade and I liked cheering for the recent expansion team. I had NBA League Pass back then, since I was providing live box scores for a website more nights than not. The Bobcats weren't one of the in-demand teams to cover, so I got to do a lot of their games. While the Bulls had just drafted LaMarcus Aldridge at #2 and traded him for #4 Tyrus Thomas and Victor Khryapa (yes, that happened), the Bobcats selected one of my favorite players right between those picks to join forces with other favorites Gerald Wallace and Emeka Okafor. That's right, Adam Morrison was going to light up my tiny 19-inch box TV that sat beside my giant desktop computer as he turned (yes, people thought this) into Larry Bird 2.0! It was going to be fun watching this franchise, in just it's third year, develop into a contender with those pieces.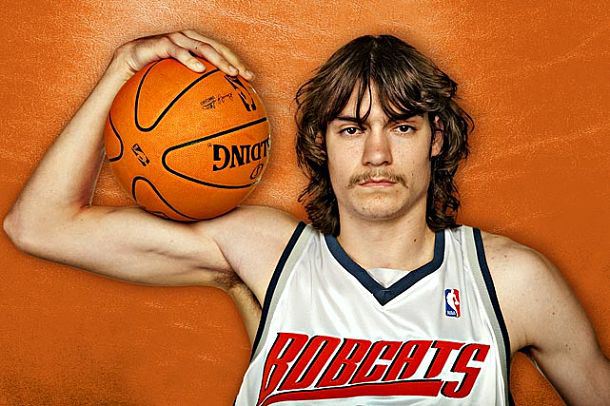 Check it out! That weird, slippery ball they used briefly!
Okay, so the 'Cats never really went anywhere, though Morrison did have some fun 3-point shooting streaks. I still love the snubbed and rightful 2012 Las Vegas NBA Summer League MVP and two-time NBA Champ (true). And, I still wear my Bobcats hat proudly (also true). Why am I going on and on about a player who only played in 161 career games and was out of the NBA four years after he was drafted? Because, he's the theme of today's strategy: The 'Stache! I guess it's The Stash, but at least I got to talk about Adam Morrison and Victor Khryapa.
This is a good time to stock up on and stash the players that might take off toward the end of the season and lead you to a championship.
Please, blog, may I have some more?