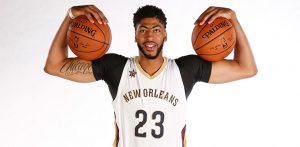 We all know what B.C. is. Before Christ. So, A.D. means After Dagagsfgbaerta[rhfasivgpvhfamrgfviargiusefav. How the F did we end up with A.D., Anno Domini, which means "in the year of the Lord?" Seriously? A.B.C., After Birth of Christ, didn't work? Easy as 1-2-3. Instead, the powers that be decided to go full Latin on everyone. And not any Latin, but Medieval Latin no less. I guess in that context it kind of makes sense. Anyways, there are people that believe in Jesus Christ and there are people that do not. This post is not about that. What it is, though…..and I need to tread mighty carefully here…..is a post about A.D., Anthony Davis. In the year of the Lord? That's right. A.D. is our fantasy Lord and the Savior to one lucky owner in your league. Did he sacrifice more virgins than you? Abstain from jerking off for a year? Whatever the case may be, A.D. is currently the #1 player in fantasy. Yeah, I know, lot of games left and he will likely get hurt, but you know what? For all the crap we give him about missing time due to injury, take a look at where his final ranking was at the end of each year: 45th (rookie season), 5th, 2nd, 17th, and 2nd. For those that are not aware, last night A.D. did this:
| | | | | | | | | |
| --- | --- | --- | --- | --- | --- | --- | --- | --- |
| PTS | REB | AST | STL | BLK | TOV | 3PT | FG | FT |
|  53 | 18 | 3 | 1 | 5 | 1 | 0/1 | 16/29 | 21/26 |
As StatMuse tweeted out last night, the number of 50-point, 15-rebound games in the last 17 years has been six. AD has three of them. He also fouled out three Suns. For us mere mortals, all we can do is this. For those of you that have been blessed with good fortune, I'd expect plenty of this the rest of the year.
Here's what else I saw last night:
Please, blog, may I have some more?