Man, what an exciting trade deadline!  Thanks for checking out our Trade Deadline Live Post, where you can read about all the trades that went down yesterday…
And off the emotional roller coaster of those deadline deals, the NBA is finally back after a week away.  I certainly need to consult my physician since it's definitely lasting more than 4 hours…  Especially after seeing Serge Ibaka pull a Goro right out of the 2nd-half gate!  Twas an empty big man line, but 21/22/0/0/0 is a nice way to start a shortened week!  Hit 8-12 from the field and 5-6 FT which twill get it done.  Serge didn't take a trey, and while he hit a few jumpers, look how much closer to the hoop his shot chart was: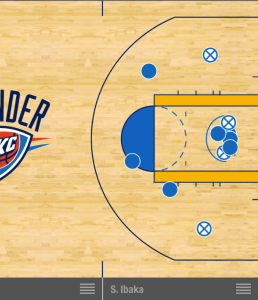 With Enes Kanter on his way to OKC to bring his own brand of mid-rangeness, I think Ibaka can look forward to a nice boost in FG%.  Sure it may cost him a trey here and there, but Serge should still seek shots from the seashore.  And while Kanter had his share of nice rebounding games with the Jazz, putting him out there for his mid-range O is going to help Serge's post presence.  I really like the move for Ibaka's value.  Here's what else went down last night in our return to NBA action:
Please, blog, may I have some more?