The text came in: "We doing the basketball league again this year?"
While fantasy basketball is greater even than sliced bread, it can get a bit stale… uh, like the much vaunted bread. It was October, many years ago, and my league of high school buddies, with a few buddies of buddies having replaced original buddies that had dropped out (you know how it goes), was feeling way less awesome than a fantasy basketball league should. The half that paid close attention rose to the top every year. It was time, yet again, to wonder if the auto-drafters that only made a handful of moves and never responded to trade proposals would sign up again so we could at least fill out the league… yawn.
This year's unofficial season-opening text came in: "Zizic is tearin' it up, even after the trade to Darussafaka. *You chumps are toast next year."
*actual trash-talk was likely dirtier and more clever.
But this was in January. And we truly cared about Ante Zizic's line in a Turkish league. This was much better.
How did we get there? How do you light a fire under your league-mates hot enough to send them on an adrenaline-fueled, non-literal, Jerian Grant-over-that-dude-from-G-Tech-ian trip to the rack?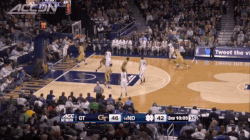 Hi, my name is Tad, and I'm a new writer here. I'm a bball geek and a statistical nerd. My goal is to provide you with as many advantages as possible so that you can win your league(s) and love fantasy basketball more than ever, even if you don't. I'm going to run the numbers for you and show you where you can get an edge in drafts, trades, and acquisitions. Let's start with a relatively simple example. Using last year's ESPN 8-Category Player Rater data, adjusted for a free throw punt team, you might only be mildly surprised to learn that LeBron James was the 2nd most valuable player on a per game basis. But, can you believe that, per game, Dwight Howard would have been more valuable to your team than Isaiah Thomas or Kyrie Irving? And, you probably could've gotten LeBron and Dwight for Isaiah at just about any point last season once Mr. Irrelevant took it to MVP-candidate levels. Hopefully, I'll also inspire you to run some numbers of your own so that you can customize player values to your specific leagues and teams. But this week, as the season draws near, I first want to get you and your league more excited and invested than you've been in a while.
Please, blog, may I have some more?