I'm a big fan of sports of all kind, and spend most of my free time doing some sort of activity involving them.  I've been accused of having "narrow interests" and "not being well rounded."  I resemble those remarks!  If left to my own devices, I would not work, spend my time watching replays of the previous nights games, and using all sorts of different simulations.  This recap pays tribute to my stupid one track mind.
Level 1:  Fantasy Sports
Yes, I love all fantasy sports.  Baseball is my first love as it was the only sport I was able to actually make a team, but fantasy hoops is my favorite to follow and have opinions on.  I love everything about these.
Unfortunately, I had to go against Joker Smoker this week which allowed him to get a tier of his own.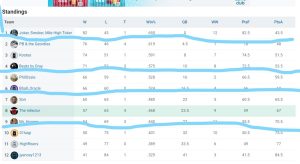 As you can see, I learned how to mark up screenshots here.  With a 4.5 game lead, he's on track for the one seed for sure in the playoffs.  Just like I'll always enjoy fantasy sports, the Joker will always be the top contender to win this here league.
Level 2:  2K
With the NBA you can't beat realism with a good video game.  A bad roster in the NBA is a bad one on 2K.  Yes, I know, I'm forty freaking five years old.  Yes, I know it's a kids thing.  Yes, I know I should check into a colonoscopy (there's a commercial about a guy my age saying he's no longer a spring chicken and I hate it so much and my wife and kids all laugh at me.)  I don't care about any of these things.  I enjoy some good music through the Bluetooth and relaxing for about 25 minutes trying to pretend I'm a gamer.
PB&G, Kostas, and Beats all make this tier.  The Oracle!  Almost forgot the Oracle! They are all reliable bets to make the playoffs, and could all win.  Just like a video game, you never quite know how it's going to go, but in the end it's a worthwhile time spent.  The Oracle made the jump to this tier as they have opened up a six game lead for the last spot.
Level 3:  Strat-o-Matic
For those of you who skew a bit younger, Strat-o-Matic is a board game for baseball, football, basketball, and hockey.  They use statistics and probability to make a cards and dice game that is uncannily accurate.  Baseball is their main product, but they do have a basketball game that can be enjoyable, but requires a lot of setup.  That's going to be me and Son.  We have a shot, it could be a good finish, but there's work to be done initially to get the job done.  Solid teams, Strat basketball is a good amount of fun, but not always, and time doesn't always allow for a good game.  Son and I, our time could be running short as well.
Level 4:  Stupid phone apps that are free but require you to pay to get the good stuff
I'm like this:  If an app has in app purchases with a sports franchise, I'm out.  Yes, that's you, Basketball Agent!  These just are wastes of time, and don't have the realism that I need and desire and want and crave.
Hooper, Luigi, High Risers, and Yancey make up this tier.  I'm not going to tell them how to spend their time, but maybe they should start looking into fantasy baseball.
Notable Transactions:
I love Paolo Banchero.  But I traded him.  That FG% was killing me, and he didn't make up for it enough anywhere but in points.  So I got Markelle Fultz as a good punt points and good percentage guy with decent boards for a guard.  I lost 2-7 the first week but it was against LEVEL 1 SUPERSTAR JOKERSMOKER!!!!.
Wow, sudden burst of energy.  I do love a good coffee.
Interesting Pickups
The trade deadline is nigh.  Nigh, I tell you.  Nigh.  So it's time for some speculative pickups.
Eric Gordon:  Wants out in the worst way, and can you blame him?  Have you watched the Rockets?  They have two guards who have no sense at all.  Bad habits, learned.  Future Zach LaVines who shoot two pointers while down 3 and 2 seconds left.  Should be moved to a spot, then it's just the minutes played for him.
Precious Achiuwa:  The Raptors are a forward looking team and their entire team is like up for contracts that they aren't going to be worth.  Again, like Zach LaVine.  So look for a couple to be dealt.  Achiuwa is a good bet to start after their rosterpocalypse.  His last two games have been double doubles with over 30 minutes, so he's a must roster.  Probably too late, already, though.
Thanks again for the honor of reading my stuff, and let me know how you waste time in the comments!